These Amanda Gorman Poems Showcase The Power Of The Inaugural Poet's Work
"The Hill We Climb" is only the beginning.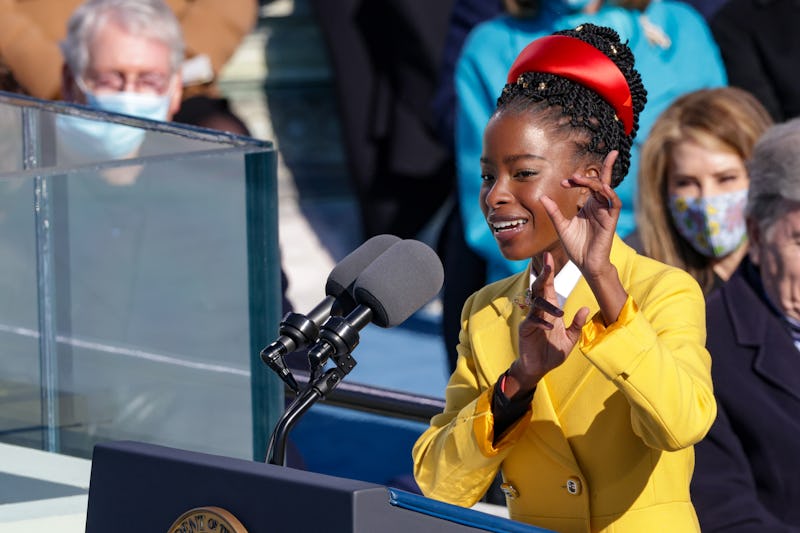 Alex Wong/Getty Images News/Getty Images
The United States' first National Youth Poet Laureate, 22-year-old Amanda Gorman, became the youngest inaugural poet on Wednesday, when she recited her poem, "The Hill We Climb," during Joe Biden's inauguration ceremony. There are plenty of other Gorman poems to read after you watch her historic inauguration recital, and we've collected some of the best for you below.
Gorman is no stranger to composing powerful calls to action in verse. After becoming her native Los Angeles' youth poet laureate at age 16, Gorman performed her poem, "In This Place (An American Lyric)," at Tracy K. Smith's first reading as U.S. Poet Laureate. A member of Harvard's 2020 class, the poet published her first book, The One for Whom Food Is Not Enough, in 2015, and has two new books of poetry, The Hill We Climb and Change Sings, due out in September 2021.
This is all to say that you are going to be seeing a lot of Gorman in the years to come, so now's the perfect time to acquaint yourself with her body of work. To get you started, here are a few Gorman poems you need to read after watching Joe Biden's presidential inauguration: