CJ From FBoy Island Gave An Update About Her Relationship With New Jarred
She chose Jarred in the Season 1 finale, automatically splitting the $100,000 prize.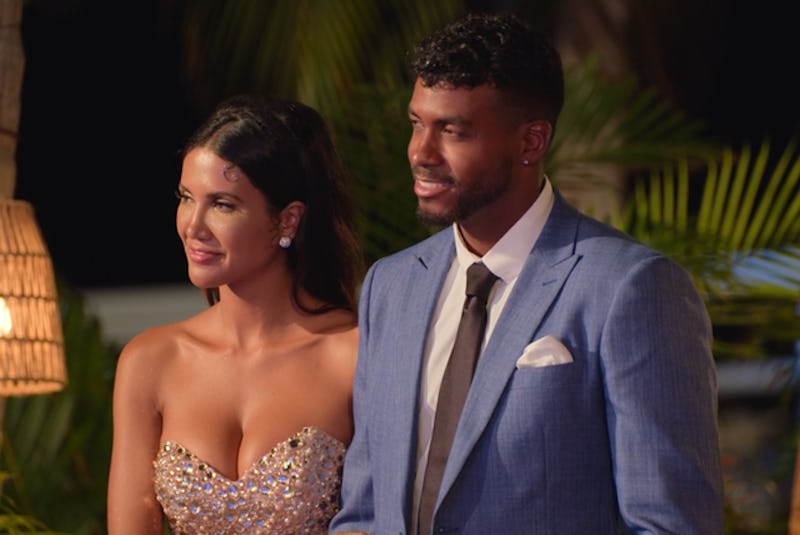 HBO Max/screenshot
It turns out nice guys don't always finish last. In the FBoy Island finale, lead CJ Franco chose New Jarred over self-avowed FBoy Casey Johnson, automatically winning the pair the $100,000 prize to split. "When times get tough, we can work through them, and I think that maybe in the beginning you avoided that and that was a red flag to me," CJ explained to Casey of her decision. "You stepped up and you did it ... [but] the reason that I chose Jarred tonight is because he stepped up and did it in a shorter amount of time. I lost some time with you and you made up for that, but I don't think that we're there yet."
Jarred, for his part, was overjoyed, saying he saw him and CJ establishing a relationship deeper than anything he'd experienced in the past. Four months after filming wrapped in the Cayman Islands, the two are still dating, but it sounds like they're still trying to find their stride. "We are together," CJ, who's based in Los Angeles, said on FBoy Island host Nikki Glaser's podcast. "He lives in Miami and he works. He works a lot. What we've been trying to do [is] try to have a long distance relationship because the truth is, he is a really great man, he's a really good guy."
However, she added that, "There was a comment that was made that I was seeing for the first time in the finale where he did not look like such a great, sweet guy," in reference to him saying, "How does my d*ck taste?" after Casey returned home from his overnight date with CJ. "My mom called me and was like, 'I don't think he's a nice guy, I'm not convinced.'"
Curiously, CJ and Jarred haven't posted much about each other on social media. CJ hasn't posted any pictures of Jarred to her Instagram grid, while Jarred has only posted one photo: a picture of him and CJ from the Season 1 finale captioned, "Came in hot 🥵 & ended it even hotter." CJ commented a string of heart emojis underneath the post, and Jarred responded with another heart.
CJ also confirmed on Glazer's podcast that she's seen Jarred since filming and posted a video of her with him in her "FBoy Q's" Instagram highlight. However, it's unclear how serious the two are about their relationship. It sounds like they're struggling to make time for each other amid the distance, but for now, are still trying to make things work.
This article was originally published on