Love Is Blind Stars Jarrette & Iyanna Are Getting Divorced
The pair got married during the Netflix show's second season.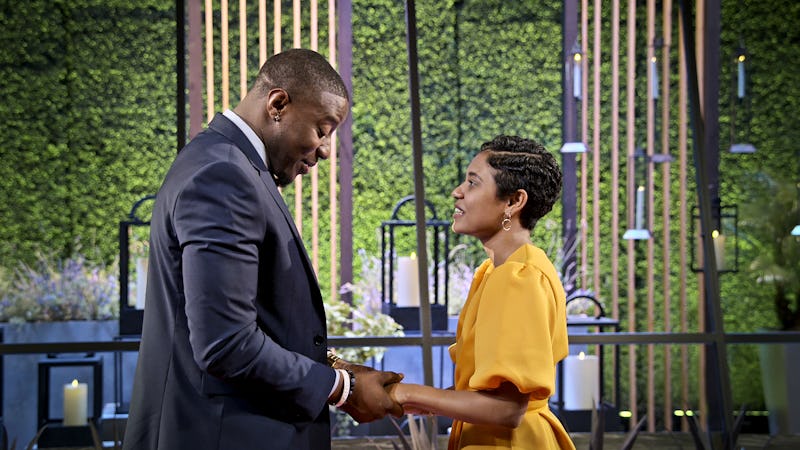 Netflix
Love Is Blind Season 2 stars Jarrette Jones and Iyanna McNeely are getting a divorce. The couple announced the relationship update on Instagram, Aug. 17. "After much thought, we're saddened to share that we have separated and will begin the process of divorcing," they wrote in a joint statement. They added that their lives are going in different directions. "Coming to this decision was far from easy and we will always wish each other the absolute best," the pair added.
Jarrette and Iyanna continued: "We hope you all will give us some space as we close this chapter of our lives. Thank you to our close friends and family for loving us both through our experiences. To the 'Love Is Blind' family and Netflix, thank you for this unforgettable opportunity and support."
They concluded their statement noting that they are grateful for the journey Love Is Blind allowed them to experience, and the two don't "regret a single thing."
For those who need a refresher from Love Is Blind Season 2, Jarrette found himself "going back and forth" between Iyanna and Mallory Zapata. He ultimately chose the latter, proclaiming to the cameras that he'd be celebrating his 50th anniversary with Mallory. "This is for life," the 32-year-old healthcare consultant said.
Things didn't go as planned. When Jarrette asked Mallory how she'd feel if he proposed to her, she tearfully revealed that, despite their strong connection, she was "drawn more to" someone else. Jarrette was "hurt as hell," but said that he still envisioned "what marriage would be like" with Iyanna. So he popped the question to the 27-year-old program coordinator, who accepted.
In Mexico, Iyanna admitted that she was terrified of feeling like "second choice," but that she loved Jarrette and his personality. After he surprised her with a Polaroid camera and gave her a massage, Iyanna said she felt "really comfortable" and "protected" by him. But despite their intense attraction, she wanted to wait to have sex until they're married.
Jarrette was also smitten. "That physical connection that we have is as strong as our emotional connection, and it's only been one day," he said, adding that he respected his fiancée's stance on sex. "We're so f*ckin' similar. That sh*t just translated over from the pods."
The two also had differences to overcome. In addition to having opposing views on maintaining relationships with exes — he does it, she doesn't — a group beach day revealed how much of an extrovert Jarrette is in comparison to the more introverted Iyanna. "I'm just worried you'll ... be annoyed at how opposite I am," she told him after a beach volleyball game.
Also causing trouble in paradise? Jarrette's conversation with Mallory at a group cocktail hour made clear that they still had a strong mutual connection. (And things weren't exactly going great between Mallory and her fiancé Salvador Perez.) Though she said she still had "amazing" chemistry with Jarrette, Iyanna started to question their relationship. "I feel like I've been with him for at least like five years," she said on the show. "But seeing him talk with Mallory, I mean, I was a little worried that maybe he'd start to regret his choice."
In the second half of Love is Blind Season 2, Mallory continued to be a sore spot in the relationship. After Iyanna told Jarrette that she wanted to know that he was prioritizing her, he replied that she "[had] his heart." Her response? "But I wasn't the only one."
Still, the two were eventually able to work through the issue. And though sneak peeks of the finale seemed to cast doubt on whether they'd actually tie the knot, the pair did get married.
Before saying "I do," the two both acknowledged that Jarrette still had some adjustments to make in his personal life. "I have to make sacrifices, not only for my marriage, but for her happiness," he said, adding that he knows he "can't do the things that [he] was doing as a single man" anymore. In his vows, Jarrette thanked Iyanna for accepting him "flaws and all," and for nurturing him even "through walls." Iyanna, for her part, tearfully told Jarrette that she felt understood and loved for the first time by him.
After filming ended in spring 2021, Iyanna (and her cat) moved in with Jarrette, and they began to navigate the "normal, day-to-day" logistics of being married, like coordinating work schedules and sharing closet space. "Right after the cameras left, we were kind of just looking at each other like, 'All right, what now?'" Iyanna tells Bustle. "It's been a lot of balancing and figuring out what works for us. So it's been pretty normal, honestly. It's been really nice."
Jarrette, for his part, says that they had to continue finding a balance between his extroverted and her introverted personalities while integrating their lives together. Even so, he says, "It's definitely been a journey that I wouldn't want to take with anyone else."
Beyond that, the two have been focusing on their professional achievements. Jarrette's Instagram bio includes a link to email him for brand collaborations, along with a link to book him on Cameo. Iyanna works as a project coordinator at Blue Cross and Blue Shield of Illinois as of June 2022.
She and Jarrette were planning to relocate before announcing their divorce. "I'm trying to convince him to move to Atlanta because my entire family is there," Iyanna said at the time. "And I'm gonna start school, and then we'll think about kids."
This article was originally published on