Sal Reveals He's Dating Someone New After Love Is Blind
Plus, he shares his thoughts about Mal's conversation with Jarrette: "It was just inappropriate."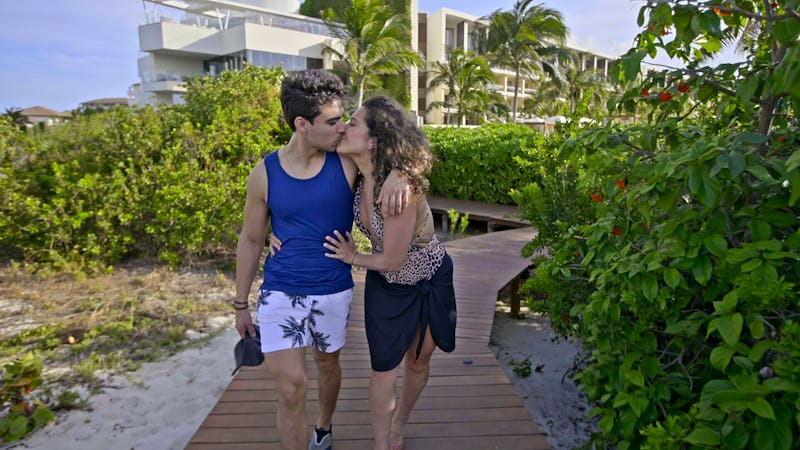 Netflix
Salvador "Sal" Perez didn't sign up for Love is Blind Season 2 expecting to meet someone like Mallory Zapata. "She just reminds me so much of home," he explained on the show. "I found my best friend. This is new territory for me, but I am in love with her."
Mallory was equally enamored, but had also also hit it off with Jarrette Jones, who almost proposed to her. However, she told him that her feelings were stronger for Sal. "I'm so confident in myself and my decisions, and that includes like this whole experiment and my relationship with Sal," Mallory said. "He's just so thoughtful and considerate, and I fully deserve and embrace that type of love from Sal, and I wouldn't have realized that if I didn't go through this experiment with him."
She wasn't as confident after their first face-to-face meeting, admitting that she was in her head. "I'm very attracted to him emotionally, but, physically ... I don't know," she said. "There's nothing wrong with him. It's just, it's not something I can really put my finger on. ... This is like throwing me off 'cause now I'm not feeling good about it. And I was feeling really good about it."
After she and Sal arrived in Mexico, Mallory insisted that she was "extremely attracted" to Sal. But when it came time to mingle with the other couples — and Mallory finally met Jarrette in person — things started to crumble. Though Jarrette also got engaged to someone, the two still had clear chemistry, and during a lengthy conversation, she confessed that she might not be ready to marry Sal.
Sal broke down after overhearing part of the talk and told a producer that he knew Mallory wasn't interested in him and wanted to go home. He had a change of heart the next day, and he and Mallory seemed to be back on sure footing. But when they returned to Chicago, the issue arose again. Sal told Mallory his concerns, while a confused Mallory responded that she thought they'd put the matter to rest.
Things were looking up for the two in the second half of the season. But by the time their wedding day rolled around, Sal still had doubts about whether Mallory was as committed to him as he was to her, and said he needed to see her in her wedding dress before he decided whether or not to say "I do." Mallory, meanwhile, said she didn't have any fears other than Sal "[changing] his mind all of a sudden," which is something she admitted "could happen."
She was right. At the altar, Sal told his fiancée that he loved, respected, and admired her, and that while he could not be standing there with anyone else, he could not marry her. "I feel like I just need more time," he told Mallory, who insisted it was OK. After deciding not to get married, the two had an amicable chat, during which Sal explained he needed to "take a few days" to process everything but that their next move should simply be to go on a date together. Mallory replied that she'd love to.
"I love Mallory very much and I could only give her my truest self and my most honest choice, and that's what I did," Sal said during the finale, citing insufficient communication, lack of defined boundaries, and not having support from Mallory's family as their main issues. "When I was in the pods with Mallory, I fell in love with her, but I feel like there's more outside of that. But is love blind? Absolutely. I fell in love with that girl."
Soon after filming wrapped, Sal took Mallory on their first date without cameras hovering around them. "It was really nice to just talk to her," Sal tells Bustle. "We decided at the end of it all, we had been through everything, we had discussed everything, and I didn't have it in me to continue romantically, to be completely honest. And we left it at that. We parted ways. We checked in with each other a couple of times before seeing each other again in the reunion. But, you know, it was just not there."
After their breakup, Sal says he "wasn't even looking for anything," but that he "met someone completely random, and it's been great." However, he's keeping details private for now, as the relationship is still in the early stages.
Now that he's seen all of the Season 2 episodes, Sal also admits that a few things surprised him, particularly Jarrette and Mallory's first conversation in Mexico, which he said was "a lot more" than what he'd expected. "We spoke about it, we spoke our piece, it's OK," he explains. "[But] it was just inappropriate, it was not good. That was hard to watch. It was surprising."
Meanwhile, Mallory has said she's grateful for her time on Love Is Blind despite ending up single. "Words cannot describe how thankful I am for the more than 200,000 wonderful people following me on my journey to find love," she captioned a Feb. 28 Instagram post. "I'm truly humbled by all the love, support and kind words you've shared with me as I embarked on this chapter of my life. One thing is for certain, I'm truly blessed to be surrounded and supported by so many beautiful, intelligent, strong boss ass bitches!"
She and Sal do still follow each other on Instagram, suggesting they're on cordial terms. After filming, Mallory also celebrated her parents' 50th anniversary and shared how their "beautiful marriage" taught her "how much hard work it takes" to make a relationship last. Though it's unclear if she's also since found someone new, that's a lesson she certainly learned throughout her relationship with Sal.
This article was originally published on