Why Caleb & Justine Broke Up After Love Island
The two called it quits less than three months after winning Season 2.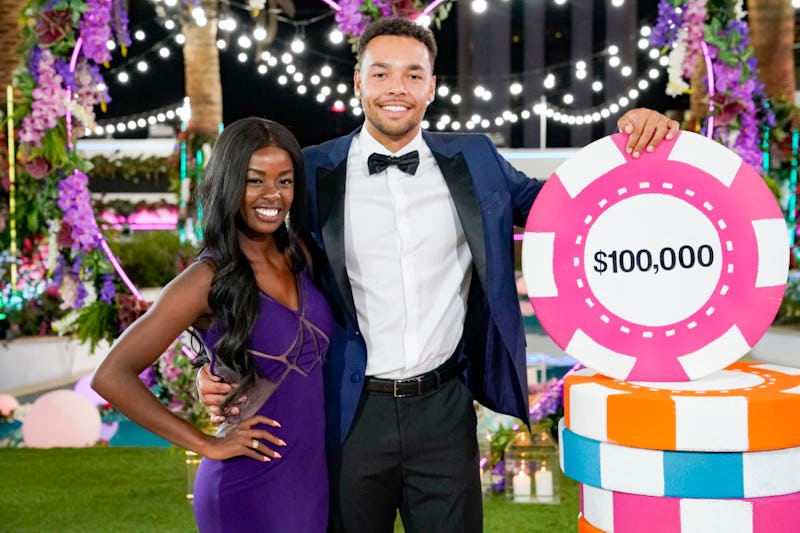 CBS
Less than three months after winning the second season of Love Island U.S., Justine Nbida and Caleb Corprew called it quits. "It's truly a strange feeling to be typing this out but I understand my reality is now having to share some aspects of my life with you all regardless of how private I'd like to remain at times," Justine wrote in a Jan. 16 Instagram statement. "This is extremely difficult for me to express but out of respect for those of you who supported me, and rode for me, I want you to know that Caleb and I are no longer together."
Per Entertainment Tonight, Caleb also shared an Instagram statement wherein he wished Justine "the absolute best and much continued success." He added that meeting on a dating show "comes with a unique set of obstacles that nothing in life can ever prepare you for" and implied that being the subject of public scrutiny was hard on his and Justine's relationship. "It is an unexplainable feeling to give yourself to the world and the world asks for more of you in return," he wrote. "With that last sentence in mind, I hope those of you who have supported us will choose compassion over condemnation during this difficult time."
Though Caleb and Justine left Love Island together at the end of September, Caleb explained in a February 2021 tweet that they'd split by December 2020. "Justine and I visited each other in December after we had already broken up," he wrote. "We met for a brand deal she was very excited about that happened to include me." He said that because they were supposed to release the content in December, they were waiting to publicly announce their breakup. But the release kept getting pushed back, so they didn't break the news to their fans until January.
Justine and Caleb previously told Bustle that they had big plans after the show. Following filming, they were looking forward to having some privacy. "That's actually what we're doing these first few days, just enjoying some time alone," Caleb said at the time.
Though they were living on opposite coasts — Caleb in Los Angeles and Justine in New Jersey — the two seemed serious about navigating a long-distance relationship. "I want to be as close to Caleb as possible!" Justine said. "We definitely have a lot of trips planned out to see each other and then hopefully, maybe just move closer to each other, depending on whether that's in LA or Jersey." But she also reiterated their desire for privacy, saying that they wanted to "work on us and just like, get to a place on our own without having outside influence."
They planned to spend their $100,000 winnings responsibly and joked about having "15 kids on the way." And they said they appreciated the support from fans, who hailed them as the fan favorite couple of the season. "We just want to go at our own pace and do things our own way," Justine explained. "[The experience] was definitely very genuine and that's also what we're taking on the outside as well."
This article was originally published on