All The Clues About Ryan & Natascha's Relationship Post-'Bachelor: LTYH'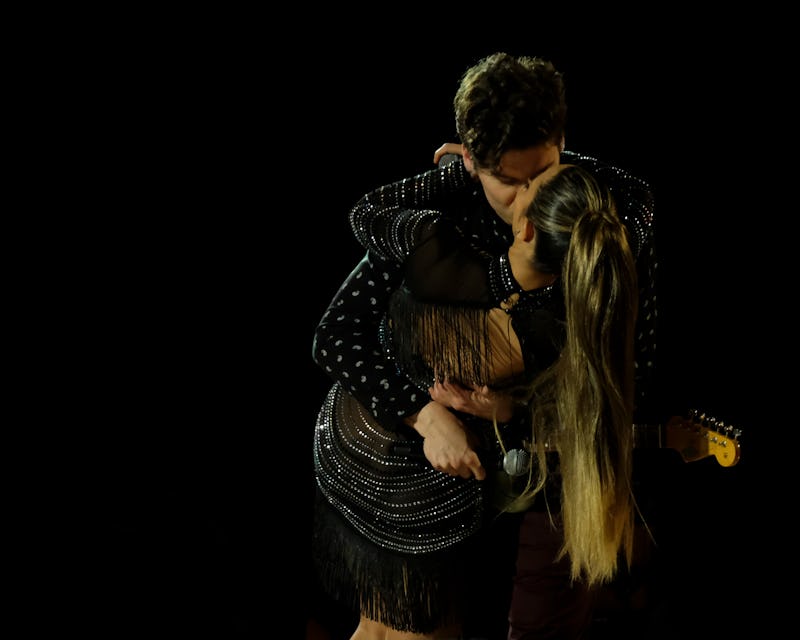 ABC/John Fleenor
Despite growing closer and closer over the past few weeks (and giving some of the best live performances in the entire group), Ryan and Natascha's chemistry wasn't as strong as the other Bachelor: Listen to Your Heart couples, according to judges. This resulted in them getting sent home on Monday night's episode, but just because they didn't last in the competition doesn't mean their relationship met the same fate. The two left the show determined to keep seeing each other.
"I don't want this to end," Ryan told Natascha after their elimination. "Thank you so much for being a part of this journey with me. I can't wait to see what the future holds." Later, the Michigan native told the cameras that he felt a genuine connection with Natascha and thought that they could be a successful couple outside of the Bachelor mansion. "I wanted to meet somebody who was very compatible with myself, and I found that with Natascha, so I want to continue our relationship," he said.
Natascha, too, was eager to see where things went. "We were meant to be on this journey together, and it was beautiful, because I was so happy and so fulfilled by just how he made me feel," she said. "Maybe the universe has another plan for us that doesn't include this journey, but maybe it will include a better one. This could make us stronger, too."
So...did it? The two have been expectedly quiet about where their relationship stands now, but they do, follow each other on Instagram, so they're at least on friendly terms. They've also posted a fair amount about each other: Ryan created the couple hashtag "#Rytascha," while Natascha wrote that she missed hugs, "especially from this guy," alongside a photo of her and Ryan from their date in Las Vegas.
That being said, their posts have been primarily performance-focused, versus anything sappy and romantic. It could just be that they're not big into (virtual) PDA, or it could be that they're not together anymore. We'll have to wait until one of them weighs in for confirmation.
This article was originally published on