Nick & Danielle Are Reportedly The Next Love Is Blind Couple To Get A Divorce
Jarrette and Iyanna just announced they were beginning the process, too.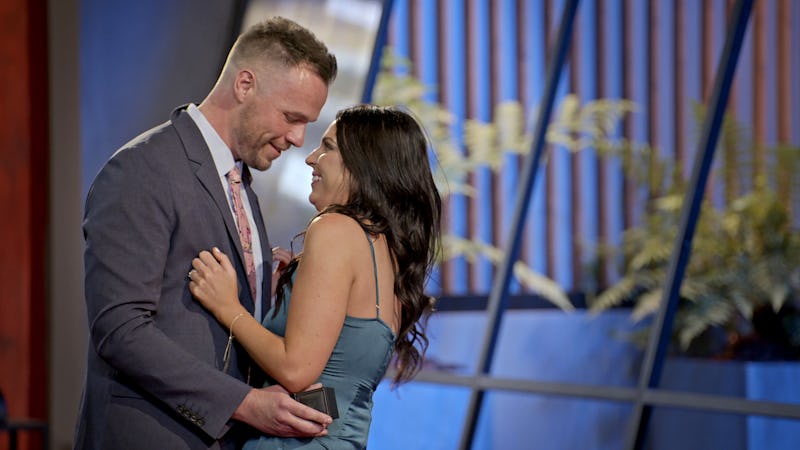 Netflix
Nick Thompson and Danielle Ruhl were the first couple to get engaged on Love is Blind Season 2. Unlike some of the other daters, they didn't waffle between potential options; they were both set on each other from the beginning. "I really attribute it to the fact that we've been able to dive in and spend hours and hours and hours getting to know one another in a way that takes months, if not years, in the real world," Nick, a 35-year-old software marketer, explained of why he felt so confident about their relationship despite the accelerated timeline.
Danielle, 28, felt just as strongly. "I am completely in love with Nick. He's not only my fiancé, he's my best friend," she said. "I'm so confident about the relationship that we're going to have, that I'm ready to be married to him tomorrow. I am not going to let anything get in the way of this."
After meeting face-to-face and arriving in Mexico, the couple was giddy. But when Danielle got sick with a stomach bug on their third day in paradise, her insecurities began to show. While Nick attended the couples' mixer solo, Danielle remained in their room, where she said she sat in the closet and cried. "I don't trust anything right now," she told her new fiancé, prompting an argument. Nick walked away insisting that he was "done," but later returned and asked Danielle to "stop the toxicity."
Though the two made up, Nick explained to the cameras that if they'd met in real life and had the same argument so early in their relationship, they would have split. It was because they'd already established a foundation and communication skills in the pods that they were "able to come back from" the disagreement, he said, adding, "I believe that our bond grows stronger and stronger."
The couple needed to utilize those communication skills in the second half of the season, too. In one scene, Nick told Danielle that if they were "going to get married in two weeks," he couldn't be "f*cking around." Then, he defensively said that he "had things going on yesterday outside of meeting [her] family." Danielle's reply? "I can't do this."
The two continued to argue right up until their wedding day. While Danielle was sure she wanted Nick to be her husband, he admitted that getting married was more of a "game time decision" for him because he "wasn't 100% sure that she was 100% sure." But in the end, they both said "I do."
"It all worked out the way it was supposed to," Nick said after the wedding. "We have a whole life of 50-some-odd years together, and I can't wait." Danielle, for her part, said that Nick is definitely the person she wants to spend the rest of her life with. "This is everything I could've ever wanted," she said. "Love is blind, obviously."
After filming wrapped in spring 2021, Danielle moved into Nick's condo in Chicago, though the pair decided to pump the brakes a bit so that they could experience "the way a natural relationship progresses" outside of a TV show. "We were like, we're married, but we should also learn how to date and go through the processes," Danielle recently told Bustle.
They spent most of their time getting to know each other's family and friends, planning date nights, and doing plenty of traveling. Nick and Danielle planned to take "a real honeymoon," she explained, and wanted to throw a wedding reception for all their loved ones who couldn't attend their televised wedding. "We do want to take normal steps that any other couple would," she said. "So those are like our first next steps, and then the family conversations start coming. But first we want to do that and get it out of our system."
Nick said they that were house-hunting around Chicago for a place they can "start from scratch" and make their own, adding that they planned to just "enjoy each other's company before we bring some kiddies into it."
Several months later, however, the couple is changing course. On Aug. 21, TMZ reported that Danielle had filed for divorce from Nick on Aug. 15 — two days before fellow Love is Blind couple Jarrette Jones and Iyanna McNeely announced their intention to do the same. People cited court documents confirming the news, but neither Nick nor Danielle have responded to it online.
This article was originally published on