Shake & Deepti's Relationship Crashed & Burned After Love Is Blind
"The person that I found out he was after filming had wrapped is not somebody I want in my life."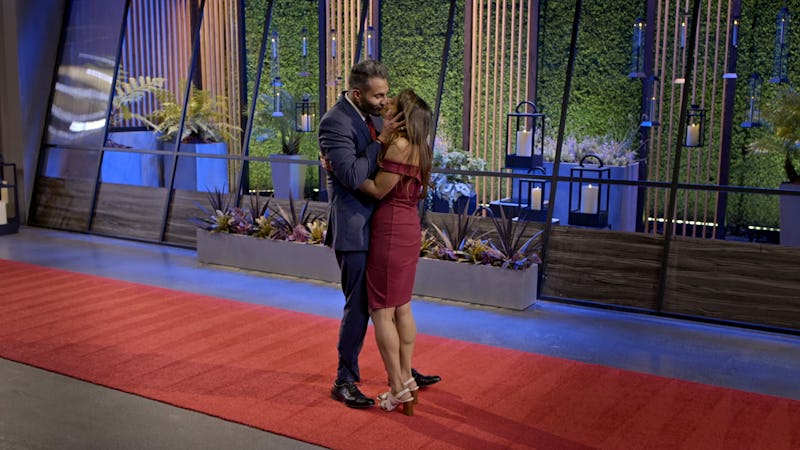 Netflix
One of the many things that Abhishek "Shake" Chatterjee and Deepti Vempati have in common is that they're not each other's type. "We're both brown people that only date white people," Shake observed in Love is Blind Season 2. These commonalities initially helped Shake, a 32-year-old veterinarian and house DJ, and Deepti, a 31-year-old information analyst, fall in love. But it's also what pushed them apart in the end.
At first, Shake came across as superficial to Deepti, as he spent their first date asking questions that would determine her body type. But their "similar mindsets" and "same life experiences" were enough for her to give him another chance, and the two soon bonded over their love of music and shared experience of immigrating from India as kids. When Shake proposed, he told Deepti that he'd never met someone who understood him the way she did. Deepti accepted immediately, saying she couldn't wait to spend the rest of her life with him. Later, during their first face-to-face meeting, Shake whispered to Deepti that he was going to "get [her] pregnant."
But when they got to Mexico, things shifted. Though the physical attraction was "definitely" there for Deepti, Shake didn't feel the same way. "In the pods we had an amazing connection, but it's a purely emotional one, and waking up... I don't know, it's hard to deny that I don't really feel that kind of animalistic attraction," he said after their "PG" first night together, admitting some "commitment phobia" could be rearing its head. Shake put it much more bluntly while talking to fellow contestant Jarrette Jones: "I'm not physically attracted to her. It feels like I'm with my aunt or something."
Before the pair left Mexico, Shake seemed to be much more committed, noting that while he and Deepti didn't have the "lusty, physical" type of relationship he'd looked for in the past, it could be exactly what he needed. Alas, the back half of Season 2 brought more trouble. "Don't they say you should marry your best friend?" Deepti asked Shake in one scene, to which he replied, "But you should also feel that they're more than a best friend."
Shake's struggle to get past his fixation on physical attraction continued right up to the two's wedding day, though he conceded that looks fade and their emotional connection was once in a lifetime. Deepti was apprehensive too, explaining that there was "never going to be a perfect person" and that love sometimes requires you to decide "what compromises you're willing to live with." But Shake's inability to commit wasn't a compromise she was willing to live with.
"I hope you know how much you mean to me and the impact you've made on my life, but, no, I cannot marry you," she told Shake before he got a chance to reveal his decision. "I deserve somebody who knows for sure. So, I'm choosing myself, and I'm gonna say no." Later, she told producers that Shake was "not the one" for her, because he never made her feel like she was the one for him.
"I don't think he realizes what he just lost," she added. "And a little time from now, he's gonna look back and realize that he lost the best thing of his life. And when that day comes, I'll be long gone. To me, that's heartbreaking, but I have to see my worth and move on. He doesn't deserve me .. I'll find my person, and it's not Shake. I have no f*cking regrets, but I guess love isn't always blind."
Shake, for his part, said that Deepti's rejection was "probably for the best," insisting that he was "very transparent" about being "the one that was more on the fence" about their relationship. He also said that he believed Deepti "would've said yes" if he'd said yes first, and that he'd been hoping she'd be the one to turn him down first. Still, he said they would "definitely" remain friends after the experience.
Indeed, Deepti "tried to be friends" with Shake once the cameras stopped rolling. "But the person that I found out he was after filming had wrapped is not somebody I want in my life," Deepti tells Bustle of the mostly "negative experiences" she had with Shake after the show. "He always had an issue with at least one person in the room, and it's like, why would I want friends like that? I need friends who uplift me and make me be better, and that's not somebody that Shake is."
She also disagrees with Shake's assertion that she would have married him if he'd spoken first. "Um, no. If you'd asked me that question maybe like four days before that moment, I think I would have said yes, probably, because we did have a lot of growth," Deepti says. "But just seeing that back and seeing how he talks about me on our wedding day to his friends was so disrespectful. And I'm so happy that I did not choose him because he does not have my back, and he never did."
Adding that you "don't even talk about a friend" the way Shake spoke about her, Deepti points out that he knew cameras were "rolling for the entire world to see" the whole time. "He just didn't care," she says, suggesting that Shake "lacks self-awareness."
Filming Love Is Blind was "so overwhelming and such an intense process" for Deepti that she "had to just kind of take a step back" when she returned home. But after returning to her meditation practice, she was able to "ground [herself] again" and get closer to her friends and family as well as the rest of her castmates – some of whom she now considers her best friends. "I needed time to decompress, and I feel, emotionally and physically, I'm in a great mental state right now," Deepti says.
As for Shake, his recent Instagram posts suggest he's been focused on his career since filming: After DJing at a Chicago Fashion Week showcase in October, he played another gig as "DJ Puppy Doc" just before Valentine's Day and a Make-A-Wish Foundation event shortly afterward. He also offers free strategy sessions as a "certified mindset coach."
Recently, he's been using his Instagram page to address the widespread backlash he's received from Love is Blind viewers. In a Feb. 15 post, he called the show the "single biggest learning experience" of his life. "As you watch me stumble, make mistakes, and quite frankly act a fool throughout the remainder of this season but just know this: I'm not the same person today as I was when this was filmed... and I couldn't be more thankful for it," he wrote, calling Deepti a "literal ray of sunshine." In a subsequent post, he also acknowledged he has "some work to do" on himself, but claimed that Netflix portrayed his and Deepti's breakup as "way worse than it even was."
Days later, Shake posted that he's not sorry for anything that happened on the show. "I mentioned earlier that there's certainly things that I want to work on for myself and get better at, but one thing I don't feel inclined to do is pretend to be sad or sorry about certain things, about certain things that were out of my control, certain things that I can't necessarily even speak about," he said in a video posted on March 1. "I'm not sorry. I think I handled the situation as best as anybody in my situation could. And at the end of the day, I'm going to live my best life going forward. And you don't have to like me. Only I have to like me, thankfully."
This article was originally published on