Are Sophianne & Lina Together After The Ultimatum: France?
At the end of the season, the couple decided to move to the United States, but there was some tension.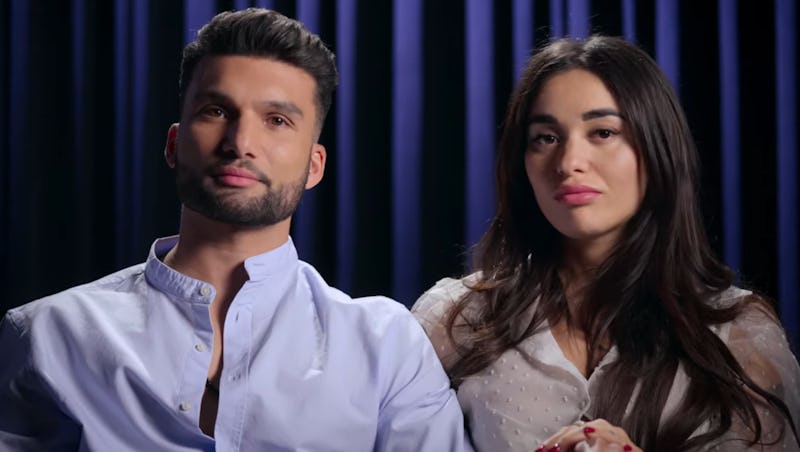 Netflix
During their time on The Ultimatum: France, Lina and Sophianne had one of the show's rockier journeys. The couple started the Netflix series with a simple (but significant) difference of opinion: after two years together, Sophianne wanted to move to the United States with Lina. His goal? Work on his career as a singer-songwriter, and forge local industry connections.
Lina, however, had no desire to leave France. "I'm not prepared to live someone else's dream," the nutritionist explained in the couple's introduction to the show. "It's a problem to the point that no one will make any concessions."
Arguments over the course of the couple's Ultimatum experiment made Sophianne "doubt everything," he explained during their final meeting. "Can I just abandon my plans in the U.S.? I could, but if I do, I think we'll both be unhappy and will regret it."
Lina countered that Sophianne didn't actually have much of a plan but more of a "nice dream." Despite not being on the same page, on decision day, Sophianne broke out into song and proposed to Lina — and she tearfully accepted. Sophianne then asked her to clarify whether she was saying "yes" to both ultimatums (marriage and moving), and she was clearly torn. "Oh, f*ck ... I can't go to the U.S.," she said.
However, after some tense moments, she agreed to make the move, though she "didn't think [she] would," she explained, leaving viewers wondering if Sophianne and Lina are still together.
In the Jan. 6 The Ultimatum: France finale, the pair revealed that they'd traveled to Los Angeles to explore the area and scout locations to call home. They also revealed they were still engaged, but when Lina asked when they'd be getting married, Sophianne said they would "have to work on that."
As of Jan. 10, Lina's Instagram account is private and Sophianne's is public; Sophianne's account does not appear to follow Lina's. However, Sophianne seems to have a TikTok page where he is publicly active. He posted a video of him and Lina in California, where he can be seen writing "Marry Me" in the sand. The song he proposed to Lina with, "Marry Me," can be heard in the background (and you can also stream it on Spotify).
So based on Sophianne and Lina's romantic video together, it seems that they're likely in a good place after The Ultimatum: France. On another recent video, he commented that he had a "great experience" on the show and doesn't regret it. But in the comments section of one video, one user said Lina deserves better than Sophianne — and he simply replied, "maybe."