At 28, Sophie Ellis-Bextor Was Returning To Pop With A Whole New Perspective
With a new baby and a third album on the way, the singer describes it as a "pivotal" moment in her career.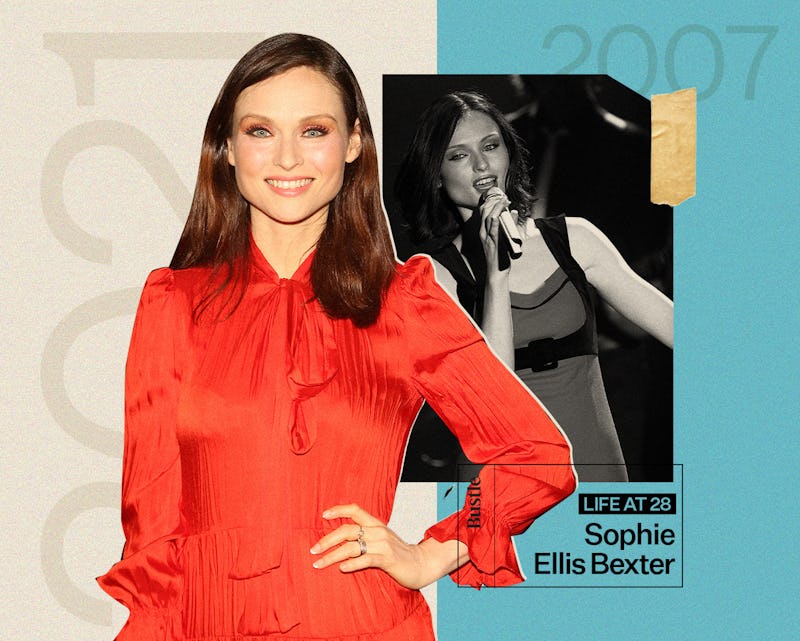 David M. Benett, Peter Bischoff / Getty Images
In Bustle's Q&A series 28, successful women describe exactly what their lives looked like when they were 28 — what they wore, where they worked, what stressed them out most, and what, if anything, they would do differently. This time, Sophie Ellis-Bextor reflects on the year she became a new mum and pop sensation.
During the peak of 2020's pandemic, Sophie Ellis-Bextor opened up her dance floor to fans and followers alike. Granted, it was in her home, and the only murder going on was Ellis-Bextor and her family – she's a mum of five – killing the moves. But, 19 years after "Murder on the Dancefloor" was released, she proved she's still committed to keeping the party going. Even when the clubs had most definitely closed.
"Richard [Ellis-Bextor's husband] suggested the first one as a happy distraction," she says, of the first time that they put their kitchen performance live on Instagram. "We missed gigging, we missed people, and it was a way to sort of have a get together when we couldn't. Instinctively it made a lot of sense, and gave us excitement."
What followed was half an hour of glorious, camp chaos on a weekly basis, which inspired the title for her latest album: Songs From The Kitchen Disco, a compilation of Ellis-Bextor's greatest hits, released in Nov. 2020.
"It really meant a lot to me," she says, of that unique period of time. "It wasn't even the singing. It's just that we had something to do that was fun, a bit silly, and hopefully brought a bit of joy and daftness to proceedings. It really helped us, not just me and Richard, but the kids too."
Those kitchen discos were also proof, if proof were needed, that Ellis-Bextor's songs have stood the test of time. Meanwhile, in October 2021, Ellis-Bextor will release her first book, a memoir titled Spinning Plates (she also has a podcast series with the same name).
Below, Ellis-Bextor reflects on early career knocks, empowerment in motherhood, and what it's like hearing "Murder on the Dancefloor" still being played in 2021.
Take me back to when you were 28. What did your life look like at that time?
28 was the year that my third album, Trip The Light Fantastic, came out, and that was significant not least because it was my first album back after having a baby. I had my first baby when I was 25, two weeks after my birthday, when I was just bringing out my second album.
I think third albums are a pretty pivotal moment for a career. My first album did well, and then my second, like so many peoples, didn't hit in the same way. So the third is the one where, if you make a success of it then you have a career, and if it doesn't then you're in danger of dropping off the radar.
I wanted it to be a really glorious, upbeat pop record, unashamedly so. It was also a bit of a relief that you can be a new mother, and still return to pop music, which felt like a more unusual path. The pop stars who were my peers at the time definitely weren't going home to babies. It gave me a new confidence. I felt like I lost a few inhibitions.
You'd already achieved massive success with "Murder on the Dancefloor" in 2001, did you ever imagine it'd have the impact that it did?
Before "Murder" was "Groove Jet", and "Groove Jet" was the song that changed it all really. Just the very fact that I was a solo artist, and I was still allowed to do what I wanted astounded me.
I'm very proud of the fact that my songs still get played, and I love it when people tell me a happy memory they have associated with one of my songs. I think that's really special, I like that the songs go off and have their own adventures that I'm not always there to see.
At the age of 28, did you already feel successful?
I don't think I'm very good at being objective about that. I think the only time I considered it was when my band got dropped when I was 20, and I thought I've already had the biggest success I will ever have.
Tell us more about being part of that band.
Being part of Theaudience was a really intense learning experience about everything that can happen in the music industry. The band formed when I was 16, we started doing gigs when I was 17, and we signed a record deal when I was 18. We did our difficult second album when I was 19, and we split up by the time I was 20. So, it was a lot to take in.
It stood me in good stead though, because I think once you've felt that feeling, it becomes the backdrop for everything else that happens. Since then, the way I've equated success is being able to call singing my job, because I know I'm very lucky to be in that camp.
Every album I do, I see it as putting another metre on the plank. At some point, I will probably get to the end, and drop into the water, but it's just about keeping up the momentum.
What advice would you give your 28-year-old self?
You've got to shake the trees, and feel everything. When I was 28, I was just having a lot of fun, and hanging out with my mates. My husband and I only had one kid at the time. At 29, I had my second baby, and then I kept going. I look back and think life with Richard, me, and Sonny was part of a previous chapter.
I'm quite perennial in my outlook. I find I can attach all kinds of focus if I have something in the diary. It goes along with the metres on the plank analogy. I just always need a forward motion.
Speaking of having things in the diary, you're playing the Isle of White Festival this September. What have you missed most about live gigs over the past year?
It's got to be the energy. To actually have interaction with the crowd, and the dynamic that's formed with people when you're performing. I have a lot of fun on stage, but I also take it seriously that my job is to entertain people and scoop them all up. I want everyone dancing. I've missed the freshness that comes with playing live.
Plus, there's an adrenalised feeling that whatever happens, happens. It's why I love festivals. Some people want to see you, some people need impressing, and I like that. I don't normally get nervous. The thing is, I've done so many gigs now that pretty much everything has gone wrong, so that fear's lessened and I'm a lot more relaxed. I feel totally supported by the people around me. It's not just me up there.