Austin Butler's SNL Monologue Addressed His Elvis Voice Change
He's always talked like this!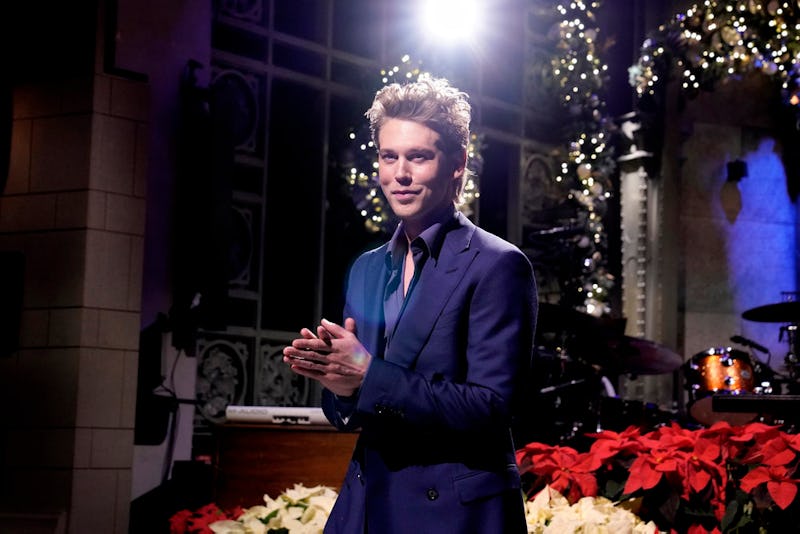 Rosalind O'Connor/NBC
During his Dec. 17 debut on Saturday Night Live, Austin Butler addressed claims that he's stuck doing his Elvis Presley voice — more than a year after filming on the Baz Luhrmann musical biopic wrapped. "There's people out there who say that ever since I played Elvis, my voice has changed," Butler began. "That it got deeper, more Elvis-y. But that's not true. I've always sounded like this, and I can prove it."
That proof? A 2012 AfterBuzz TV interview promoting his role as Sebastian Kydd on The Carrie Diaries — only, the decade-old clip seems to have been altered to raise the pitch of Butler's voice even higher than it actually was back then. So, it didn't exactly help his case!
Of course, if you've been keeping up with Elvis intel since the movie came out this summer, you know that Butler's voice work for the role has been a buzzy part of the conversation surrounding the film. (He didn't just learn to speak like the titular musician, but sang for the film, too, composer Elliot Wheeler told Variety.) After production, Butler told GQ in May, "My family said I didn't sound like me anymore."
Following a recent Actors on Actors interview with Janelle Monáe, viewers remarked that Butler still sounded, well, fairly close to the man he famously emulated. And for good reason — as Butler told Monáe, he spent three years away from his family before and during production on Elvis. "I had months where I wouldn't talk to anybody," he said. "And when I did, the only thing I was ever thinking about was Elvis. I was speaking in his voice the whole time."
Butler also touched on the accent question in a December interview with IndieWire. "There wasn't a conversation for three years, or a film or a book or anything that I ingested or talked or thought about, that wasn't related to Elvis," he said. "He got woven into the fiber of my being in a way, and it feels like a great gift to me that I have little bits of him in my DNA now."
So, it seems that Butler is very much OK with sounding like the "Suspicious Minds" singer — and, now, even has a Golden Globe nomination to show for his efforts. Still, as his SNL monologue proves, he doesn't mind poking some fun at himself at the same time.