Avril Lavigne Recruited The OG "Sk8er Boi" For Her First TikTok Video
Tony Hawk was the boy. She was the girl. Can this TikTok make it any more obvious?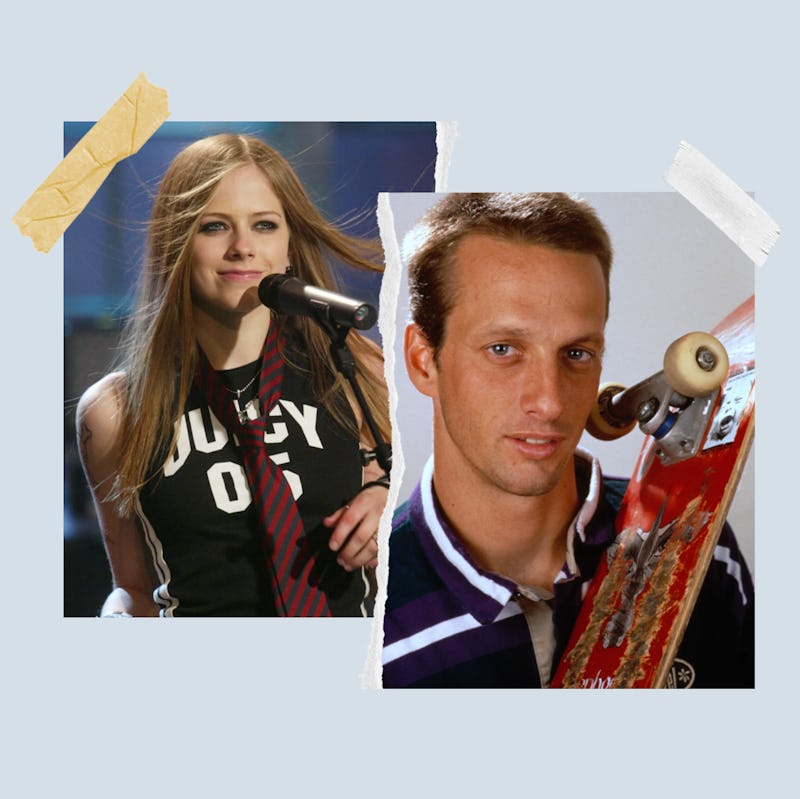 Kevin Winter/Marcel Noecker/Sygma/Getty Images
Nothing is "complicated" about Avril Lavigne's latest dose of nostalgia. The eight-time Grammy nominee made her debut on TikTok on June 21, and to mark the occasion, she brought along the ultimate "Sk8er Boi" for a video that will make you forget it's not 2002 anymore.
In the video, Lavigne lip-syncs the first verse of her iconic hit in a very punk yet preppy black T-shirt and long, striped tie, a throwback look not unlike the get-up she wore in the music video. When she gets to that chorus ("He was a skater boy; she said, 'See ya later, boy'"), the camera pans to Tony Hawk, who millennials will recognize as one of the most famous skaters of our generation. The pro skateboarder shows off a few tricks for Lavigne, making it clear that he will always be the OG "Sk8er Boi."
The video was released to commemorate Go Skateboarding Day, which Hawk celebrates every year with The Skatepark Project, his non-profit organization that aims to create safe public skating spaces in underserved communities. Lavigne's TikTok was just one in a series of videos aimed to promote the value and skill of skateboarding.
Thankfully, Lavigne left the actual skateboarding to the pros for the holiday. Back in May, the singer showed off her (lack of) skills in an Instagram video, which ended with her tripping on the skateboard and falling flat on her face. "Hope this makes you laugh as hard as it's made my friends and I laugh all week," she wrote. "That's what I get for sk8ing in my slippers and dress."
However, she created the anthem that is "Sk8er Boi," so her techniques can be forgiven. The song became Lavigne's second top 10 hit and earned her one of her first Grammy nominations, and its cultural impact has extended way beyond 2002. This year, TikTok-viral singer Ashnikko sampled and parodied the song on her debut mixtape Demidevil, flipping the narrative to the girl's perspective and calling it "L8er Boi." Perhaps Lavigne should link up with Hawk to create a new music video to mark the song's 20th anniversary? It's what "Sk8er Boi" deserves.