7 Pop-Punk Rockers Who Influenced Olivia Rodrigo's Sound & Career
From Avril Lavigne to Paramore's Hayley Williams, let's dig into the singer's influences from the 1990s and 2000s.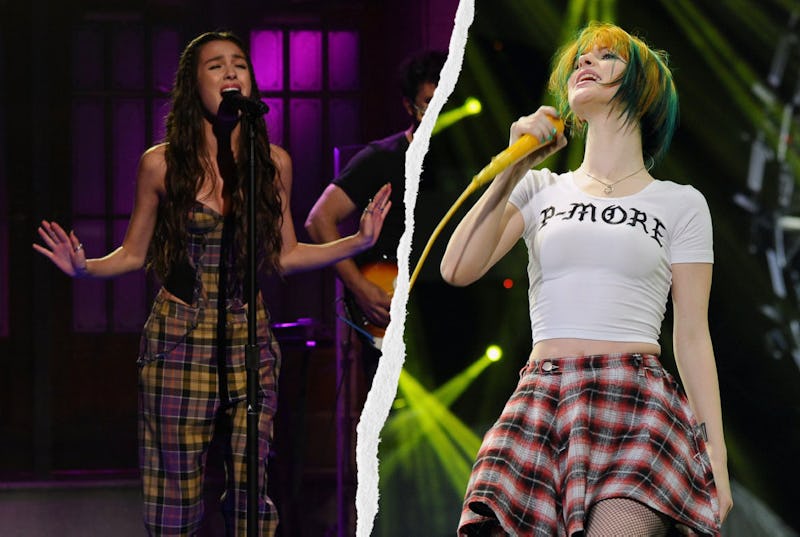 Will Heath/NBC/Kevin Winter/Getty Images
Olivia Rodrigo's debut album Sour comes out on May 21, and by now, you certainly know that the 18-year-old singer-songwriter counts the queen of vulnerable lovelorn melodies, Taylor Swift, as one of her most prominent influences. But after topping the charts for eight weeks with "drivers license," it looks like Rodrigo is rearing into the rock lane, giving us the teenage angst and pop-punk petulance we deserve with the fiery "good 4 u" and impressive live performances.
Trust us, we know we don't have to compare and contrast every female singer that's ever made music that isn't strictly pop, but why not salute the plaid-wearing, Doc Martens-donning foremothers of pop-punk, because as the Saturday Night Live skit on that very topic clarifies, yes she's wearing her influences on her sleeve, "but it's also pure Olivia, man."
Plus, as Rodrigo shared in an interview with The Face on the sound of her upcoming album, "I feel like music is becoming increasingly genreless. I suppose I'm considered a pop artist, but I've never felt like one. This album is full of stuff that I like, which is so diverse. There are elements of alternative rock in there, alt-pop, some country, and definitely a lot of folk. I think anyone can find something they like hidden in one of the songs."
So if you, like us, need something to hold you over while you wait for Rodrigo's debut, here are 7 pop-punk rock purveyors to press play on.
Olivia Rodrigo's debut album SOUR is due out May 21 via Geffen Records.