Matt James Revealed How He Prepared For His First One-On-One Date As The Bachelor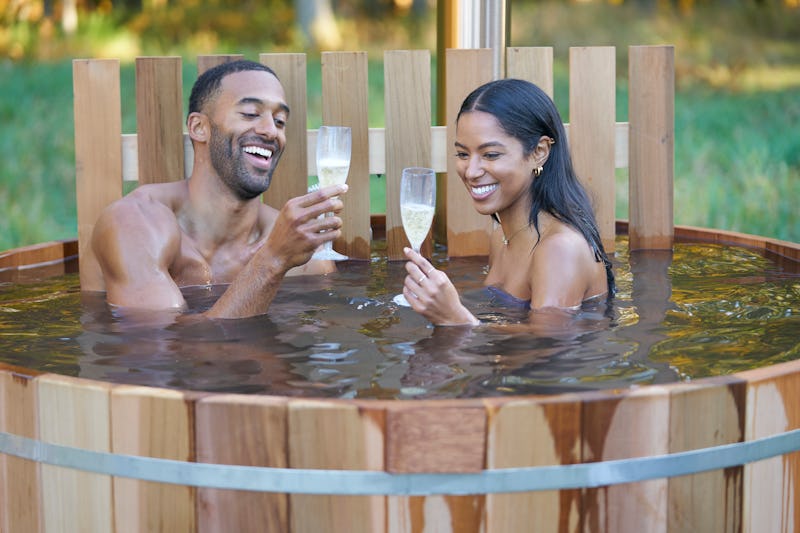 ABC/Craig Sjodin
First dates are always a little nerve-wracking, so it's no surprise that Matt James felt the need to pump himself up before his first major date as the Bachelor. During the Jan. 11 episode, Matt shared a behind-the-scenes video from his one-on-one with Bri on Twitter, revealing how he did some quick push-ups to make sure he was felt (and looked) his best before he hopped into the hot tub with her.
In the clip — clearly taken after the pair's muddy ATV ride — Matt gets caught sneaking in "a little pump" by a producer before he took his shirt off. "I gotta go chop some wood. The shirt's coming off," he explained with a laugh. "This is a classic move from back in the days of middle school. When you were going to the pool, and you had a little bird chest, you had to get push-ups in before you get out there."
It's a little unclear exactly how many pushups Matt managed to squeeze in before meeting Bri since he convinced the producer to turn away and "check out the set" while he was in the middle of his workout. "I want to do a few sets of a hundred before everyone gets over here," the Bachelor added. The person recording only filmed him completing about 10 or so, but it was enough to make him feel confident for his big shirtless scene.
Matt's pre-date jitters are perfectly understandable, as this is his first as a Bachelor Nation member. Because the real estate agent had never appeared on a Bachelor show before becoming the new leading man, he had to go through a "crash course" to learn the ropes. Chris Harrison previously told Us Weekly, "He never came up to the mansion before. He never went to a rose ceremony — he doesn't even know how to get a rose or give a rose. We really had to walk him through and teach him; it was Bachelor 101. And it was trial by fire."
According to Harrison, all of the challenges that came with the "process" of being the Bachelor helped Matt learn what he wanted out of a relationship. "I think the problem is he realized [as] the Bachelor, he had never fully understood what [love] means, and now I think this has really opened [his] eyes," the host explained.
Harrison continued, "He really just ripped the Band-Aid off, and sometimes that hurts a little bit. I think he had a bit of a rude awakening of the man he is, the way he loves, [and] what love means to him." It's still too early to tell if Matt finds that love with one of the women on his season, but at least his first one-on-one date with Bri was successful.