The Grenfell Tower Fire Is Set To Be Dramatised In A New BBC Series
But many think the factual TV adaptation is still too soon.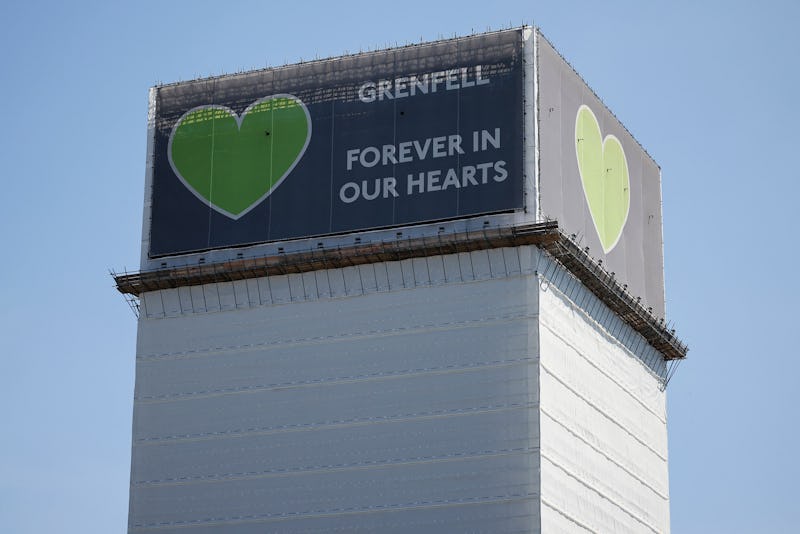 TOLGA AKMEN/AFP/Getty Images
In what has been called one of the UK's worst modern disasters, Grenfell Tower broke out in flames on June, 14, 2017, claiming the lives of 72 people and leaving hundreds of people displaced. Nearly six years on and the Grenfell survivors and the local community are still without real answers or acknowledgement of the systemic failures that led to this tragedy. A public inquiry was announced by the UK Government on June, 15, 2017 examining the circumstances leading up to and surrounding the fire. The inquiry concluded its Phase 2 hearings in November 2022 and the panel is putting together the final report.
The BBC has now commissioned a new factual drama, titled Grenfell, which will be a three-part series told from several perspectives exploring not only how the Grenfell fire was able to happen in the first place, but also how the community came together in their grief. Here's everything to know so far about BBC's Grenfell.
Grenfell Plot
According to a BBC press statement, the drama will "draw on over five years of research — taking in public sources, the inquiry hearings, and extensive interviews conducted by writer-director Peter Kosminsky and associate producer Ahmed Peerbux — to give a comprehensive account of the events leading up to, during, and after the devastating fire which took place on 14 June 2017."
Kosminsky added that, "In our drama, we attempt to pick our way through hours of public testimony, as well as original interviews conducted by our team, to reach the heart of this catastrophe: how such a thing can have happened; how we can avoid it ever happening again."
Grenfell Cast
With the series only recently announced, there are no details for cast members just yet.
On the series, producer Peerbux said: "We have been working on this drama for more than five years now, and it is only right that such a terrible event, seared into the national psyche, should be approached with rigour and not rushed. We are immensely grateful to the men and women who have shared their stories with us, and let us into their lives."
Grenfell Release Date
To be expected, we also don't have a release date for the three-part series, but this article will be updated as and when details are confirmed.
Reaction over BBC's Grenfell
It's important to note that the announcement of the new series has been met with criticism, with many calling this dramatisation too soon, as well as insensitive and triggering for the survivors and local community who are still fighting for justice for their loved ones. One Twitter user commented: "Not one person has been arrested for Grenfell. Not one person. Unless this highlights the failings of a system that doesn't care about Black, Brown, and poor people, then why does this need to be done? Will proceeds go to victims? Trauma is not entertainment." Another remarked: "This will be extremely triggering for the survivors and campaigners if this were to go ahead." Meanwhile, one concerned Twitter user said: "Not everything needs to be a television show."