The Cursed Child's Scorpius Malfoy Leads The Cast In A New BBC Military Drama
Danny Boy – directed by I May Destroy You's Sam Miller – is a search for truth in the fog of war.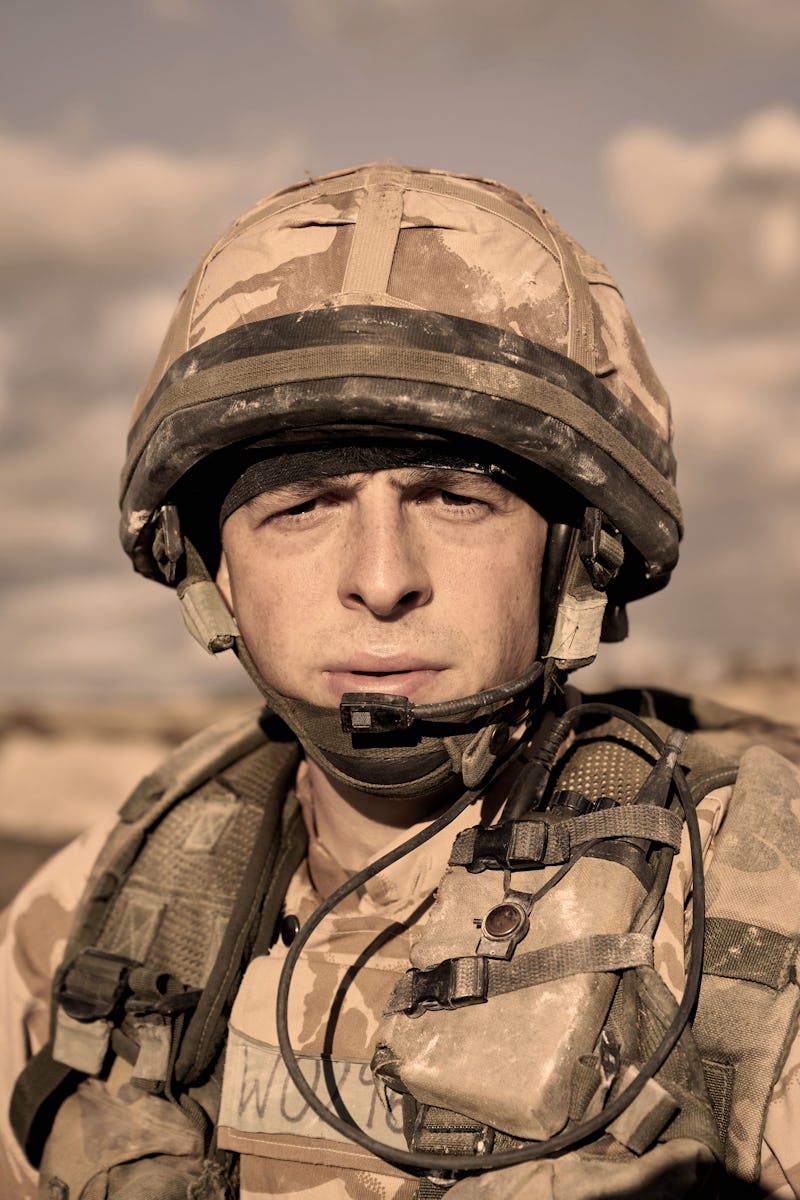 BBC/Expectation TV/Robert Viglasky
If you're in the mood for a TV that'll have you turning the plot over in your mind for months, BBC Two has got you set with its latest release, Danny Boy. The drama, which sees Harry Potter and the Cursed Child actor Anthony Boyle join forces with I May Destroy You director Sam Miller, delves into the complex issues of memory, truth, and trauma in the wake of war. Here's everything we know so far about Danny Boy.
What's The Plot Of Danny Boy?
Penned by the BAFTA-winning screenwriter Robert Jones and led by Sam Miller, director of last summer's most talked about television series I May Destroy You, BBC Two's new factual drama portrays the events surrounding the Al-Sweady inquiry, which investigated allegations that members of the British Army mistreated prisoners in the Battle of Danny Boy during the Iraq War.
The show is based on the true story of soldier Brian Wood, who was awarded the Military Cross, and follows him from the battlefield to the courtroom, where he is accused by human rights lawyer Phil Shiner of war crimes.
The drama explores the psychological effects of war on those who fight and on their loved ones. Straddling the line between war and unlawful killing, Brian is caught in the fray — is he the same husband, father, and son to his family as he was before he left for Iraq?
It tackles the question: what do we expect from those who fight — and kill — for their country?
After the five year long public Al-Sweady inquiry from 2009 to 2014, which costs about £25 million, it was declared that allegations of torture and murder were "wholly without foundation" and the "product of deliberate lies, reckless speculation, and ingrained hostility."
Who's In The Cast Of Danny Boy?
Anthony Boyle and Toby Jones will play the two main protagonists who come head to head.
Boyle, who previously won an Olivier for his role as Scorpius Malfoy in the play Harry Potter and the Cursed Child, will take on the role of soldier Brian Wood. Toby Jones, who has acted in multiple films such as Infamous and Frost/Nixon, will play Phil Shiner, the lawyer who interrogates Wood's actions during the Iraq War.
Anthony Boyle has previously said of the role, "I'm thrilled to be working with Sam Miller on Robert Jones' phenomenal script, and telling Brian's extraordinary story. We get to explore not just the realities of war, but how they can come back to haunt you."
Boyle will be joined by Normal People's Leah McNamara as Brian's wife, Chernobyl and EastEnders' Alex Ferns as Brian's father, and Peaky Blinders' Pauline Turner as Brian's mother.
When Will Danny Boy Air?
You won't have to wait for long for the drama will air on BBC Two and BBC iPlayer later in the spring. The exact date is yet to be announced, though.
Is There A Trailer For Danny Boy?
Yes, BBC Two released the official trailer on April 22, giving us a glimpse of the high-stakes drama we can expect from this show.
Watch this space for more.