Jabari Banks Already Has Ideas For Will's Next Moves In Bel-Air Season 3
Peacock renewed the series in March.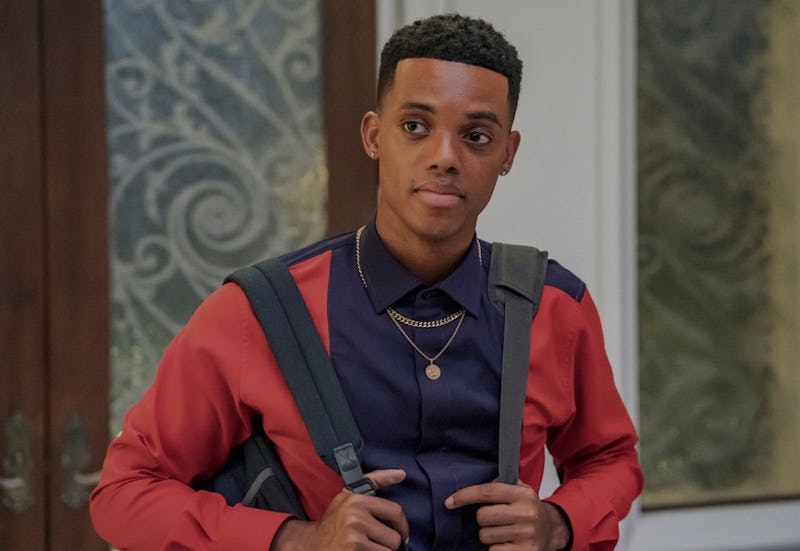 Ron Batzdorff/Peacock
The Fresh Prince's reign in Bel-Air continues. Just weeks into the drama's sophomore outing, Peacock renewed Bel-Air for Season 3. One of the streamer's most-watched original series, the dramatic reimagining of the classic '90s sitcom, The Fresh Prince of Bel-Air, is now their first scripted series to get a third season order. Confirming the announcement on March 17, the cast shared their excitement in an Instagram montage in which they each symbolically held up three fingers.
"Working on [Bel-Air] for the past two years of my life has been an amazing, life changing opportunity. I've learned so much about myself, and I can't thank you all enough for your continued support!" Jabari Banks, who plays Will, captioned his post. "We have poured so much love into this project. We've poured so much of ourselves into this project. Seriously, I'm so excited for season 3 guys!!"
During Bel-Air's second season, Will's basketball game soared to new heights, thanks, in part, to an early assist from the opportunistic Doc Hightower (Brooklyn McLinn). But Banks is more interested in exploring his character off the court moving forward. "I wanna see who Will is outside of basketball," he recently explained to Collider. "If you take that away and you strip down the layers of who he says he is on the outside, who is he really? We get to see him connected to basketball this season in a way that's huge, but if you take that away, then what? That's something that I'm excited for."
As those Season 3 storylines come together, here's everything to know about the next phase of Will's journey with his auntie and uncle in Bel-Air.
The Bel-Air Season 3 Cast
Though any casting announcements remain forthcoming, Banks is sure to return alongside: Adrian Holmes (Philip "Uncle Phil" Banks), Cassandra Freeman (Vivian "Aunt Viv" Banks), Olly Sholotan (Carlton Banks), Coco Jones (Hilary Banks), Akira Akbar (Ashley Banks), Jimmy Akingbola (Geoffrey), Jordan L. Jones (Jazz), and Simone Joy Jones (Lisa Wilkes).
Original Fresh Prince of Bel-Air cast member Tatyana Ali, who played Ashley Banks, returned in a recurring role as a teacher named Ms. Hughes, as did Daphne Maxwell Reid, who played the NBC series' second Aunt Viv and made another guest appearance in the reboot's second season. According to showrunner Carla Banks-Waddles, more OGs could make comebacks in the future, as long as it makes sense.
"We love to include that OG cast in this re-imagining, but never [want] them to feel forced or wedged. It's so organic because this character of Ms. Hughes, and by Tatyana playing that, she touches on everybody in the Banks family and the Bel-Air Academy family," she told Boardroom in March. "To see OG Ashley and present-day Ashley and Tatyana and Akira in the same scene and fist-bumping each other, it was just so poetic on so many levels. She just brought so much to the show and so much to that dynamic that just felt special."
The Bel-Air Season 3 Potential Premiere Date
The show's first two seasons both premiered in February, so it would be reasonable to expect Bel-Air Season 3 to follow suit and begin streaming in February 2024.
This post will be updated as more Bel-Air Season 3 details become available.