This Bachelorette Alum Asked For Peter Weber's Permission To Date Kelley Flanagan
"He technically gave his blessing."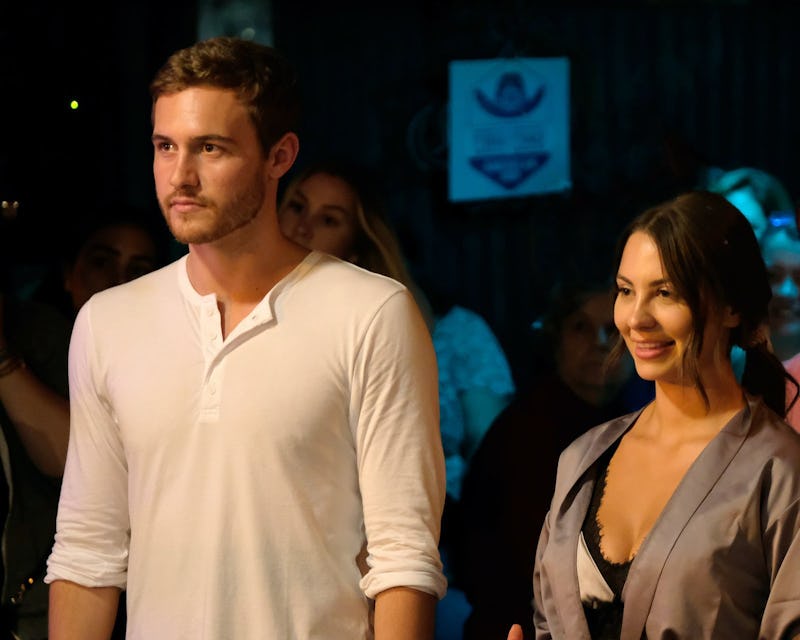 John Fleenor/Walt Disney Television/Getty Images
All's fair in love and war — especially in Bachelor Nation. On Tuesday, April 20, former Bachelorette contestant Bennett Jordan appeared on Ashley Iaconetti and Ben Higgins' Almost Famous podcast, where he revealed that he's had his eye on Kelley Flanagan following her December 2020 split from former Bachelor Peter Weber. "I've been pretty upfront and honest and intentional with my interest and it is with one lady … her name is Kelley Flanagan," the 37-year-old said. "Certainly quite interested in Kelley. She's a very, very smart girl. She's well-spoken."
"I think our journeys and the way it played out on the TV are quite similar," Jordan continued. That was something that she identified with me very early on." Flanagan, who competed for Weber's heart on Season 24 of The Bachelor, was sent home mid-season and was painted out to be overly confident and rude to her fellow contestants on the 3-on-1 date that ultimately sent her packing. Jordan, for his part, was made out to be a cocky villain while trying to find love with Clare Crawley and Tayshia Adams on Season 16 of The Bachelorette. "I don't want to put her on blast or anything, but I think there's a lot of good, similar overlap," Bennett added.
As it turns out, the wealth consultant saw so much potential in Flanagan that he asked Weber for his permission to date her. "I actually met Peter and after the second or third tequila shot, I just threw it out there and said, 'I'd like to address the elephant in the room. Is it awkward that I have interest in flirting with your ex?'" And apparently, the 29-year-old pilot was totally OK with Jordan shooting his shot. "We talked about it," Jordan continued. "He said that's not the case at all, she's someone that [he] really cares about and always will, but, I mean, he technically gave his blessing and said, 'By all means, seems like you're a great guy, I really appreciate you asking.' … It was a really nice conversation."
There is, of course, one thing standing in the way of this potential new couple: Flanagan is reportedly seeing someone. In recent months, it's been reported that the 29-year-old lawyer turned down the opportunity to be on the upcoming season of Bachelor in Paradise because of a new relationship. And although details are slim about her new man, she confirmed that she is dating someone new on a March episode of Kaitlyn Bristowe's Off The Vine podcast.
"I'll be honest with you, here we go, there's a guy that I've been on a couple dates with," Kelley said before confirming that he's not an influencer and that he's not familiar with Bachelor Nation. In fact, he's barely on social media. "It literally makes me feel so great, and I was like, 'Thank god you don't know this show that I'm on, you don't even have the app.' He's like, 'I'm not a weirdo, I have Instagram, I just don't have the app because I could, like, be reading emails, or I could essentially be, like, reading news.' And I was like, 'Man, you're such a nerd, I love that.'"
Despite her new relationship, Jordan isn't giving up on the possibility of love. When Flanagan posted a photo of herself wearing a leopard sarong wrap on the beach earlier this month, for example, he slid into the comments to let her know what he thought of the look. "To me, you are pretty purrfect," Jordan wrote. He also posted a video in March with a cheeky caption that was set to the tune of Mariah Carey's "Fantasy," a song that Flanagan used on social media earlier that week. While it remains unclear what the future holds for these two former contestants, there's one thing we know for sure: Subtlety is not Bennett's strong suit.