20 Horror Movies On Netflix To Watch With Your Friends — If You Dare
Maybe leave the lights on.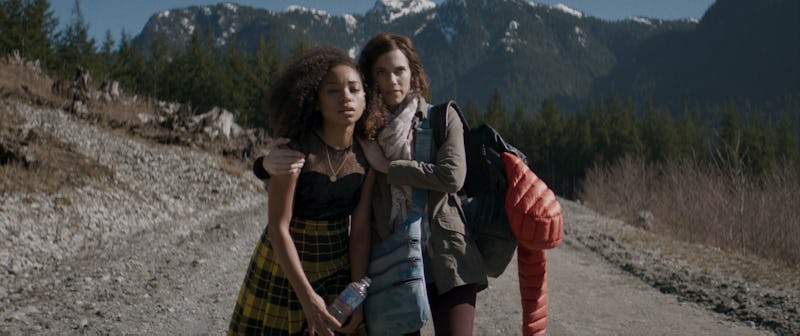 Netflix
Truly, is there anything better than trading some all-too-real life stress in for some fake horror movie stress? Knowing you can spend two hours or more shrieking at your television screen, and debating what you would do if a masked villain came for you, can be an enjoyable, distracting pastime. And it's even more fun (and a little less scary) when you can get your pals to watch with you.
With that in mind, we've compiled a list of the best horror movies to watch on Netflix with your bravest friends. This could be in person or remotely: Netflix Party, a relatively new third-party browser extension, offers viewers the ability to watch and discuss Netflix's offerings with friends online. Between The Conjuring's real-life couple dealing with a family haunting, #Alive's deadly zombie outbreak, and, of course, The Ring's classic tale about a nightmarish ghoul who emerges via videotape, you'll never sleep again.
Below are 20 horror movies to add to your queue. There are instances of self-harm and assault in some of these, so be sure to check each film's content warnings before you watch.
1. The Perfection
Oh boy... this movie is nuts. But that's the appeal, to be honest. There's gross (really gross) body horror. There are strange, Suspiria-like machinations, centering on musicians Charlotte (Allison Williams) and Elizabeth (Logan Browning). There are several twists that play with your expectations and assumptions. That's about all you should know before you go in and watch, so you can talk about it for hours afterwards.
2. 1922
Based on Stephen King's story by the same name, 1922 follows a farmer (Thomas Jane) who conspires to murder his wife (Molly Parker) to reap the financial gain, and convinces his son (Dylan Schmid) to assist. Riddled with guilt, he soon finds that his actions have consequences — and supernatural ones, at that.
3. The Ring
A classic supernatural film centering on a frightening videotape (this was 2002, after all), The Ring follows a reporter (Naomi Watts) as she discovers that teenagers are mysteriously dying after watching a nightmarish tape. She soon tracks down the tape and has only a few days to unravel the mystery. One of the few films that actually improves on the source material, this movie is still bone-chilling — and best watched with friends.
4. The Conjuring
This is the film that launched a whole Conjuring universe, and it's easy to see why. The Conjuring is most well-known for its jarring scenes which manage to stay grounded and realistic, especially "hide and clap" (you'll get it when you see it). Vera Farmiga and Patrick Wilson give us compassionate protagonists to root for in the form of real-life couple Ed and Lorraine Warren — and it's all the more disturbing when they're terrified, too.
5. The Conjuring 2
Ed and Lorraine are back in this story about "British Amityville." This film ups the ante on jump scares and stakes — to the point of putting the couple in grave danger, as the entity haunting the family continues to torment them. Before you watch the third film, released this year, familiarize yourself with the two that came before it.
6. Insidious
Patrick Wilson really knows how to lead a horror film. In addition to The Conjuring films, Wilson stars in Insidious — a supernatural horror that follows two parents (Wilson and Rose Byrne) as they take drastic measures to prevent the evil spirits in their new home from possessing their comatose son (Ty Simpkins). This movie shook up the entire horror genre.
7. Unfriended
A girl and her friends are on a video chat, when an unexpected caller joins their conversation. It's from the account of the dead girl they bullied. She's coming for them, one by one, and they can't contact anyone for help. Unfriended is truly terrifying — prepare to be impressed, and scared of technology, by the end — and was successful enough to earn a sequel.
8. Pan's Labyrinth
A Guillermo del Toro classic, this film follows a young girl, Ofelia (Ivana Baquero), as she's drawn into a world of mythical beings after she accompanies her stepfather, a tyrannical military captain, and his soldiers into a remote forest. Set in Spain during WWII, Pan's Labyrinth places Ofelia at the center of a struggle between good and evil. This is not an easy watch, but it's gorgeous and haunting.
9. Hush
Kate Siegel is a horror aficionado at this point, appearing in much of her husband Mike Flanagan's work (Ouija: Origin of Evil, The Haunting of Hill House, Oculus, Gerald's Game). In this flick, Siegel plays a woman living alone who is deaf and mute; Hush follows her as she struggles to deal with a stalker lurking outside her house. That's all you need to know, because it's just as scary as it sounds.
10. The Ritual
From director David Bruckner (The Night House) comes this British supernatural horror film. The Ritual follows a group of college friends who reunite after the tragic passing of a friend and decide to venture through the Scandinavian wilderness. After a series of wrong turns in a forest full of mythical, Norse-inspired legends, ancient evils soon emerge. Prepare to sleep with the lights on.
11. As Above, So Below
This is one of many found footage films that came out of the 2010s, but As Above, So Below still boasts an intriguing premise: archaeologists seeking the Philosopher's Stone go into the catacombs of Paris, where hellish terrors await them. This movie is interesting from a visual perspective as well: the cast and crew actually shot in the catacombs, which helps it achieve an authentic feel.
12. Apostle
Set in 1905 London, Apostle is a horror thriller that follows a prodigal son (Dan Stevens) who returns home only to discover that his sister has been kidnapped and held ransom by a mysterious, religious cult. Determined to rescue her and bring her home, he infiltrates the community located on an isolated island and unearths some secret evils.
13. Gerald's Game
Based on the Stephen King novel of the same name, Gerald's Game is a horror thriller that follows a woman (Carla Gugino) whose husband (Bruce Greenwood) dies suddenly during a kinky game gone awry. Handcuffed to a bed in a remote lake house, she begins to hear voices and must confront strange, disturbing visions — from both the past and present.
14. Verónica
Set in early '90s Madrid, Spain, Verónica is a Spanish horror film that follows a young girl (Sandra Escacena) who decides to summon the spirit of her dead father with a group of friends, using a Ouija board. When Verónica loses consciousness during the seance, evil spirits are unleashed and wreak supernatural havoc.
15. Cam
An internet "cam girl" goes to more and more extreme lengths to get people to watch her videos. And then, just as she's starting to see the success she wants, she's locked out of her account and replaced by a doppelgänger who looks and acts just like her. Who is her replica, really, and how has it taken over? Technological terror ensues.
16. Girl on the Third Floor
Another take on the classic haunted house genre, Girl on the Third Floor is a supernatural horror that follows a father (C.M. Punk) who decides to renovate a rundown home for his growing clan. However, the home in question has different, more nightmarish plans for the family.
17. #Alive
#Alive is definitely a zombie movie first and foremost — but there's still gore and scares aplenty in this South Korean film. The story follows a gamer who watches the apocalypse break out around him, as a mysterious infection spreads at an alarming rate. With the undead just outside his door and his food supply running out, will he manage to stay alive?
18. Creep
The first film in what would become a series, Creep follows a videographer (Patrick Brice) who, low on finances, takes on a job from a stranger (Mark Duplass) in a remote town to film videos for his unborn child. However, his new client's behavior soon becomes much too unsettling, and he soon finds himself fighting for his life.
19. Malevolent
A British horror film starring Florence Pugh — prior to her breakout role in Midsommar — Malevolent follows a sister (Pugh) and brother (Ben Lloyd-Hughes) who fabricate paranormal encounters in order to make money. When they take on a job at a home occupied with actual, real-life paranormal activities, however, the scam artists get much more than they bargained for.
20. Shutter
A Thai horror film, Shutter follows a woman (Natthaweeranuch Thongmee) and her photographer boyfriend (Ananda Everingham) who are unwittingly involved in a hit-and-run, which leads to a woman's passing. When the young woman appears as a shadowy figure in a photograph, the duo are then confronted by the vengeful spirit of the deceased. Soon, a shocking secret emerges. (Worth noting: This film is much, much better than its American remake.)
This article was originally published on