The Best Instagram Captions For All Your Love Island Content
Because there's no better way of showing off your stan status.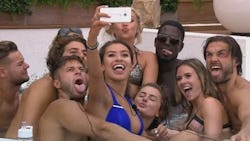 ITV
I'd be lying if I said June 28 hasn't been highlighted, underlined, and circled in hearts in my diary for a few weeks now. After an 18 month break, Love Island is back and I for one couldn't be more ready.
Up and down the country, die-hard fans like me are readying themselves for the return of Love Island and all the break ups, make ups, and cringe comments to come. The sneak peeks we've been given of this year's villa suggest that the format is returning to its roots, which will not doubt have OG viewers even more excited. And whether you're getting a crew together for a (COVID safe) viewing party, going to a bar, or curling up at home, this momentous occasion deserves to be marked in one way or another – including on your Instagram.
Social media really comes into its own during Love Island. The hottest action outside the villa goes on under the 'LoveIsland' hashtag, with viewers glued to the their phones during the ad breaks.
If you're planning on sharing your celebrations tonight, you'll be in need of a caption or two. Lucky for you, I've gathered together a few suggestions for Love Island Instagram captions that'll have your followers smashing the like button. Happy posting!