Twitter Can't Cope With Emma Raducanu's Latest Win
The teenage athlete became the first female tennis star to win the Sports Personality Of The Year since 1977.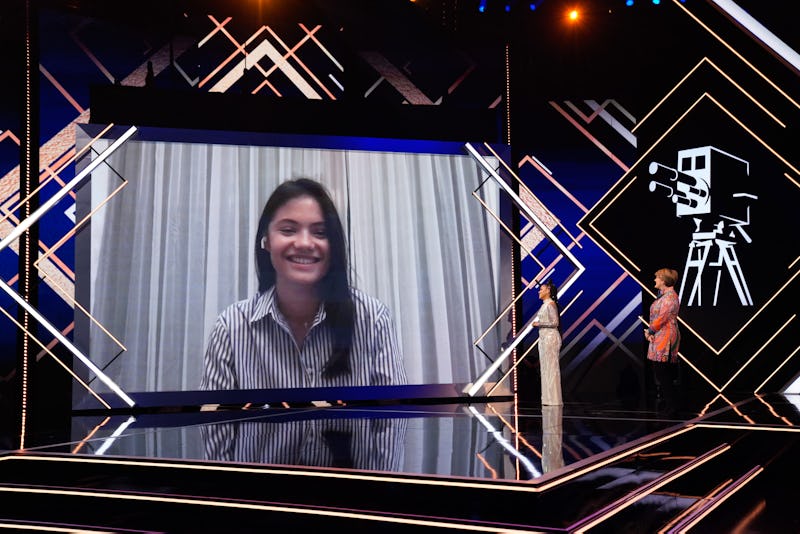 BBC
What an incredible year for Emma Raducanu. To recap, at just 18, Raducanu became Britain's first women's tennis Grand Slam winner in 44 years at the 2021 U.S. Open on Sept. 11. Now, in another momentous win, on Dec. 19 the British teenage tennis star took home BBC's Sports Personality Of The Year (SPOTY), and became the first female tennis star to win the accolade since 1977. Many of the tennis champion's fans have taken to Twitter to react to Emma Raducanu's "fairytale success", highlighting why the 19 year old is a deserving winner.
Following a public vote, Raducanu beat divers Tom Daley and Adam Peaty, Manchester City and England forward Raheem Sterling, boxer Tyson Fury, and Great Britain's most successful Paralympian Sarah Storey for the main award. Commenting on the win, Raducanu said it was an honour to be picked for the SPOTY awards, adding that she was "happy for British tennis as well."
On Twitter, many were quick to congratulate the sports star, including famous celebrity sports personalities, such as retired footballer Michael Owen, while others defended Raducanu from the unfortunate negative tweets she's continually received ever since she pulled out of the Wimbledon Grand Slam final in July.
Regardless, here are 10 tweets that perfectly sum up Emma Raducanu Sports Personality Of The Year win.