Betty White Said "Optimism Has A Lot To Do With" A Long Life In Her Final Video
The motivational message was released on Jan. 16, ahead of Betty White: A Celebration.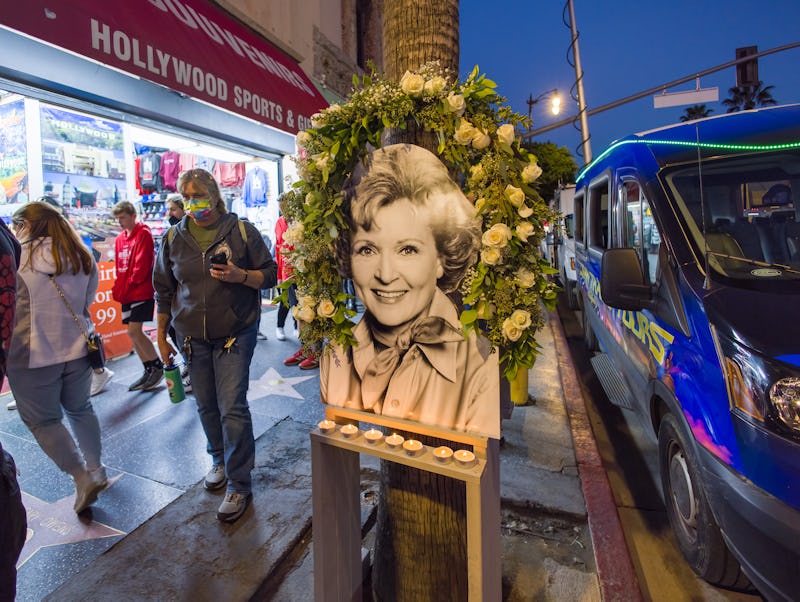 RBL/Bauer-Griffin/GC Images/Getty Images
Eleven days before comedy icon Betty White passed away in her sleep of natural causes at her Los Angeles home on Dec. 31, the beloved 99-year-old entertainer recorded one last message for her legion of fans. "She did a short little video for us," Steve Boettcher, producer of the upcoming documentary film Betty White: A Celebration, revealed to Entertainment Tonight on Jan. 4.
"[White] looked amazing; she loved getting 'glammed up,' as she calls it, in her hair, makeup — she was just striking and beautiful," Boettcher continued, describing the video message, which fans will be able to watch as part of the documentary when it's released on what would have been White's 100th birthday, Jan. 17. "She was smiling and really she wanted to thank her fans sincerely, from the bottom of her heart, for all the support over the years."
The producer told the outlet that he spent a lot of time with the Golden Girls alum, and shared kind words about their time together. "She was happy and the eternal optimist," Boettcher said, adding that she "has this unbelievable look at life and view of life and that it just rains through her entire career and her personal life."
Case in point? White's advice for a long, happy life, as told in a snippet of A Celebration released Jan. 16. "If you don't at least notice it, and accentuate the good stuff, [then] when the bad, really tragic stuff comes along, it makes it tough to handle," White said. "I think people who are constantly kvetching about something ... they shorten their time."
White went on to discuss the healing effects of humor — which she was a bona fide expert in. "When you find something funny, or enjoyable, the whole body has a different attitude," she said in the clip. "It relaxes. That's got to be healthy, to have that aspect. As opposed to the tension, and the worry. So I think optimism has a lot to do with it. And I learned that at my mom's knee, and my dad's."
In addition to White's wise words, the film "shows Betty in … quiet moments," per Boettcher. "Betty at home, Betty with a few friends, Betty with animals, and it kind of shows maybe another side of Betty. Off the stage and out of the limelight, but still the Betty we all know and love."
Since White's passing, tributes have been popping up everywhere, with seemingly everyone in entertainment singing her praises and expressing their sadness. Saturday Night Live chose to air the 2010 episode she hosted just a day later.
Betty White: A Celebration still hit theaters as previously planned, "[shifted] a bit from its original incarnation as a birthday celebration into a tribute," ET reports. The producers hope the "film will provide a way for all who loved her to celebrate her life — and experience what made her such a national treasure." The producers have not yet announced whether you'll be able to stream the special after its one-day theatrical release.
This article was originally published on