Beyoncé's Renaissance Tour Setlist Includes Classics & Surprises
On May 10, Bey kicked off her first tour in five years with a mix of 2000s classics and Renaissance hits.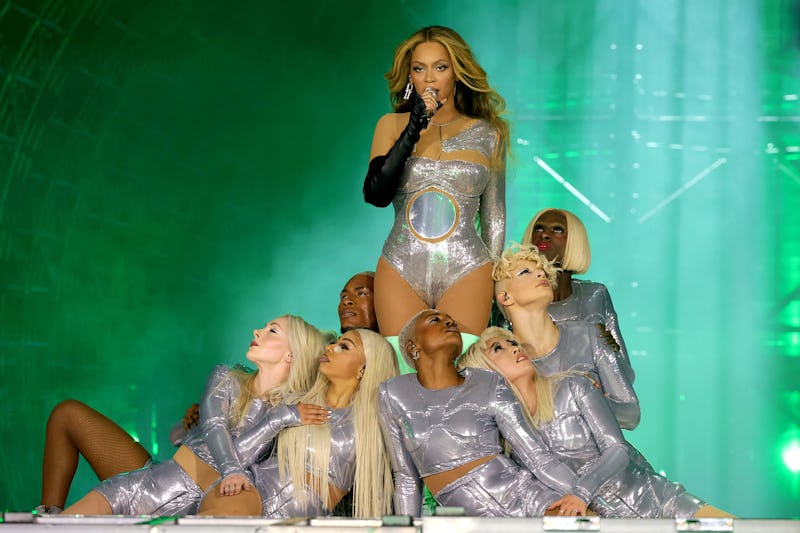 Kevin Mazur/Getty Images Entertainment/Getty Images
Please do not be alarmed, remain calm, do not attempt to leave the dance floor — Beyoncé's 2023 Renaissance World Tour has commenced. On May 10, members of the Beyhive traveled to Stockholm, Sweden, to witness the opening night of her first tour in five years. This marks the first time the 32-time Grammy winner has performed songs from her seventh studio album Renaissance, which have not received any music videos or live performances until now.
Since her last tour in 2018, Beyoncé released the critically acclaimed Renaissance album, her first solo effort in seven years, but that's not the only new music she's given fans. In 2019, she put out The Lion King: The Gift, a soundtrack inspired by Disney's live-action film in which she plays Nala, before releasing a companion film Black Is King a year later. With so many new songs to fit alongside her older hits, creating the Renaissance Tour setlist was always going to be a challenge, but Beyoncé came through with a 35-song spectacle that lasted almost three hours.
Beyoncé played the entirety of Renaissance in order, including Grammy-winning hits "Break My Soul" and "Cuff It," and mixed in classics from all of her previous six albums throughout. But the show didn't start that way. Instead, Bey opened the tour with a run of surprising ballads, starting with her 2003 deep cut "Dangerously In Love 2" and ending with two tracks from her 2011 album 4. If this rough setlist draft from the tour book is any indication, she may be rotating the songs in the opening act every night.
After months of creating dream setlists and imagining the camp visuals she could create, fans finally know what Beyoncé is performing on her long-awaited world tour.
Here is Beyoncé's Renaissance World Tour setlist.
Beyonce's Renaissance World Tour Setlist
"Dangerously In Love 2"
"Flaws and All"
"1 + 1" (mixed with Mary J. Blige's "I'm Goin' Down")
"I Care"
"I'M THAT GIRL"
"COZY"
"ALIEN SUPERSTAR" (mixed with "Sweet Dreams")
"Lift Off"
"CUFF IT"
"ENERGY"
"BREAK MY SOUL" (mixed with "The Queens Remix")
"Formation"
"Diva"
"Run the World (Girls)"
"MY POWER"
"Black Parade"
"Savage (Remix)"
"Partition"
"CHURCH GIRL"
"Get Me Bodied"
"Before I Let Go" (mixed with "Freakum Dress")
"Rather Die Young"
"Love On Top" (mixed with Jackson 5's "I Want You Back")
"Crazy In Love"
"PLASTIC OFF THE SOFA"
"VIRGO'S GROOVE" (mixed with "Rocket," "Speechless," "Say My Name," and "Dance For You")
"Naughty Girl"
"MOVE" (mixed with Nina Sky's "Move Ya Body")
"HEATED"
"THIQUE" (mixed with "End of Time" and Britney Spears' "Toxic")
"ALL UP IN YOUR MIND"
"Drunk In Love"
"AMERICA HAS A PROBLEM"
"PURE/HONEY" (mixed with "Blow")
"SUMMER RENAISSANCE"
Beyoncé's Renaissance World Tour In Pictures