Billie Eilish Teases "Happier Than Ever" In A Video Starring Her New Blonde Hair
"When I'm away from you, I'm happier than ever."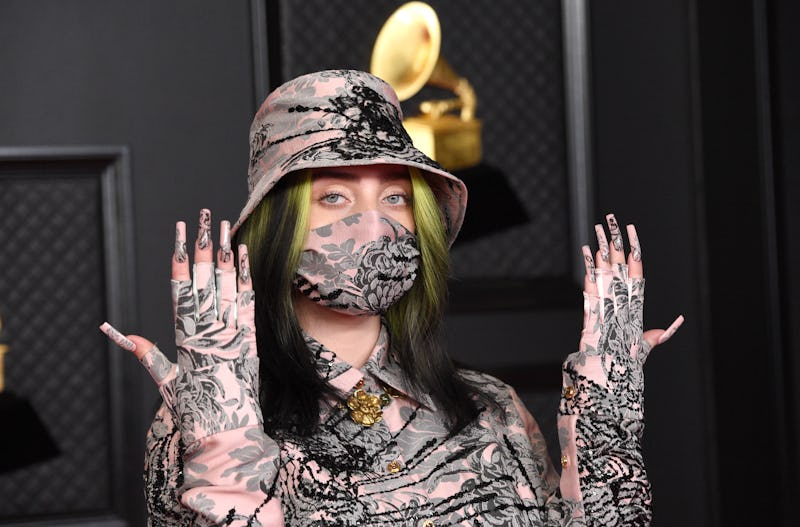 Kevin Mazur/Getty Images Entertainment/Getty Images
Billie Eilish is apparently in the best place of her life, and her new music is about to reflect this mood. Eilish teased a snippet of her new single, which appears to be called "Happier Than Ever," in an enchanting clip posted to her social media channels on Monday, April 26. And with her new blonde hairdo, it's clear that her next era is upon us.
In the 15-second teaser, Eilish is seen sitting with her back to the camera, as her soulful voice can be heard singing, "When I'm away from you, I'm happier than ever." But when she turns to her head around, the music stops in a haunting fade-out as she glares into the camera, making it clear that she means business. In her previous Instagram post on April 20, Eilish hinted at new music on the horizon, captioning her selfie with "things are comingggg."
Eilish fulfilled that promise just a week later on April 27, announcing that her new album Happier Than Ever will be released on July 30. And as previously teased, a new song will arrive this Thursday, April 29. Her sophomore record will feature 16 songs, including previously released singles "my future" and "Therefore I Am," and the title track previewed in the teaser.
Back in December, Eilish teased her new album but said she would only release it on one condition: stop complaining about her hairdo. "I'm f*cking making you an album!" she told fans who requested a switch-up from her now-iconic black hair with lime green roots. "I will not put it out if you keep making fun of my hair." However, she did promise that she would change her hair when it was time for her next era. When she unveiled her new blonde 'do after the Grammys in March, which broke a record by receiving one million Instagram likes in just six minutes, it was clear that her next album was imminent.
For eagle-eyed fans, this new preview shouldn't come as a surprise. Eilish actually teased "Happier Than Ever" in her new Apple TV+ documentary Billie Eilish: The World's A Little Blurry, where she is seen working on the song with her producer and brother Finneas and expanding on her thought process behind her lyrics.
"How about the whole song is just more like, nothing even specific that they did, you're just not happy being with them, and you can't even explain it," she said, to which Finneas responded, "I love that." The film switches timelines, but given how it covers her life before the COVID-19 pandemic upended the world (and her world tour), it's safe to say that this song has been in the works for a while now. Eilish is still keeping the details of her sophomore studio album close to her chest, but with the first single out this week, expect all to be revealed soon.
Happier Than Ever is the follow-up to her massively successful When We All Fall Asleep, Where Do We Go? studio debut, which helped her win Album of the Year, Song of the Year ("Bad Guy"), Record of the Year ("Bad Guy"), and Best New Artist at the 2020 Grammy Awards.