Everything You Need To Remember About Blake From The Bachelorette
He makes a surprise appearance on Katie's season.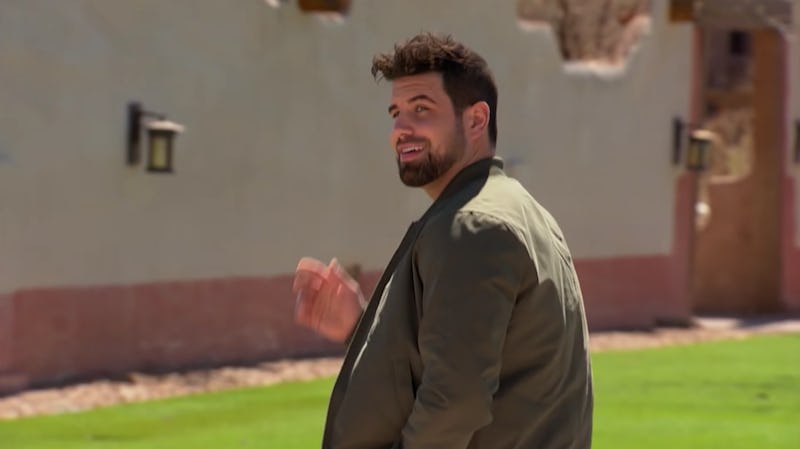 ABC/screenshot
Blake Moynes has never been one to adhere to The Bachelorette "rules." Before appearing on Clare Crawley's season of the show, he DMed her on Instagram, which contestants are absolutely not supposed to do. But he apparently had no regrets about doing something that could have gotten him kicked off the series: he did the same thing before joining Katie Thurston's Bachelorette season, according to Nick Viall.
Nick, who helped facilitate a recent date on Katie's season, claimed on Us Weekly's Here For The Right Reasons podcast that "there was some dialogue between Katie and Blake" before he arrived in New Mexico to enter the competition. "I don't think it was to the degree that it was with [me and] Kaitlyn [Bristowe]," Nick said, referencing when he talked to Kaitlyn offscreen before later joining her season. "[For us], it was like a pretty intense, you know, two months of dialogue, but I do think Blake will go far."
Katie told Us Weekly that Blake just sent a "generic" message to her saying, "good luck, you did great," which is not technically against the rules considering he hadn't been cast on her season when he sent it. Still, his arrival likely won't go over well with the rest of the men. They can't stand when someone talks to the Bachelorette twice during the cocktail party — never mind talking to her before the rest of the men have even had the chance.
As is always the case on The Bachelorette — and particularly on Katie's season thus far — this will likely lead to questions about whether or not Blake is there for the ~right reasons~. "Blake is going to get crap, obviously, for someone who fell in love with Clare without validation, fell in love with Tayshia without validation. So, when he's [saying], 'I'm in love with Katie,' it's fair to question [it]," Nick said on the Us Weekly podcast. "I don't question that he believes what he says. I just kind of question, like, 'Do you just kind of love hard, bro?'"
We'll see what Blake has to say for himself when he shows up, but in the meantime, here's what fans need to know (or remember) about the 30-year-old Canadian.
He's Ready To Find The "One"
While on Clare's season, Blake put in his ABC bio that he was feeling pressure to settle down because he's the only single one left in his friend group. After discussing his forlorn love life with his buddies, Blake told the Hamilton Spectator that he resigned to sign up for any dating show he could find. That's how he wound up filling out an application for The Bachelorette (and also Naked & Afraid, but that would have been a whole other type of experience). As we know, he was ultimately cast on The Bachelorette but didn't make a lasting connection with either Clare or Tayshia. That was almost a year ago, so he's likely feeling the pressure to settle down even more now.
Blake also said in his ABC bio that he wants a partner who's "outdoorsy, beautiful, fun" and can put up with his "potty mouth." Katie certainly checks those boxes, so Nick may not be wrong in guessing that Blake will go far.
Blake's Job Has Changed A Bit
When we first met Blake, he was working as a Wildlife Manager in Ontario, Canada. His job allowed him to interact with all kinds of cool animals like tigers and rhinos. (He even has a bird of prey as a pet.) He's still in the field -- working for places like Urban Wildlife Care -- but he's also hoping to effect change on a larger level.
After appearing on The Bachelorette last year, Blake started the Instagram page mowglimoynes, which serves to educate people about the importance of protecting animals and the planet. He also opened a merch shop, where he donates a portion of every item to planting trees and wildlife conservation. He sells shirts that say things like "Dog Daddy" and "Live Wild."
Blake's Instagram Shows Off His Passion
Aside from the occasional SponCon post, Blake mostly shares photos of him with animals on Instagram. He's fond of domestic animals, like his cat.
And he loves exploring the great outdoors with his dogs.
But he also posts plenty of pictures with more exotic animals like a snake or a snowy owl.
For now, Blake has left his wildlife work behind to explore a potential connection with Katie. And if they hit it off, Katie may have co-host Tayshia Adams to thank. In the promo for Blake's big arrival, Tayshia tells Katie that Blake reached out to her. Presumably it was her who helped get him on the show. Guess she doesn't feel too weird about watching her ex date the new Bachelorette!!
This article was originally published on