Brian Cox Revealed An Emotional Detail About Roman's Voicemail On Succession
Roman had some choice words for his dad during the April 9 episode.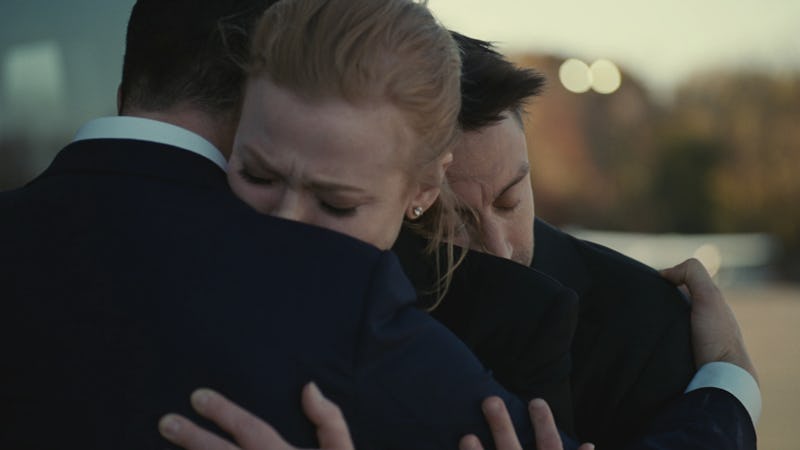 HBO
Spoilers ahead for Succession Season 4, Episode 3. The latest episode of Succession started out pretty typically, with Logan Roy (Brian Cox) screwing over his kids. This time around, he instructed Roman (Kieran Culkin) to fire Gerri (J. Smith-Cameron) — a task Roman predictably hated, given his relationship with Waystar's general counsel. After the deed was done, Roman decided to let his dad know exactly how he felt. "That was horrible, with Gerri ... are you kind of just being sh*tty with me? 'Cause, your son is getting married and you can't f*cking keep expecting me to bend over for you, like, being c*nty," Roman said in a voicemail. "So, I'm just asking. So, yeah, that's the question. Are you a c*nt? OK, give me a buzz."
The colorful vocabulary was very on-brand for Roman — though he might have phrased things differently had he known it would be the last message he ever sent his dad. Logan suffered a medical emergency on his Sweden-bound plane, ultimately dying in the air. As Roman reeled over the news with Kendall and Shiv, he naturally wondered about Logan's final moments. "Do we know if he was on his phone? If he checked his messages? ... Did I say I loved him? I'm pretty sure I didn't," Roman said.
Clearly, Roman was worried about the last words Logan ever heard being his youngest son calling him c*nty. And given the escalation of events in the episode, the timing certainly fits!
Even Kieran Culkin had a hard time shaking off his character's heartache. "To some extent this is just, you know, my job, and I'm trying to keep the emotional stakes up and put the character through that, and then go home," he said during a post-episode featurette. "But the problem with that is ... yeah, that was Roman going through that, but physically, I actually had to go through that."
While Roman may never get the answer he wants, Brian Cox has provided his behind-the-scenes take about whether or not Logan heard that final voicemail. "No, it was too late," the actor told Vulture. "The only way he saw the dick pic thing [when Roman accidentally texted Logan instead of Gerri] was because it was a mistake. He wouldn't have been pursuing it. It was just this alert that came up on his phone."
True, Logan might use his phone to send his kids horrible directives. But as far as receiving them? The Roy family patriarch was probably protecting his peace and missed Roman's call and fateful voicemail.
Cox also said Roman was Logan's "hopeful child," suggesting that he died respecting him — or at least, not hating him. "He doesn't acknowledge it in any depth, but there's the fact that Roman saw through the Middle Eastern money in Season 2," Cox said. "He knew that was fake. He knew they were not going to be delivering." While the actor said Roman had a problem with his "potty mouth" and penchant for nudes, Logan seemed to take him more seriously than his siblings. So if you're reading this, Roman: it's OK! Daddy's not mad.