Britney Spears Said She's Not Sure If She'll Ever Perform Again On Instagram
The singer opened up about putting her career on hold in an Instagram Q&A with fans.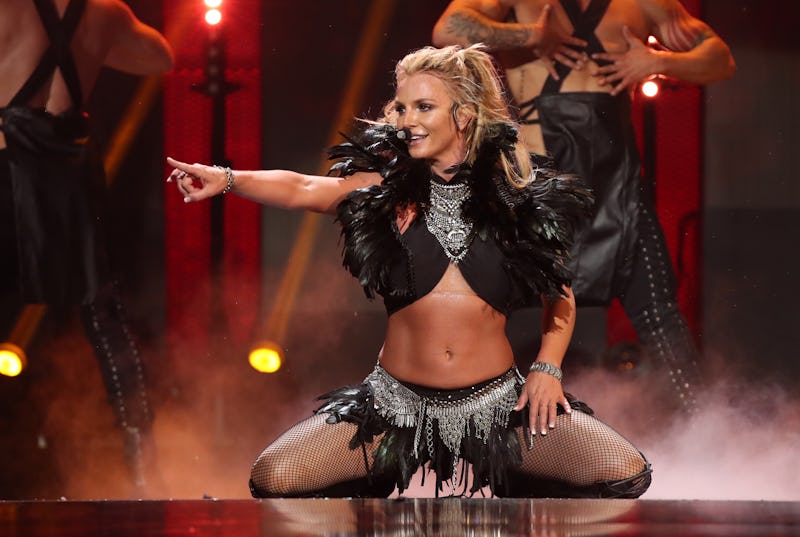 Christopher Polk/Getty Images Entertainment/Getty Images
For once, Britney Spears is putting herself first — and that includes leaving her career on hold. In a new Instagram video posted on Thursday, June 17, Spears said she wasn't sure when she will perform again, or if she'll even get back on stage at all, confirming previous reports that she has no plans to perform amidst her ongoing conservatorship battle with her father Jamie Spears.
In the video, Spears held one of her occasional Instagram Q&As, where she takes questions from followers, and answered a fan who asked if she would ever get on stage again. "I have no idea," she said. "I'm having fun right now. I'm in a transition in my life, and I'm enjoying myself, so that's it." She did, however, share one fun memory from her remarkable career, saying that her favorite business trip was flying out to Italy to visit Donatella Versace at her villa.
In September 2020, the singer filed court documents petitioning to remove her father Jamie from her conservatorship and asking that his request to re-instate Andrew Wallet as his co-conservator be denied, indicating that she will never perform again unless Jamie permanently resigned as the conservator of both herself and her estate. Spears' lawyer Samuel D. Ingham III affirmed her position, stating that "she is afraid of her father" in a November court hearing. "She will not perform again if her father is in charge of her career," he said.
In August 2019, Jamie temporarily stepped down as Spears' primary conservator after an alleged physical altercation with her son Sean Preston, citing "personal health reasons." He was temporarily replaced by Jodi Montgomery, who Spears is currently requesting to become her permanent conservator. Jamie is still in charge of Spears' finances, something Spears is trying to appeal. However, the court did grant her request to appoint Bessimer Trust, an independent financial judicary, to also oversee her estate, serving as a co-conservator alongside Jamie.
Thankfully, Spears' own voice was heard in court on June 23, where she spoke out against the conservatorship and requested for it to end, making some shocking relevations about her dad in the process. While she didn't comment on her career going forward, she did say that she fought for a "2-3 year break" after completing her first Las Vegas residency Piece of Me, which she was denied, indicating that she doesn't want to stop performing completely. Hopefully this will lead to Spears getting what she wants in court and feeling empowered enough to take the stage once again on her own terms, and fans are not the only ones hoping for this outcome.
In March, Spears shared a throwback clip of her performing The Jets' "You Got It All" during a 1998 business trip to Singapore, explaining that her mother Lynne sent it to her as a reminder of her talents. "Geez … My mom sent this to me and reminded me that I can sing," the Grammy winner wrote. "She said, 'You never sing anymore… you need to again !!!!'" If Spears' own mom misses her performing on stage, imagine how her biggest fans feel.