Bryant From The Circle Was On America's Next Top Model
The breathwork instructor has had a varied career.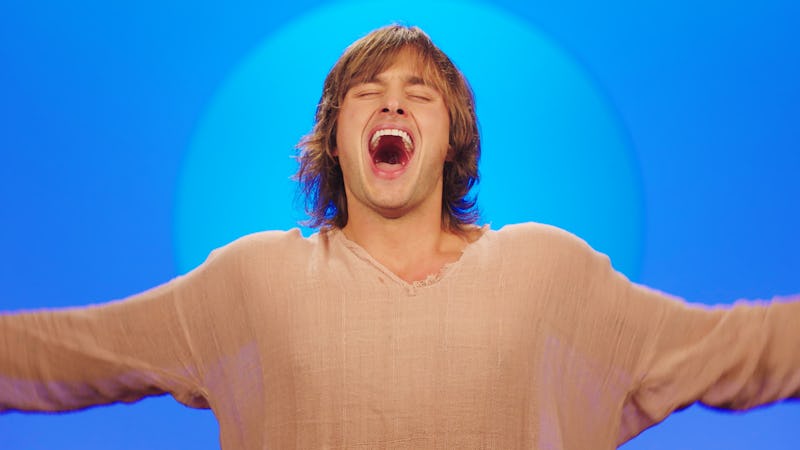 Netflix
Netflix's The Circle is officially back for Season 2. Just as in Season 1, the show will focus on a group of contestants confined to a tastefully decorated apartment, whose only form of social interaction is through an online portal The Circle. Their goal is to become the top influencer in the game, and one contestant who may already have a leg up on the competition is Bryant Wood.
Bryant is a fashion model and body builder turned creative marketer, conference organizer, and Hollywood wellness guru. With a combination of great profile photos — which The Circle demonstrates, for better or worse, makes a huge difference in how the player ranks — and his social media savvy, he may be a tough competitor to beat. Here's everything to know about the zen health buff who once competed on America's Next Top Model.
Bryant Moved Out At 15
According to a VoyageLA interview, Bryant is a triplet. He moved out at 15 to find "the perfect adventure." Of his early years with his family, he said he "had a lot of fun, and acquired some trauma, wonderful wisdom, limiting beliefs, and learned how to be emotionally intelligent."
He Pursued Modeling and Acting
After leaving home, Bryant traveled around the world as a model. He won a physique competition and eventually competed in Season 22 of America's Next Top Model. He made it to Episode 3, but was eliminated when Tyra Banks chose the final 14 contestants.
He told VoyageLA that he then "fell head over heels" for acting because he wanted to "study the human condition." He was in the crime drama The Bay and the comedy show This Just In, and has three upcoming projects — two thrillers and the horror movie — on his schedule.
Bryant's Instagram Highlights His Varying Interests
Bryant's Instagram is an eclectic mix of his old modeling shoots, film sets, and current focus on getting in touch with his spiritual side. In a March 15 post, he talked about visiting an Ayahuasca (a psychoactive tea) center in Costa Rica and in February he led a breathing and meditation "tent takeover" in Tulum.
Bryant's Job Is Multi-Faceted
According to his LinkedIn page, Bryant is the Director of Influencer Relations at The Krim Group, which connects nonprofits with actors and influencers who can create visibility around their fundraisers, per its website.
Bryant seems to be a man of many hats, though, and he's also a co-founder of the company Modern Nirvana. Per his website, Bryant goes by the name of iKar, "the one who touches the sky." He is a "master breathwork" instructor who teaches yoga, mindfulness, and motivation. He writes that he's "studied in Buddhist Sanghas, learned from Sufi mystics, participated in week-long rituals with Ancient African IFA high priests, and immersed himself in Tibetan Buddhism."
He advertises his breathing classes and conference talks on a separate Instagram. Modern Nirvana also has its own Instagram, which shows they've presented their teachings at conferences in Silicon Valley.
On top of all that, Bryant told VoyageLA that he's an executive producer of Flowstate Media, a podcast about how mindfulness intersects with Hollywood.
He's Worked with AI
Previous Circle contestants have struggled with how to present themselves on The Circle platform, but Bryant already has experience working with branding and artificial intelligence. Per a Brookton Mag interview, up until 2018 he was the executive producer for Polentus-Element, which teaches companies how to build a brand using virtual and mixed media elements.
He's Created Viral Campaigns
Bryant also told Brookton Mag that he's created multiple social campaigns, some of which addressed bullying. "I actually started a movement called 'describe yourself.' We had 40 million plus people get involved with over 12 million likes and comments on social media," he explained. "So I printed everyone's comments out and hung them all over my house and it went viral. I made an Instagram page called @WeAreBryantWood and just put blue over their face, my favorite color, showing that they've been heard."
We'll have to wait and see how the rest of The Circle contestants perceive Bryant, but it sounds like he already knows how to play the game.