Caitlyn Jenner Is One Step Closer To Becoming California's Next Governor
The reality star officially announced her plans to run.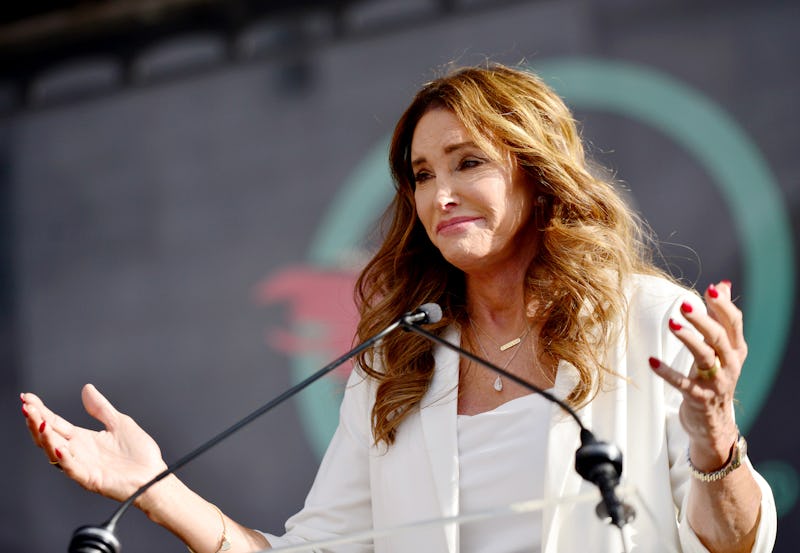 Chelsea Guglielmino/Getty Images Entertainment/Getty Images
Caitlyn Jenner has filed her initial paperwork to run for governor of California. The 71-year-old reality star confirmed the news on Friday, April 23, via a press release on Twitter and Instagram. She tweeted "I'm in!" alongside the announcement, urging her followers to visit her website and donate to her campaign. "California has been my home for nearly 50 years," she said. "I came here because I knew that anyone, regardless of their background or station in life, could turn their dreams into reality."
But alas, there's a lot about California that Jenner isn't satisfied with at the moment. The former Olympian went on to criticize the state for putting "politics over progress and special interests over people." "Sacramento needs an honest leader with a clear vision," she said. And according to her, she's exactly the person for the job. "Taking on entrenched Sacramento politicians and the special interests that fund them requires a fighter who isn't afraid to do what is right. I am a proven winner and the only outsider who can put an end to Gavin Newsom's disastrous time as governor."
Newsom is currently facing a recall election after being heavily criticized for his immigration and tax policies, as well as his handling of the COVID-19 pandemic. Republicans in the state have expressed strong disapproval of the restrictions Newsom placed on the economy, and the governor also found himself in hot water when it was revealed that he attended an unmasked dinner party indoors at a restaurant in Napa Valley. This, of course, has many wondering if California is ready for its first Republican governor in 10 years and if that governor will be Caitlyn Jenner.
"Californians want better and deserve better from their governor," Jenner's statement continued, adding that career politicians have "over-promised and under-delivered" for far too long. The reality star also pointed to the businesses suffering due to the ongoing coronavirus pandemic, as well as the children who have "lost a year of education." Jenner added that the high tax rates across the state are "killing jobs, hurting families, and putting an especially heavy burden on our most vulnerable people."
Jenner has long been vocal about her Republican views, and although she was open about voting for Trump in 2016, she has since slammed the former president for his treatment of the LGBTQ+ community. In 2017, she took to Twitter with a video message for Trump after he rolled back a policy put in place by the Obama administration that allowed transgender students to use public school bathrooms that corresponded to their gender identity. "Well @realDonaldTrump, from one Republican to another, this is a disaster," Jenner tweeted. "You made a promise to protect the LGBTQ community. Call me."
The following year, Jenner wrote an op-ed for The Washington Post, which condemned the then-president for his continued discrimination against transgender people. "The reality is that the trans community is being relentlessly attacked by this president," the Olympic gold medalist wrote. "The leader of our nation has shown no regard for an already marginalized and struggling community. He has ignored our humanity. He has insulted our dignity." On Instagram, Jenner also shared an imaged that said, "Trans people won't be erased," and tagged Trump in the caption.
Despite the reality star's criticism of the former president, she does seem to be taking a page or two from his playbook. According to Axios, Jenner has built a team of "prominent GOP operatives." Among them are Tony Fabrizio, who was the top pollster on both of Trump's presidential campaigns, as well as Ryan Erwin, the founder of RedRock Strategies. She's also recruited Tyler Deaton, the president of Allegiance Strategies, and Steven Cheung, who used to be a Trump White House and campaign hand. Cheung also worked on Arnold Schwarzenegger's successful 2003 recall campaign.
Per Jenner's latest press release, an official campaign announcement will come in just a few short weeks. For fans of the reality star that have been following her journey for years, this probably doesn't come as much of a surprise. In 2017, Jenner told radio host John Catsimatidis that a future in politics was not off the table. "I have considered it. I like the political side of it," she said at the time. "Over the next six months or so, I gotta find out where I can do a better job. Can I do a better job from the outside? ... Or are you better from the inside, and we are in the process of determining that." Well, it looks like she finally has it all figured out.
This article was originally published on