Oscar Pistorius' Athletic Future Doesn't Look Good
ESPN's The Life and Trials of Oscar Pistorius is taking a closer look at his rise and fall.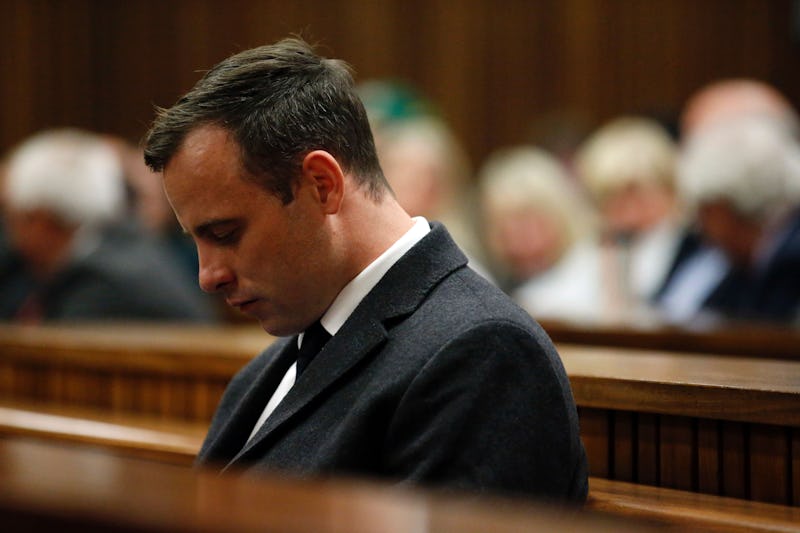 MARCO LONGARI/AFP/Getty Images
ESPN's newest installment of its 30 for 30 docuseries will chronicle the rise and fall of Oscar Pistorius, a former Paralympic gold medalist sprinter, whose current athletic future is looking pretty limited. In 2013, Pistorius shot and killed his girlfriend Reeva Steenkamp, claiming that he mistook her for an intruder. What followed was a lengthy court battle that eventually ended with the South African sprinter going from revered athlete to convicted murderer, a journey chronicled in the four-part film The Life and Trials of Oscar Pistorius.
Pistorius shot Steenkamp four times in February 2013. He was originally convicted of culpable homicide in September 2014 and sentenced to five years in prison. At the time, the question of whether he would ever compete professionally again was settled by the International Paralympic Committee, which banned Pistorius from competing in events until 2019 — unless he appealed the case and his sentence was reduced. He did no such thing, but IPC regulations actually don't bar athletes with a criminal record. So technically, he could already be participating in official events today — if his sentence hadn't been changed.
After beginning his prison sentence in October 2014, Pistorius was released early in October 2015 after submitting an appeal. But, in December of that year, per the BBC, the South African Supreme Court of Appeal overturned his culpable homicide verdict and found him guilty of murder. He was sentenced to six years in prison in July 2016, and later, an additional nine years in November 2017, marking a total of 15 years, per The New York Times. He is currently serving out his sentence, and won't be eligible for parole until 2023.
It's possible that he could want to return to the track after he gets out of prison, but that, too, seems unlikely. A professor who carried out a month-long study of Pistorius' mental state during his initial trial said he "seriously doubts" that Pistorius would return to the world of track. "During the assessment there was almost a bit of relief from his side that he did not have to follow that very active schedule and all that pressure week in and week out," Professor Jonathan Scholtz told BBC Radio 5 in 2014. "He was put through a lot every time he had to race. He had a lot of adversity as well, to fight for his career."
The Life and Trials of Oscar Pistorius will premiere on ESPN+ on Sunday, Sept. 27.