Fans Spotted An Apparent Error In Cara Delevingne's New Arm Tattoo
Sometimes, one letter can make all the difference.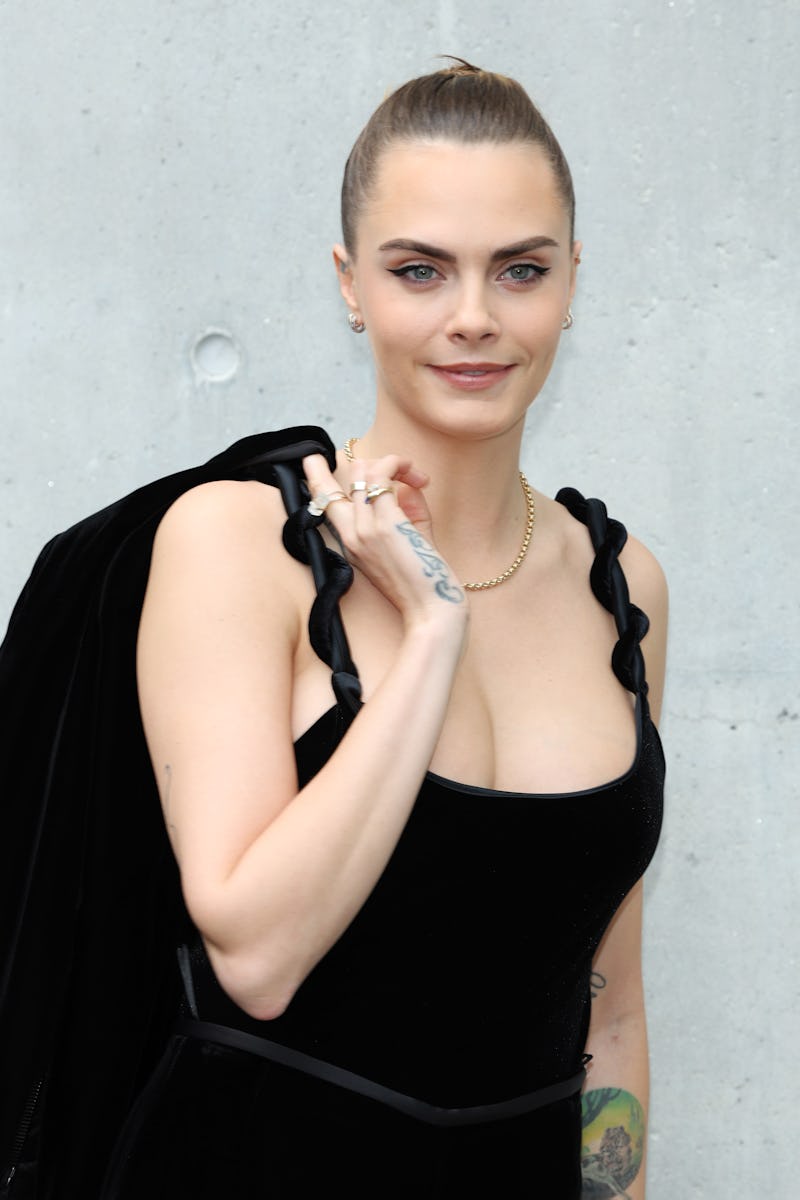 Daniele Venturelli/WireImage/Getty Images
When it comes to tattoos, Cara Delevingne is no newbie. Designs are etched onto the model-actor's neck, ribs, arms, hands, feet, and more. She has black ink, colored ink, and even white ink. Unfortunately, now, she might have a tattoo with an error as well.
The Only Murders in the Building vet showed off her latest body-art addition in a series of four snaps posted to tattoo artist Matteo Nangeroni's Instagram account on Sept. 26. The beautiful work features a dot above a partial mask-like face, and then below that, text reading, "dormiveglia: (n.) the place that stretches between sleeping and walking."
The definition of the Italian word caught numerous fans' attention for the wrong reason. "Nooo….you spelled it wrong," one person commented, adding, "it's supposed to be 'waking' not WALKING." Another chimed in, saying, "walking or waking?" before noting, "Beautiful tattoo though!!" Still someone else called it "offensive" that "waking is spelled incorrectly."
Dormiveglia is translated as "half-asleep," so it does seem that "the place that stretches between sleeping and waking" would be the logical definition. Still, there were commenters who were open to the possibility that "walking" was a conscious choice. At least one person asked about the intention, rather than jumping in with an opinion: "was 'walking' instead of 'waking' a choice or a typo?" they asked.
While people weighed in about "walking" vs. "waking," there was also a debate about whether or not Delevingne needed to be topless in the photo. "No shirt for an arm photo?" one person commented. Her attire (or lack thereof) sparked enough conversation that she herself responded to the Instagram post and explained why she posed that way. (Delevingne did not, however, address the suspected typo.)
"Just to be clear to everyone! I chose to take my bra off, the picture didn't look good with my bra on," she wrote in the comments. "I am a perfectionist especially when it comes to photography and I was trying to help make something beautiful. Everyone calm down please. Thank you x"
Even with the controversy, many people were still able to appreciate the beauty of Nangeroni's work, hopefully including Delevingne. The tattoo reveal was perhaps her most buzzed-about yet, and it probably won't be her last. She previously told Grazia Daily that she "can't stop" getting inked, plus revealed to Elle in 2018 that she's "into more tattoos, more piercings, all of the things!"
As for the potential spelling mishap, she wouldn't be alone if it was indeed an error: Several other celebrities have had tattoo mistakes called out by fans in the past, including Rihanna, Britney Spears, and David Beckham, among others.