Grey's Anatomy Fans Are Worried They Figured Out The Sad Reason Japril Returns
"Are we getting another death???"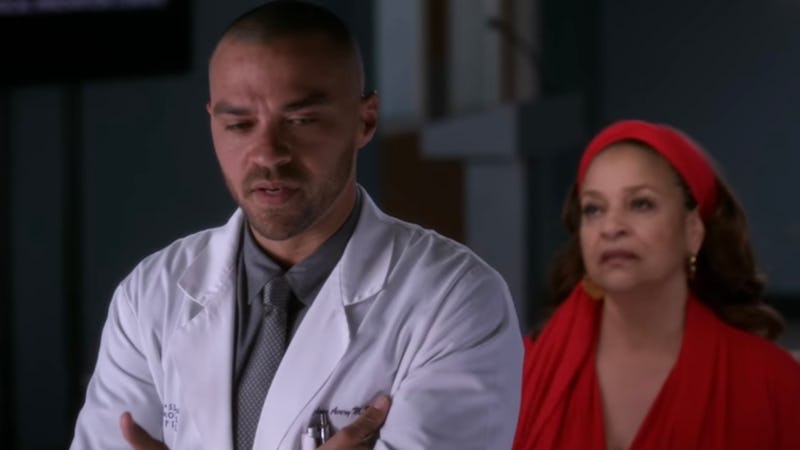 ABC/screenshot
Spoilers ahead for Grey's Anatomy Season 18, Episode 17. Grey's Anatomy fans already know that Jackson and April are returning for the two-hour finale, but now they have reason to worry that the homecoming might not be for a happy reason. After 10-years-sober Richard spent the better part of the May 12 episode on an accidental high from Catherine's cannabis juice, he finally asked his wife what it was doing in their refrigerator in the first place. "It's for my pain," she explained, before adding, "My cancer has progressed, baby."
As viewers recall, Catherine underwent surgery for a large spinal tumor in Season 15. Though she ultimately survived the risky procedure and her prognosis was good, the surgeons had to leave a small piece of her tumor behind. With just one episode to go until the May 26 season finale, several fans on Twitter naturally worried that the recent turn of events could mean that her son Jackson (Jesse Williams) and April (Sarah Drew) — better known by their Japril ship name — could even be returning to Seattle for a funeral, should Catherine's cancer kill her this time.
"Are we getting another death???" one viewer tweeted on May 12, while another predicted that Catherine's possible death could be a way into a Boston-based Japril spinoff.
Drew, for one, would be on board for that spinoff. "How cool would that show be?" the actor asked reporters during a May 2021 press call. "How amazing and needed is a show about racial justice in the medical field and equity and equality… Him working from the position of having money and power to actually being able to make that change. And then she's working with folks experiencing homelessness, and she's also doing that in her own way. And like these two could change the world of medicine, right? I mean, I'd watch that show!"
Meanwhile, Williams, for his part, isn't giving away any spoilers. "I think a dart would shoot into my neck if I told you what's going to happen with Japril, but they exist in some form or fashion," he vaguely teased on May 9's Watch What Happens Live with Andy Cohen of their comeback in the finale, which happens to be the 400th episode of Grey's. "You will see them on screen, possibly on the same screen. That's about all I can say."
Though the recent Tony Award nominee played coy when asked if they'd already shot their scene, Drew already shared an Instagram reunion video on April 25. In the caption, she simply joked that her former Grey's co-star is "so mad" she hasn't come to New York City to see him in Broadway's Take Me Out though, so no clues there either.
Regardless, there are plenty of other reasons for Japril to return to Grey's, and even if the truth involves Catherine's health, that doesn't necessarily mean she's going to die. Here's hoping for the best.