Nomadland Director Chloé Zhao Has Come A Long Way In A Short Time
Now, she's poised to take over Hollywood.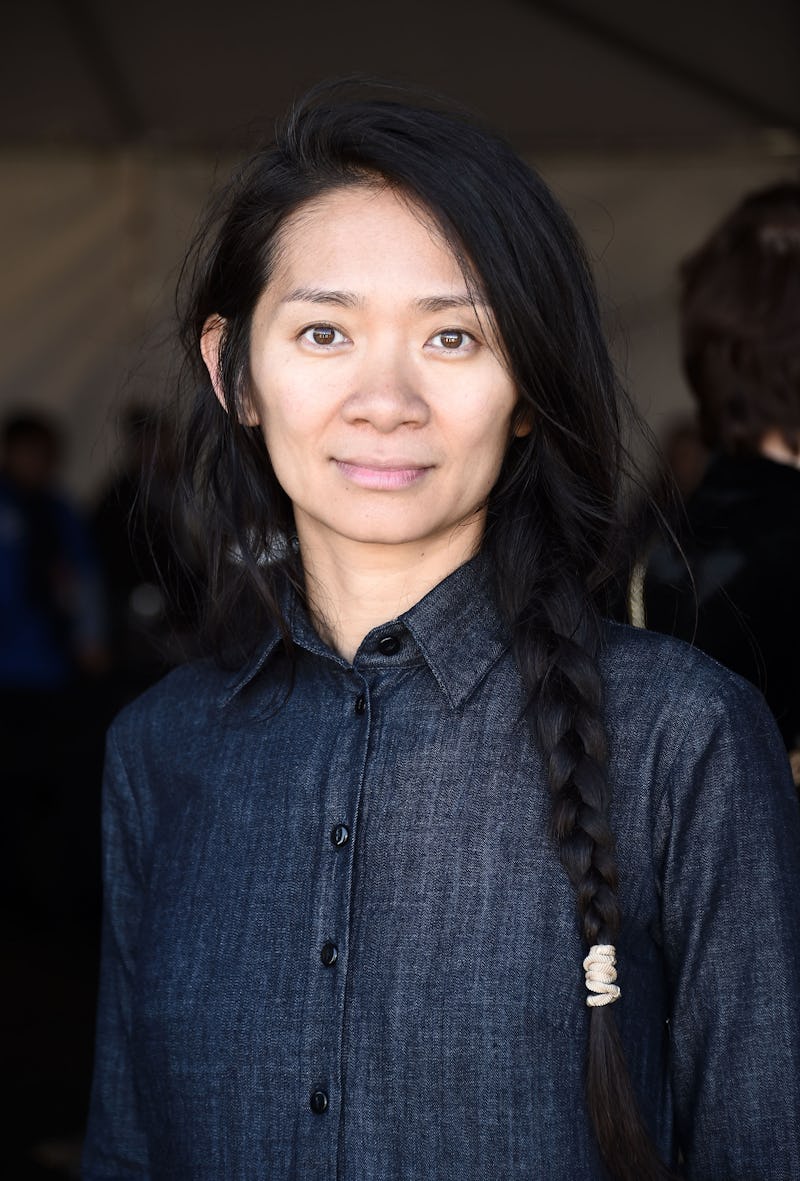 Amanda Edwards/Getty Images Entertainment/Getty Images
In a few short days, Nomadland director Chloé Zhao could become the second woman in history — and first-ever woman of color — to take home the Best Director trophy at the Oscars.
Zhao's been working towards this moment for years — but conquering Hollywood wasn't always her goal. She didn't know she wanted to be a filmmaker until well into her adult life, and it's a testament to her talent that she's found success relatively quickly. Few directors can straddle both the indie and blockbuster market, but Zhao, who knew no one in the film industry before graduate school, has somehow found a home in both worlds. Her first two feature-length films — Songs My Brothers Taught Me and The Rider — both received acclaim upon release, with the latter taking home Best Feature at the Gotham Independent Film Awards. Her third, Nomadland, is currently nominated for six Academy Awards, including Best Picture and Best Adapted Screenplay.
The director's next project — Marvel's Eternals, a big-budget movie currently set for a November 2021 release — is a big departure from the intimate indies she made her name with. Zhao is known for her hyper-realistic approach to film, and her penchant for sweeping and close-up shots. But with production details for Eternals kept mostly under wraps, it's hard to say how Zhao's signature style will translate to the blockbuster market.
So how did Zhao go from majoring in political science to becoming one of the hottest names in film today? Below, a quick summary of Zhao's remarkable career.
She holds degrees in both political science and film.
Born in Beijing and educated in Brighton, England, Zhao moved to the United States in her late teens to finish high school, and then attended Mount Holyoke College in South Hadley, Mass. She received a bachelor's degree in political science, but decided against pursuing politics or law. Her interest in film developed while working as a bartender after graduation, and she soon applied and enrolled in the MFA program at New York University.
Her first feature film was her MFA graduate thesis.
After some revisions, Zhao's NYU graduate thesis was released as her debut film, Songs My Brother Taught Me. It premiered at Sundance Film Festival in 2015 to rave reviews. The movie explores the relationship between a pair of Lakota Sioux siblings who live on the Pine Ridge Indian Reservation in South Dakota. Following its Sundance success, Songs My Brother Taught Me then showed at the Cannes Film Festival, where it was nominated for the Caméra d'Or prize, or best first feature.
Frances McDormand approached Zhao to adapt Nomadland.
One of the most interesting things about Nomadland is how it got made in the first place. McDormand and producer Peter Spears optioned the film rights to Jessica Bruder's non-fiction book Nomadland: Surviving America in the Twenty-First Century in 2017. They then attended the Toronto International Film Festival that year, where they saw Zhao's sleeper hit The Rider, and approached her shortly afterward about adapting the book into a screenplay. Zhao was working on her own vagabond-like project at the time (which never came to fruition), and felt that this project came at the right time in her career.
"It felt like fate," Zhao told Vulture earlier this year. "I didn't feel like I was jumping to something else, but a deeper version of what I wanted to do."
Zhao primarily casts "non-actors."
Zhao's hyper-realistic style also extends to her casting. She often casts untrained, "non-actors'' in her films, or has real people play fictionalized versions of themselves. In Nomadland, three of the film's "actors" were the actual people from Bruder's book. Both Songs My Brother Taught Me and The Rider also use non-professional actors.
"Non-actors are just always going to be a version of themselves, and that's what you want them to be," Zhao told the Hollywood Reporter last year. "Especially coming from a Chinese woman's imagination of a cowboy. You know I can't do that. It's never going to be as authentic."
Eternals isn't the only Marvel movie Zhao was considered for.
Zhao may have secured the Eternals gig, but she also told Vulture that she was in the running to direct Black Widow at one point (Cate Shortland accepted the option). Zhao was heavily immersed in the indie film world with no high-profile, big-budget experience — but that's exactly what the Marvel suits were looking for with Eternals.
When asked about Zhao's vision for Eternals, Marvel Studios head Kevin Feige told Rolling Stone: "Not only does Chloe make remarkable, small, personal movies in a remarkable, small, personal way, but she thinks in grand, cosmic, gigantic terms, which fit perfectly with what we wanted to do … Eternals is a very big, sweeping, multimillennial-spanning story. And she just got it."
She already has more projects lined up.
Shortly after the success of The Rider, Amazon Studios picked up Zhao's currently untitled film about Bass Reeves, the first Black U.S. Deputy Marshall. And she's not done with blockbusters, either: Zhao was recently tapped to direct a cross-genre (specifically sci-fi-horror-Western) adaptation of Dracula for Universal. With Zhao fast becoming a staple in Hollywood, it won't be long until the director cements her legacy in filmmaking.