Chrissy Teigen Addressed Bullying Accusations From Courtney Stodden & Farrah Abraham
"There is simply no excuse for my past horrible tweets. ... I was a troll, full stop. And I am so sorry."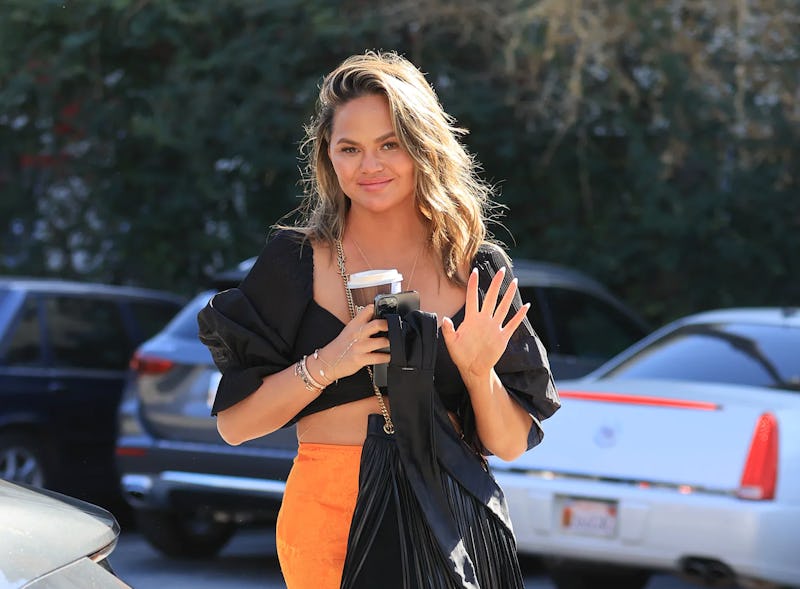 Rachpoot/MEGA/GC Images/Getty Images
Chrissy Teigen has spoken out after stars like Courtney Stodden and Farrah Abraham accused her of cyberbullying them on Twitter in the early 2010s. The model and Cravings author wrote a lengthy, emotional letter on Medium and shared it to her Instagram and Twitter followers on June 14, apologizing for her past behavior and saying that she was in the process of privately reaching out to victims of her "trolling."
In May, Stodden said Teigen would regularly insult them on Twitter while they were married to then-husband Doug Hutchison when they were 16 years old, and he was 51 at the time. "She wouldn't just publicly tweet about wanting me to take 'a dirt nap' but would privately DM me and tell me to kill myself," Stodden told The Daily Beast. Teigen apologized publicly on Twitter, but since then, Teen Mom star Abraham also came forward to accuse her of cyberbullying. "When I initially saw [her] make these comments I could tell she was a desperate music video groupie and model," Abraham told Fox News. "I just thought it was only with me and I ignored her because I don't behave like that." The fallout lead Teigen to drop out of her planned role on the Netflix series Never Have I Ever.
In her new letter, Teigen acknowledged that her tweets were "awful" and she needs to apologize to "more than a few" people privately, beyond Stodden. "I'm in the process of privately reaching out to the people I insulted," she wrote. "It's like my own version of that show My Name is Earl! I understand that they may not want to speak to me. I don't think I'd like to speak to me ... But if they do, I am here and I will listen to what they have to say, while apologizing through sobs."
She went on to deem herself a troll and say there was "no excuse" for her past tweets. "My targets didn't deserve them," she said. "No one does. Many of them needed empathy, kindness, understanding and support, not my meanness masquerading as a kind of casual, edgy humor. I was a troll, full stop. And I am so sorry."
In the rest of her letter, Teigen details how much she has changed in the decade since sending the tweets, writing that motherhood and therapy have helped her, and explained why she wrote those words in the first place. "If there was a pop culture pile-on, I took to Twitter to try to gain attention and show off what I at the time believed was a crude, clever, harmless quip," she wrote. Now, the star experiences "sharp, stabbing pains" when she remembers her words. "I deserve it," she said. "Words have consequences and there are real people behind the Twitter handles I went after. I wasn't just attacking some random avatar but hurting young women — some who were still girls — who had feelings. How could I not stop and think of that?"
Stodden and Abraham have yet to respond to Teigen's public apology, but husband John Legend has his wife's back. Legend reposted Teigen's apology on Twitter and quoted a line from her letter, "We are all more than our worst moments," along with three heart emojis.
The Lip Sync Battle MC concluded her letter by clarifying that she wasn't asking for forgiveness, but rather for patience as she continues to work on herself and reach out to the people she hurt. "I ask that you allow me, as I promise to allow you, to own past mistakes and be given the opportunity to seek self improvement and change," she wrote. "Phew. A lot, I know. Thanks for listening."