Nothing Can Top Christopher Meloni's Perfect Response To His Viral Butt Pic
I am looking respectfully.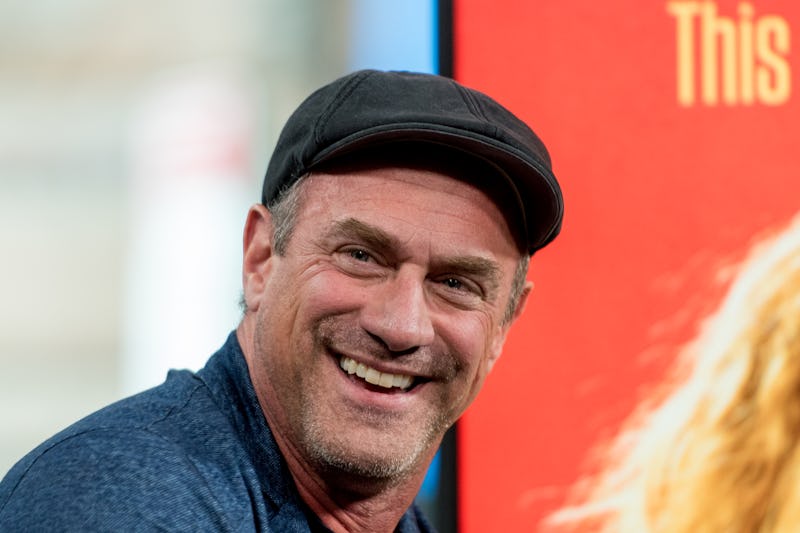 Roy Rochlin/FilmMagic/Getty Images
Unless you've taken one of those elusive screentime breaks this week, you may have scrolled upon a delightful snapshot of Christopher Meloni at work. No, we're not talking about him hitting up the craft services table or smoldering on the set of Law & Order. What the internet is thirsting over is much better, actually. Thanks to Spectrum science journalist Peter Hess, a new photo of Meloni's butt immediately sent the internet into overdrive. Shortly after, the actor responded to fans' reactions, and his tweet deserves to be framed and put in the national Twitter hall of fame... if there were such a thing.
On April 7, Hess tweeted, "SVU is filming in park slope this week and someone in the neighborhood facebook group posted this photo of chris meloni" and later added, "Law and Ardor: Special Thicctims Unit." Thank you for this contribution to society, Hess. Under the tweet, which has amassed nearly 25,000 likes so far, others chimed in and shared their glee. One got punny, writing, "What in the melon section of the supermarket is happening here." Another simply stated, "Okay. He knows what he is doing at this point." And you can't ignore this gem: "Steve Rogers might have America's Ass, but that right there is New York City's Ass."
As the hype around Meloni's cheeks continued to grow, he logged on and offered an explanation when someone asked, "@Chris_Meloni you wanna explain why you have so much cake???" along with a GIF of Patrick Starr. "Sure," Meloni began. "Big birthday(60), big boy(200 lbs), big cake."
Of course, this isn't Meloni's butt's first time in the spotlight. In 2015, BuzzFeed published a roundup of 17 pictures of his posterior for everyone to marvel at, which is absolutely worth revisiting today.
If you need more Meloni in your life (who doesn't?), you can catch new episodes of Law & Order: Organized Crime on Thursday nights on NBC.