Apple TV+'s City On Fire Deviates From The Novel In A Major Way
Author Garth Risk Hallberg says "the book decided" the ending.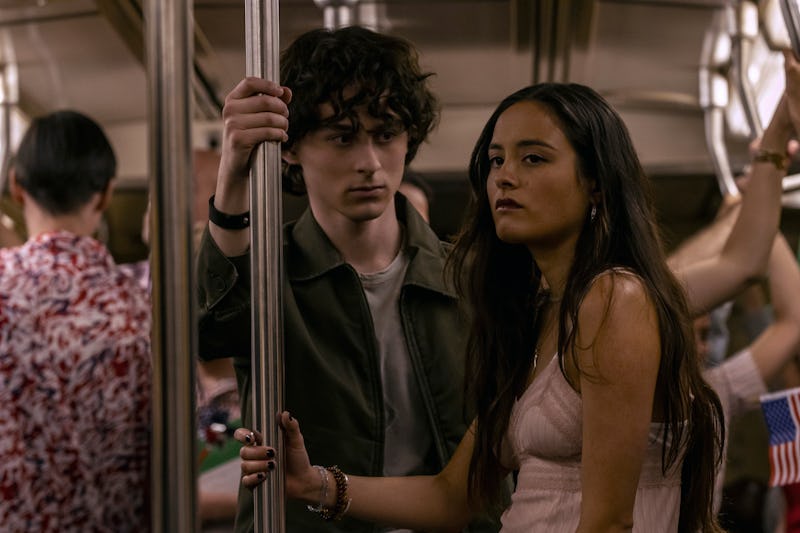 Apple TV+
Spoilers ahead for the City on Fire book. Inspired by Garth Risk Hallberg's 2015 novel of the same name, Apple TV+'s City on Fire is a "music-driven tale and family saga" that centers on the Fourth of July 2003 shooting of an NYU student named Samantha Yeung (Chase Sui Wonders). After the Central Park shooting, Samantha's friend Charlie (Wyatt Oleff), who is struggling to cope with his father's death on 9/11, stops at nothing to solve the mystery. The investigation ultimately reveals that Samantha is the "crucial connection between a series of mysterious citywide fires, the downtown music scene, and a wealthy uptown real estate family fraying under the strain of the many secrets they keep," per the streamer's series synopsis.
The most obvious difference between the Apple TV+ series and its source material is that Hallberg set his debut novel decades earlier in mid-1970s New York City. "We felt like, while a fascinating period, [that era is] well trodden territory," co-showrunner Josh Schwartz explained during a January AppleTV+ Television Critics Association panel, per Deadline. "We were really interested in that post-9/11, Occupy Wall Street [era] in New York. Obviously, the book culminates in the blackout of '77. There was a massive blackout in 2003. So creatively, that storyline lined up. But also thematically, 1977 was a time when people weren't sure that our city was going to survive. Post-9/11 New York, people had the same concerns, the same fears."
In the book's more than 900 pages, the plot similarly begins with a teen and teen punk-music zine writer named Samantha Cicciaro, aka Sam, being shot in Central Park on New Year's Eve. Her story intersects with that of Mercer, a young Black, gay writer from rural Georgia, who immediately becomes a suspect in the shooting, thanks to him being in the wrong place at the wrong time.
Mercer had been walking through Central Park following an explosive showdown at the family party of his boyfriend, William "Billy" Hamilton-Sweeney, one of two estranged heirs to an NYC banking fortune. When he finds Samantha in the snow, she had already been shot and was near death. Mercer gets her to a hospital, where she spends the remainder of the book in a coma. Finding out what happened from Mercer, Billy realizes he knows Samantha, as she and her friend Charlie are fans of his punk band, Ex-Nihilo.
Meanwhile, Mercer also meets Billy's estranged sister, Regan, who's trying to divorce her husband Keith. While visiting Samantha in the hospital, Mercer discovers that Keith had been secretly and romantically involved with the comatose teen. Elsewhere, Billy's anarchist bandmate, Nicky Chaos, plans to eliminate the wealthy elite — including Billy and his family who earned their money through shady corporate dealings — through an arson campaign. Culminating with the real-life New York City blackout of July 1977, Nicky's plan to blow up Billy is foiled.
Though readers learn who tried to kill Samantha — an old friend from the downtown punk scene, unrelated to the financial crime subplot — her ultimate fate is never revealed. However, City on Fire, which follows several other ancillary characters, serves as a series of portraits of urban lives, rather than a crime story. Similarly, several of the novel's characters' storylines are left largely unresolved, and some reader reviews referred to the City on Fire book ending as "unsatisfying."
Hallberg admitted that he had no idea who shot Samantha in Central Park, even as he was writing the book, for which he scored a reported $2 million advance. "I didn't want to know until the book knew, until the reader knows," he explained to Interview in 2015. "And so with the sort of resolution of the shooting, it's like you set things up; you give yourself all these tools, and you're not sure which one you're going to use, and then, of course, when I decided … I don't feel like I decided; I feel like the book decided."
The author hoped readers would be able to see themselves in the novel's characters, even if, on the surface, they don't seem to share much in common with them. Hallberg told Mississippi's The Clarion-Ledger, "Maybe good novels aren't about delivering answers so much as focusing our attention on worthy questions."