All The Clues Brandon J. Wins Michelle's Bachelorette Season
He already won two group date roses in a row.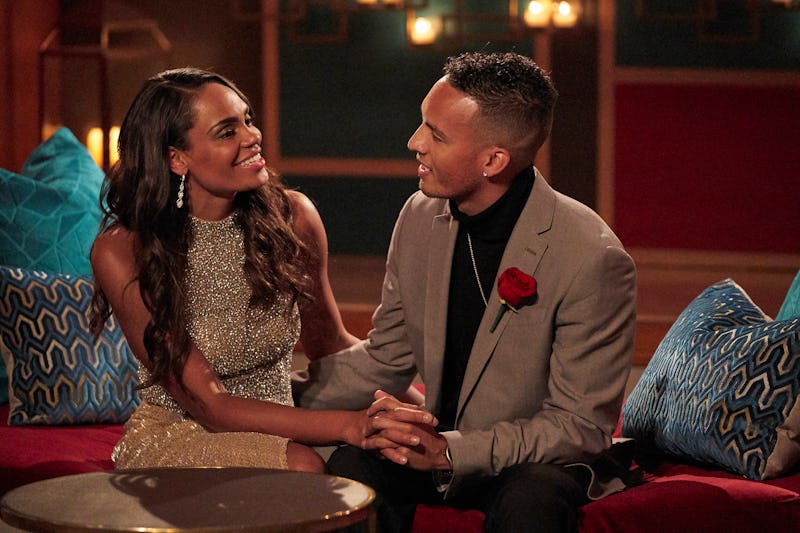 ABC/Craig Sjodin
Brandon J. arrived on The Bachelorette with a clear vision of his future with Michelle Young: he rolled up on a bed as way to preview what it would be like to wake up next to each other every day. Since then, the 26-year-old Portland resident has continued to impress Michelle, winning the first group date rose and gushing to the camera that he was falling for the fifth grade teacher. In turn, she admitted that she was starting to "picture a life with" Brandon. And that's only one of the clues that he could win Michelle's season.
In the season's third episode, Brandon again won the group date rose — which is, according to him, the first time a contestant has ever received two back-to-back group date roses on the series. During the same episode, he and Michelle bonded over feeling like the token Black kid growing up and later shared a passionate kiss.
That made clear early on that Brandon would be sticking around for a while, and one Redditor correctly predicted that he would at least make it to Michelle's final four. ABC's sneak peek of Michelle's season hints that Brandon could even be one of her final two men, aligning with previous reports from reality TV blogger Reality Steve. Ahead of the season, he attained photos of Michelle on a jet skiing date in Mexico just two days prior to her final rose ceremony. Although he was initially unable to identify the contestant, the preview of Michelle's season that aired after her premiere showed Brandon on a beach wearing the same blue swim trunks as the man in the photos.
It's unclear if that means Brandon will be Michelle's final pick or her runner-up. What we do know is that he won't be the next Bachelor, which would essentially confirm that he didn't win. Following months of speculation, ABC announced on Dec. 1 that Brandon's fellow contestant Clayton Echard — who'd already been spotted filming — will lead the next season of the show.
But it's definitely possible that Brandon will take home Michelle's final rose. Though fellow contestants Naye Olukoya and Joe Coleman are also strong contenders, Brandon J. and Michelle certainly have plenty in common, including a love of basketball. They've also both confessed that they're fallling in love with each other. And ahead of her second-to-last rose ceremony, Michelle described her "incredibly strong connection" to Brandon in a sneak peek from E! News. "He's been vulnerable, he's been open," Michelle told co-host Kaitlyn Bristowe.
It remains to be seen if Brandon and Michelle's connection will be strong enough to carry through to the end of the show, but we'll find out soon enough.
This article was originally published on