Courteney Cox Reunited With Her Friends Co-Stars For The Best Reason
Jennifer Aniston and Lisa Kudrow proved "I'll Be There For You" is more than just a song.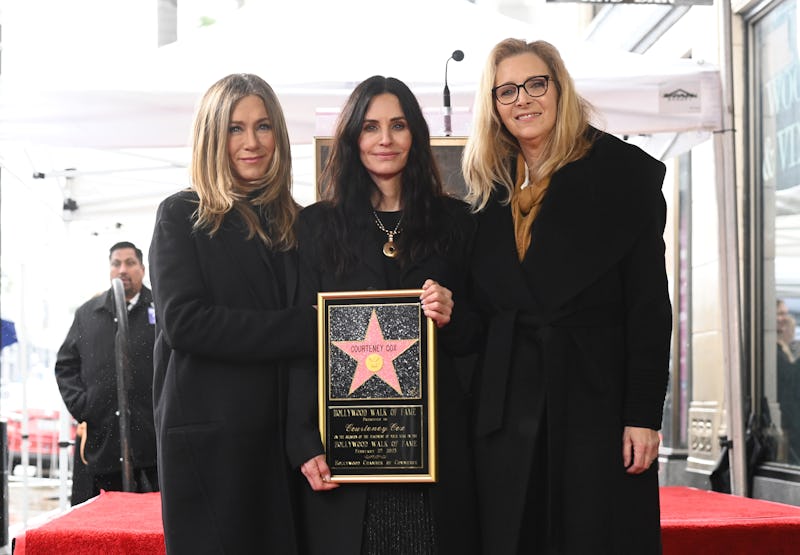 Gilbert Flores/Variety/Getty Images
There's nothing better than a Friends reunion, especially when it's with the gals for a very special occasion. Jennifer Aniston and Lisa Kudrow supported Courteney Cox on Monday (Feb. 27) when she received a star on the Hollywood Walk of Fame for her work as an actor, producer, and director. After a heartfelt speech from her close friend , actor Laura Dern, Aniston and Kudrow shared their love for their BFF, reminiscing about their time together on Friends — the show that brought the trio together nearly three decades ago.
"To be friends with Courteney is to be family with Courteney, and she is responsible for all of that," Aniston said. "From the beginning when we met her, she was immediately inclusive, warm, loving, [and] interested in everything about you." The speech was hilariously chaotic in true Friends style, including lots of tangents, but it always circled back to how Cox brought the Friends cast together. "From the very beginning, she made it very clear that this was a true ensemble. The friendship show," Aniston explained, with Kudrow adding that Cox made them "one of the closest, most loving and supportive casts in the history of television."
Through tears and laughs, Kudrow and Aniston shared just how much Cox meant to them as a co-star and best friend. "We just want to say that we're deeply, deeply proud to know you," Kudrow said. "You are the definition of a truly beautiful, talented, and what's most important – a truly good and decent human being. And thank you for enriching our lives personally."
Cox later reiterated the importance that Friends has had on her long-lasting friendship with its cast and crew in an interview with Variety. "Friends taught me the importance of camaraderie and really sticking together. These friendships were at the most important time in my life, and we went through so many things together. And it just taught me about being there for each other," she said. "I know, that's the song: 'I'll be there for you.' But it's true."