Everything To Know About Courtney From The Circle
The podcast host is more than ready to take on the competition.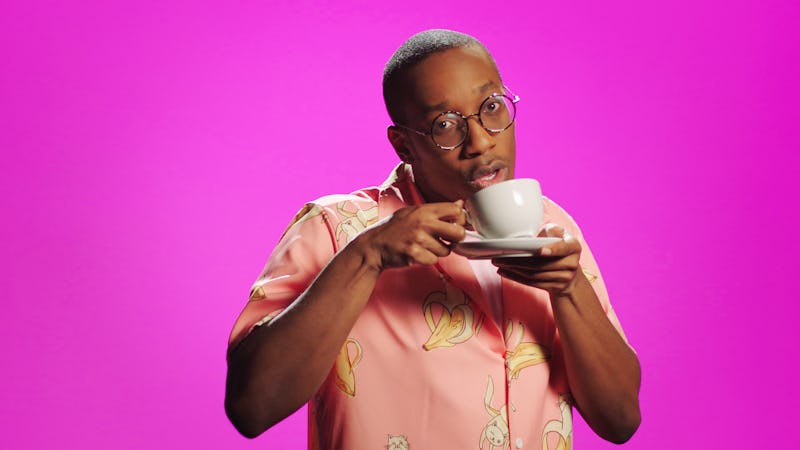 Courtesy of NETFLIX
Even a year in isolation hasn't slowed the buzz around Season 2 of the Netflix reality series The Circle. The show, which is based on the UK series of the same name, isolates contestants within the same apartment building, only allowing them to communicate over a social media app. The twist? Competitors can assume whatever identity they choose in order to win over their fellow competitors — making it difficult to tell who's a catfish and who's telling the truth about their identity.
In order to win The Circle's $100,000 grand prize, contestants have to rise to the top of the group by becoming "influencers" and avoiding getting "blocked." But for Season 2 contestant Courtney Revolution, navigating the pitfalls of social media is nothing new — in fact, it's part of his job.
Courtney's Job
Although Courtney presents himself as a barista in his profile on The Circle, his Instagram reveals that in real life, he's actually a podcast host and digital creator. (He didn't want other contestants to think he was "nosy" because of his background in entertainment journalism.) On his weekly podcast Overheard in the Pantry, Courtney and his co-host Phylesha discuss all things popular culture.
In addition, Courtney is also active on YouTube, where he hosts a live hour-long show called "The Green Chair Chats" where he discusses celebrity news and gossip. He also shares videos reviewing music — he even has a whole playlist dedicated to Nicki Minaj! "Although I'm not the most popular YouTuber or personality in terms of the numbers, the value of the people I have in my online community is priceless," Courtney said in a recent interview. "I'm always trying to think of different ways that my content can be entertaining, but make you feel like you're part of it."
In other words, Courtney is more than qualified for this season of The Circle — but will that be enough?
Courtney's Instagram
Courtney has over 16,000 followers on his Instagram, where he regularly posts selfies and comedic videos. He also shares photos and videos related to his hosting work, as well as the occasional ad or sponsored post.
When it comes to his strategy to take home the grand prize on The Circle, Courtney isn't afraid to play the long game. He plans to be friendly to all of the other contestants at first, but when it's time to turn up the heat, he isn't afraid to become the "little chihuahua who bites your face off."