Dad Stop Embarrassing Me! May Not Return For A Second Season
The new Jamie Foxx show has been largely panned by critics.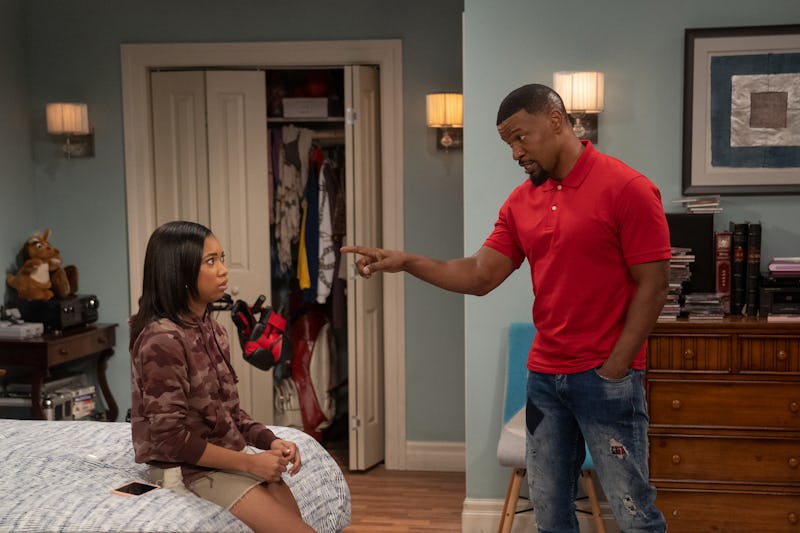 SAEED ADYANI/NETFLIX
Jamie Foxx's new Netflix series, Dad Stop Embarrassing Me!, is just the seasoned actor's latest venture into the sitcom realm. The show's set-up, which bears a resemblance to the UPN series One on One, sees Foxx's character Brian Dixon suddenly become a full-time single father to his teenage daughter Sasha (played by Kyla-Drew) after the death of her mother. Unsurprisingly, this new living and parenting arrangement is a bit of an adjustment for both of them, which is the source of many of the series' events — and leads to Sasha repeating the refrain "dad, stop embarrassing me!"
The cast also includes David Alan Grier (who was Foxx's costar on In Living Color) as Brian's father Fox, Porscha Coleman as Brian's divorced sister, and Jonathan Kite as Brian's cop friend Johnny. Though Netflix hasn't announced yet whether or not it plans to renew the sitcom, Jamie Foxx said in a recent interview that he was keeping his "fingers crossed" that Dad Stop Embarrassing Me! would get a second season.
However, early reviews of the series are largely negative, suggesting that it's unlikely to return for future seasons unless it quickly develops a strong fan base, which is possible considering Foxx's popularity. "Given Netflix's mission to appeal to as many demographics as possible, DSEM! is certainly for… someone," TV critic Inkoo Kang wrote for The Hollywood Reporter. "But its target audience would have to not mind that creator Bentley Kyle Evans and his writers don't even bother to fit their main characters into sitcom archetypes."
"Like the Dixon home, what Dad Stop Embarrassing Me! lacks is character. The series dabbles in everything from issues-based humor, to warmhearted comedy, to farce without ever finding a groove," Danette Chavez wrote in a review for the AV Club. "Dad Stop Embarrassing Me! is ultimately both too self-aware and oblivious. The series doesn't trust its laugh track to flag the jokes for viewers; it extends the gags or finds some other way to double down. Likewise, what social commentary can be found in Dad Stop Embarrassing Me! is underscored but ultimately inadequate."
For now, the future of Dad Stop Embarrassing Me! is very much up in the air.