Daisy Jones & The Six Has An Elvis Easter Egg
You might want to take a closer look at Daisy's outfits.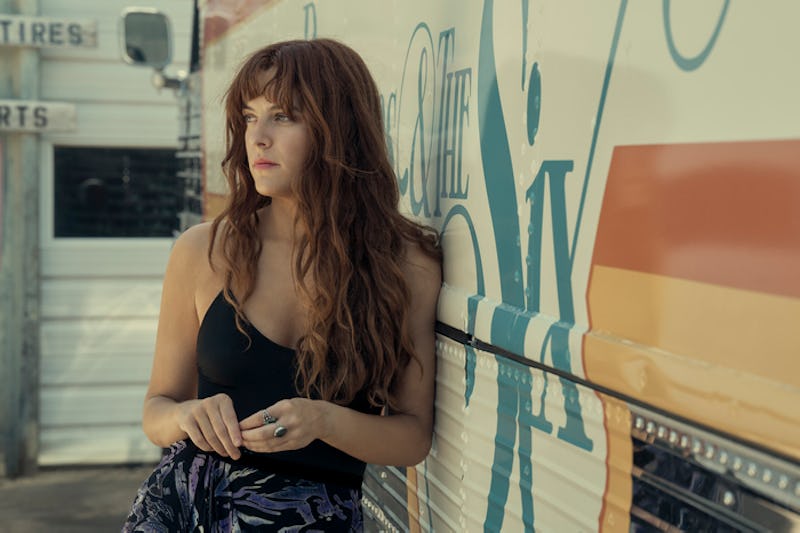 Lacey Terrell/Prime Video
Daisy Jones & The Six is the oral history of a fictional band, but its titular star has a very real musical heritage. Riley Keough's grandfather is the late Elvis Presley — and though she never met the legendary performer (Presley died 12 years before she was born), she "was in tears for a week" after seeing Austin Butler bring him to life on the silver screen, she told Entertainment Tonight.
Despite her reverence for her family history, Keough told the outlet that her Daisy Jones role wasn't necessarily her "continuing [her] grandfather's legacy."
"I've listened to music and my whole family are musicians and I've been around this world a lot and been on tour and all that kind of stuff," she explained. "But I'd never really done it myself. So for me, it was more about my personal relationship with getting to play music, which was fun."
While Keough has shied away from comparing herself to Presley, he is referenced in Daisy Jones & The Six — albeit in a very subtle way. As Nora Dominick pointed out on Twitter, Daisy wears a guitar strap in Episode 2 that might look familiar to die-hard fans. It's actually the same pattern as the one Presley himself wore during his '68 Comeback Special.
The strap also features prominently in the Elvis film, paired with Presley's black leather suit.
According to People, the homage was no accident — though it's not technically Presley's actual strap. A representative for the show told the outlet that it was a replica made by Ace Strap, called The New Yorker/The Woodstock.
Interestingly, it's not the only nod to Keough's grandfather (and his signature style) that appears in the series. Costume designer Denise Wingate told People that she enlisted the help of Love Melody, who made some of Presley's famous jumpsuits, to craft coats for Daisy. "One is a denim leather patchwork long coat and the other a beautiful rust leather," Wingate told the magazine. "She made those. I thought it was nice to bring that back in the fold and have a little bit of that history."