Here's When You Can Stream Every Daisy Jones & The Six Episode
Prime Video is dropping the season in four installments.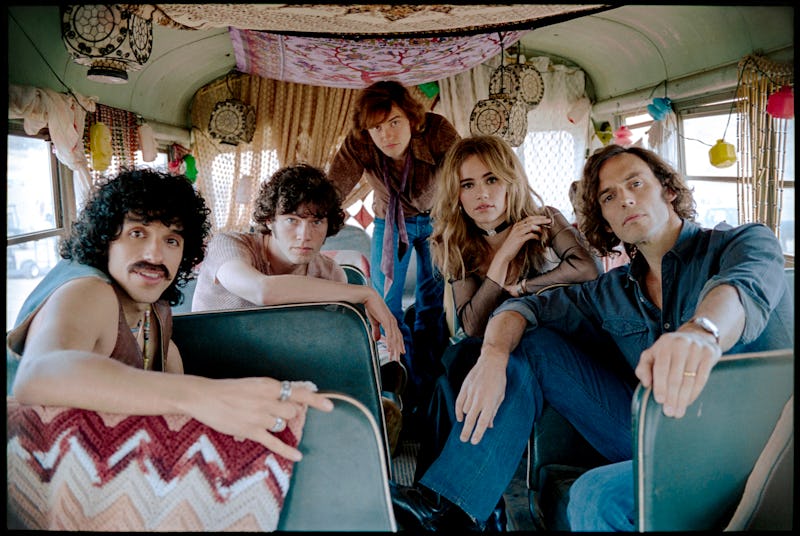 Lacey Terrell/Prime Video
Based on Taylor Jenkins Reid's best-selling 2019 novel, Prime Video's Daisy Jones & The Six documents the rise and fall of a Fleetwood Mac-inspired fictional 1970s rock group. Though the source material is presented in oral history form, the streaming adaptation is structured as a documentary in which band members serve as narrators of the group's glory days. Fronted by lead singers Daisy Jones (Riley Keough) and Billy Dunne (Sam Claflin), the band catapults from obscurity to superstardom, but suddenly calls it quits following a sold-out show at Chicago's Soldier Field. Though viewers will see the band's implosion play out in its entirety, they won't be able to marathon all of Daisy Jones & The Six's ten episodes right away.
Prime Video premiered only the first three episodes on March 3, with a new batch dropping every subsequent Friday through March 24. "The cadence of the release is really interesting. We're trying a binge/not-binge version to own the month of March," co-showrunner Scott Neustadter explained to The Hollywood Reporter in an interview published on March 3. "The episodes do make sense in that cadence, so we'll do what we can and then hope that word of mouth takes over. As a TV fan, I want to watch the thing that everybody's talking about. Hopefully we can get into that conversation."
New Daisy Jones & The Six episodes are available to stream on Prime Video each Friday at 3:00 a.m. ET — here's the full release schedule:
March 3: Episode 1, "Track 1: Come and Get It"
March 3: Episode 2, "Track 2: I'll Take You There"
March 3: Episode 3, "Track 3: Someone Saved My Life Tonight"
March 10: Episode 4, "Track 4: I Saw the Light"
March 10: Episode 5, "Track 5: Fire"
March 10: Episode 6, "Track 6: Whatever Gets You Thru The Night"
March 17: Episode 7, "Track 7: She's Gone"
March 17: Episode 8, "Track 8: Looks Like We Made It"
March 24: Episode 9, "Track 9: Feels Like the First Time"
March 24: Episode 10 (season finale): "Track 10: Rock 'n' Roll Suicide"
The Prime video series also stars Camila Morrone (Camila Dunne), Will Harrison (Graham Dunne), Suki Waterhouse (Karen Sirko), Josh Whitehouse (Eddie Roundtree), Sebastian Chacon (Warren Rojas), Nabiyah Be (Simone Jackson), and Tom Wright (Teddy Price), with Timothy Olyphant guest starring as Rod Reyes. In addition to singing on the fictional band's 11-song Aurora album, which dropped on March 2, the cast recorded a total of 24 original songs on the soundtrack.
"My whole family are musicians, so I grew up in a very musical household. I've been on tour; music's been very much in my life and I've always had an emotional connection to it," Keough, who is Elvis Presley's granddaughter and Lisa Marie Presley's daughter, said in an Amazon interview. "My relationship to music is definitely different now, because of this experience on the show, and getting to record an album and play live … I have a much greater affinity for musicians."
Like the episodes, fans can hear more of Keough and her castmates' songs every Friday through March 24.