All The Songs In Daisy Jones & The Six (So Far)
Patti Smith's moody 1979 song "Dancing Barefoot" opens each episode.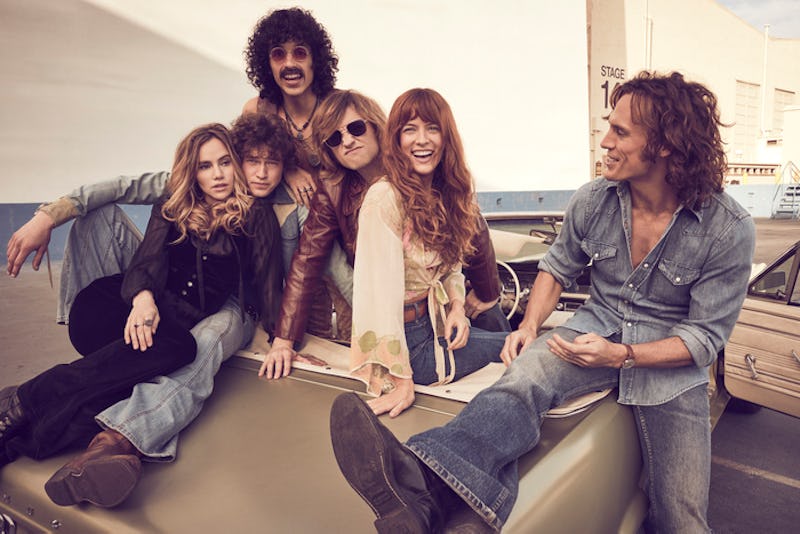 Pamela Littky/Prime Video
Taylor Jenkins Reid's Daisy Jones & The Six has finally made the leap from page to screen, and with it comes the actualization of the titular band's most impactful album: Aurora. (It's basically their Rumours.) Reid actually included lyrics for the fictional band's song in her 2019 novel — but as she told Rolling Stone, she's "not a musician," per se.
"I hear something in my head, but it's not anything that anyone could make into a song," she continued. "So the idea that people are going to create this album is incredibly exciting to me."
Those people, it turns out, include a handful of popular, real-world musicians. According to the outlet, writer and producer Blake Mills assembled the likes of Phoebe Bridgers, Madison Cunningham, Marcus Mumford, Jackson Browne, and others to bring Aurora to life.
Of course, not all of the songs in Daisy Jones & The Six are penned and performed by the titular band — though those are obviously the highlight. The show also features covers and non-diegetic tunes from the time period to set the rock-and-roll backdrop against which Daisy, Billy, and their bandmates live their lives.
Here's a full list of every song featured on the show so far.
The Daisy Jones & The Six Theme Song
First, there's one song that appears in every episode: "Dancing Barefoot" by Patti Smith. The lyrics liken love and addiction and include some very Daisy Jones-esque imagery ("I'm dancing barefoot / Heading for a spin / Some strange music draws me in"), so it's not too surprising that the tune serves as the show's theme song.
All The Daisy Jones & The Six Songs So Far
Episode 1, "Come and Get It"
"All Alone I Sit and Cry" by Violet Hall
"Incense & Peppermints" by Strawberry Alarm Clock
"Goin' Back" by The Byrds
"House of the Rising Sun" by The Animals
"3/5 of a Mile in 10 Seconds" by Jefferson Airplane
"Susie Q" by Dale Hawkins
"Bang a Gong (Get It On)" by T. Rex
"Have Love Will Travel" by The Sonics
"Different Drum" by Greenbriar Boys
"Stumbled on Sublime" by Wyatt Stone
"Goin' Back" by Carole King
"By Myself" by Daisy Jones
"I Feel the Earth Move" by Carole King
Episode 2, "I'll Take You There"
"Trouble No More" by The Allman Brothers
"I'm Your Captain (Closer to Home)" by Grand Funk Railroad
"Look Me in the Eye" by The Six
"Flip the Switch" by The Six
"A Song for You" by Leon Russell
"Two Against Three" by Daisy Jones
"Silver Nail" by Billy Dunne
"Son of a Preacher Man" by Dusty Springfield
"I Saw the Light" by Todd Rundgren
"Nobody Needs" by Daisy Jones
Episode 3, "Someone Saved My Life Tonight"
"Mama Told Me to Watch Out" by Freddi/Henchi and The Soulsetters
"Let's Dance" by Family Plann
"Naturally" by H.P. Riot
"Will It Go Round in Circles" by Billy Preston
"Up to You" by Simone Jackson
"The River" by Daisy Jones & The Six
"One Happy Christmas" by Tammy Wynette
"Look At Us Now (Honeycomb)" by Daisy Jones & The Six