Who Plays Billy In Daisy Jones? Sam Claflin Relates To His Character
He previously auditioned for the Les Misérables and Cats film adaptations.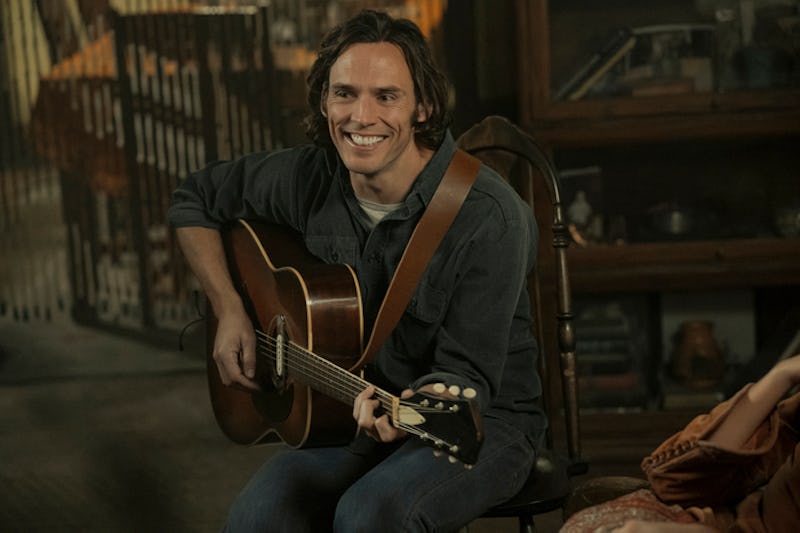 Lacey Terrell/Prime Video
As the founding lead singer of the fictional band in Daisy Jones & The Six, Billy Dunne plays a major role in the story. He has a tempestuous relationship with the titular singer and raises a family with his wife, Camila. On top of that, he brings the group to new heights with their magnum opus album, Aurora, all while working on his personal journey with sobriety.
Given how important he is to the story, it may be somewhat surprising that the man who plays Billy in Daisy Jones & The Six wasn't actually cast until pretty late in the process. English actor Sam Claflin opened up to AP News about landing the part, explaining that his co-stars had already begun band rehearsals by the time he joined the lineup. "They said, 'OK, there's about 15 songs you're going to need to learn. Oh, and can you play guitar?'" he recalled. "I didn't play guitar and I barely had sung. I never recorded anything. It was quite an immediate shock of terror and fear and pressure."
Despite those initial concerns, Claflin's performance has earned positive reviews — with The A.V. Club praising his "electric chemistry" with Riley Keough's Daisy, and Rolling Stone writing that Claflin has "the vulnerability necessary to keep Billy from being insufferable."
The role was a boon to the actor himself offscreen, too. Claflin and his wife, fellow actor Laura Haddock, separated in 2019 — but they share two children, and Claflin told Variety he could relate to this aspect of Billy. "I was a husband. I've been through marriage and the struggle of juggling work, family life, home and being grounded," he said. "The obstacles he has to overcome, like becoming a dad and the fear or anxiety that brings, feeling like you might fail."
That was a fear Claflin could "massively relate to," he said. He joined the project in early 2020, when he was in a "really bad place," he explained. Fortunately, Daisy Jones provided the "most fun, joyous fresh start."
Today, Claflin is dating model Cassie Amato. The pair went public with their relationship in September, and have appeared on each other's Instagram pages in subtle, low-key ways.
In a more recent post, Amato called Daisy Jones & The Six an "intoxicating, outstanding talent."
Before landing Daisy Jones, Claflin has worked in a variety of genres — including romance (like Me Before You and Love, Rosie) and, of course, dystopian action, starring as Finnick Odair in The Hunger Games films. He didn't have much music on his resume, but not for lack of trying. He also auditioned for Les Misérables and Cats. In the former, he went out for the role of Marius, which would ultimately go to Eddie Redmayne.
"I was sat in the waiting room, and there was a tiny crack in the window, where I could see through and watched him do his thing, then listened to them give him the part ... there's no following that," Claflin said of Redmayne's audition on This Morning. "He obviously got the part, and did it wonderfully, and way better than I ever could."
Auditioning for Cats was its own "horror" story, Claflin told the show. "They tried to teach me ballet in a matter of seconds ... I called my agents afterwards, like, 'I don't think I'm gonna be a cat.'"