Dan Levy Is Living For His Jeopardy! Shoutout & Guest Host Anderson Cooper
Jeopardy! paid tribute to Levy as David Rose.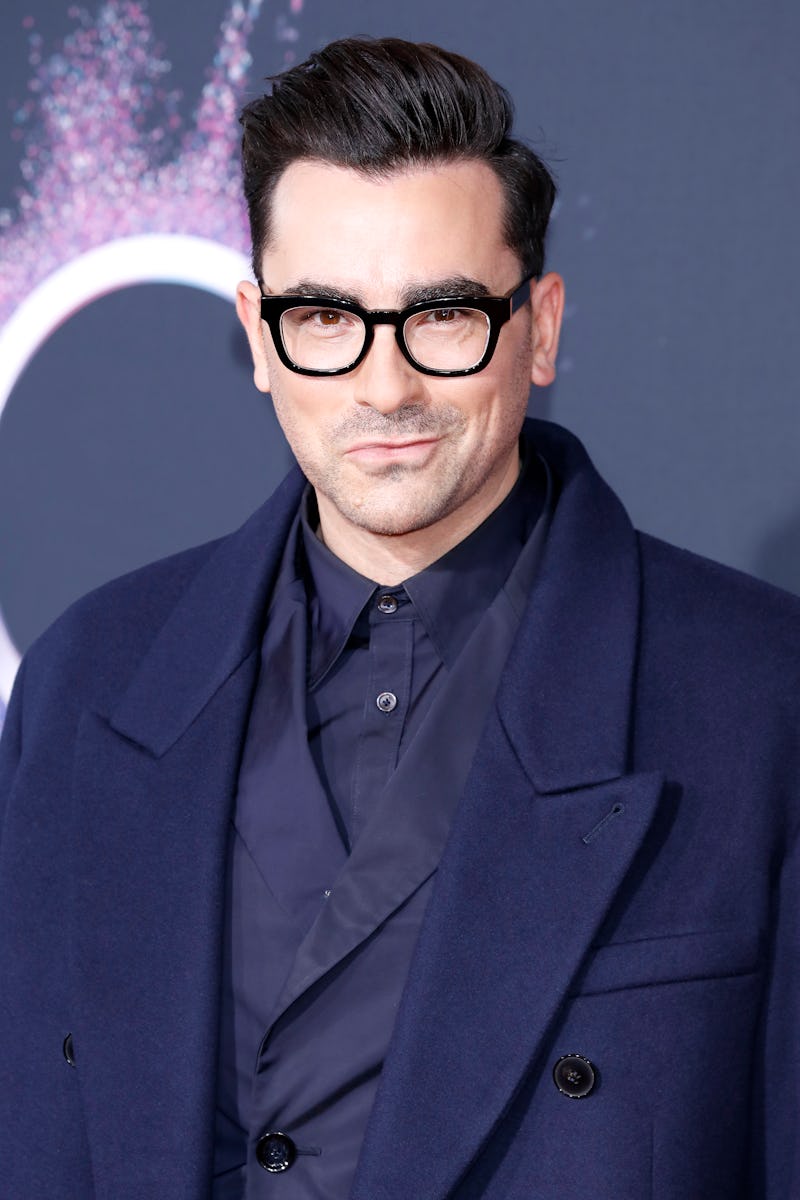 Kurt Krieger - Corbis/Corbis Entertainment/Getty Images
Even for an award-winning actor, getting mentioned on America's favorite quiz show is mind-blowing. Dan Levy reacted to being a Jeopardy! answer on Friday, April 23, and it was clearly a big moment for him. Posting on both Twitter and his Instagram story, he shared the specific clip from the show, celebrating how guest host Anderson Cooper made sure his name was pronounced correctly and the fact that he was an answer at all.
"@andersoncooper with that gentle last name correction," Levy wrote alongside the two hearts emoji. He then added, "Also…," and an exploding-head emoji to convey just how elated he was to be included in the show's trivia.
The question came from the Supporting TV Characters category and touched on the actor's famous role as David Rose on the celebrated sitcom Schitt's Creek, which he created with his father, Eugene Levy. It also highlighted his many primetime Emmy Award wins last year, reading, "In 2020, this actor was all over the Emmy cast, including his own for the supporting role of David Rose." Very appropriately, the Jeopardy! Twitter account wrote, "Ew, David!" when it tweeted out the clip, and the show's Instagram account captioned it, "He's trying very hard not to connect with people right now."
As shown in the clip, contestant Kimberly was the one who buzzed in first to answer the question. When her pronunciation of the actor's last name was slightly off, Anderson did indeed opt to include a "gentle" correction. He responded, "Dan Levy is correct," using the actual pronunciation of the surname. It was a move that would have made the late Alex Trebek proud. The longtime Jeopardy! host died in November at age 80, and in his 36 years on the show, he was known to encourage proper pronunciations.
Since Trebek's final episode aired on Jan. 8, no permanent Jeopardy! replacement has yet been announced. Instead, there has been a series of temporary guest hosts, which started with one of the show's most memorable champions, Ken Jennings, and has also included celebrities like Cooper and NFL quarterback Aaron Rodgers. Interim hosts are currently scheduled out through at least Aug. 13, 2021, and as of March 8, Jeopardy! has been making contributions to their charities of choice.
Incidentally, Trebek discussed his ideal replacement prior to his death. He joked on Good Morning America in July 2020 that it should be Betty White, given that fans "want somebody younger, somebody funnier." (White is now 99 years old.) At the time, he had been diagnosed with Stage 4 pancreatic cancer more than a year prior, in early 2019.
Cooper may not have been Trebek's top choice for a replacement, but at least Levy is impressed with how he's filling the TV legend's shoes.