Dan Levy's SCAD Commencement Speech Featured A Schitt's Creek Shoutout
"If you have an idea for something ... always keep going."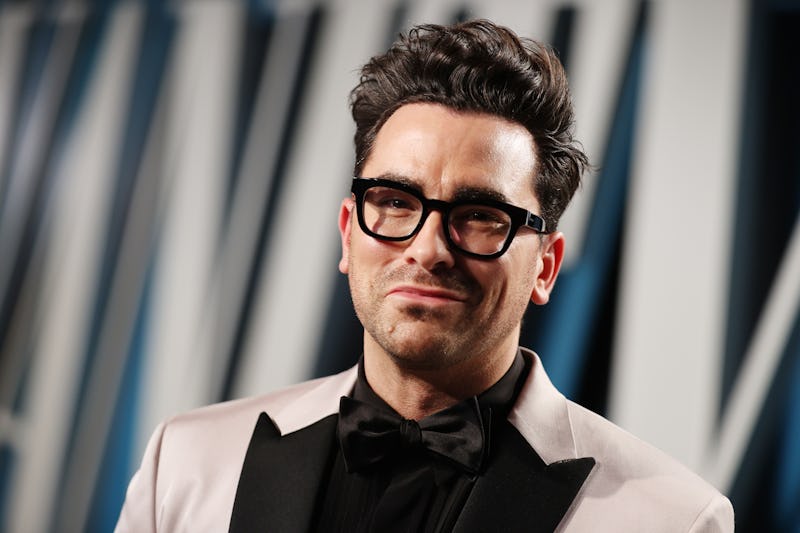 Rich Fury/VF20/Getty Images Entertainment/Getty Images
If you just graduated from the Savannah College of Art and Design, congratulations! And if you didn't, that's OK too — because art student or not, you can still reap the seriously sweet advice that commencement speaker Dan Levy imparted upon this year's graduating class. During the May 28 digital ceremony, the Schitt's Creek star and co-creator appeared in an iconic sweater (of course) to talk to graduates about the importance of following through, uplifting others, and striving to achieve a workplace culture that's as happy and healthy as the one the Levys and company enjoyed on set. The pandemic-friendly address was a video conversation between Levy and SCAD alum Christian Magby, who recently starred in One Night in Miami.
Though Levy has experienced plenty of success as of late — Schitt's Creek's Emmy sweep made awards history — he was quick to note that acclaim (or lack thereof) doesn't affect the value of what you put out there. "Even when you have success," he said, "you have to be able to know that that success has nothing to do with what you are doing as a job."
Levy also reflected on the way his dad, Eugene Levy, and Catherine O'Hara helped make the Schitt's Creek set such a fulfilling place to work.
"The greatest takeaway from that entire experience was watching the way that they created an egoless, respectful, safe workplace where everybody felt valued," he said. "It was always paramount that everyone who showed up to work — whether you were working in craft service, whether you were a background performer, whether you were someone in production design — that you knew that your job on our show was as valuable as the next person."
His final advice for graduates and any other creatives was to follow through:
"The one thing that I would say is: follow through. That's the greatest advice I could give because so few people actually do it. If you have an idea for something, in whatever form of the arts it is, if you have that painting you have in mind, and it gets tricky, and you are given that crossroads of 'Do I give up on it or do I keep going?' always keep going. If you're a writer and you want to write a book, or a book of poetry, or a television show, or a movie and it gets a bit daunting and intimidating and you get that writer's block, don't give up on it. Because at the end of that experience, you will have something … 99% of the people out there have all the ideas in the world but never follow through on it. So if you are that person, that can walk into a room with something, some expression of your creativity that you have completed, you are so far ahead of a lot of people."
"We expect things to land in our laps. I think we have cultural references on television. We have celebrities that have made it look very easy. The reality is, if you want to get far in an industry, you have to be so passionate about what you're doing. You can never take a day for granted … When you get to that place when you are successful, I think it's so crucial to never take success for granted and always use that success to help others. Because it's a very lonely place, to be successful in something and not share that opportunity with other people … Paying it forward is such a crucial part of the whole process."