We Finally Know When Delilah Is Coming Back To A Million Little Things
Prepare for a dramatic family reunion.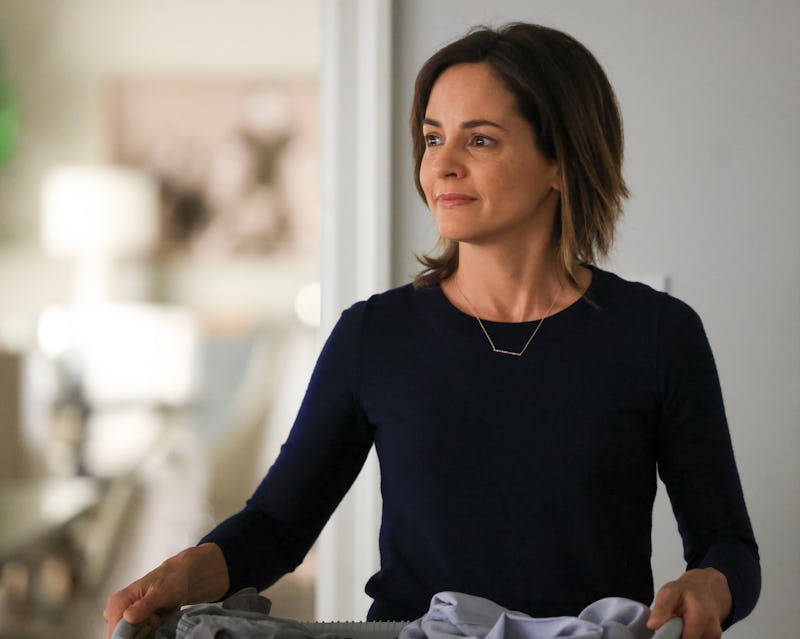 Jack Rowand/ABC
Spoilers ahead for A Million Little Things Season 3, Episode 16. It's been so long since Delilah was on A Million Little Things that I straight-up forgot she had another child. During the June 2 episode, she FaceTimed Sophie and there was a little girl in the background: her daughter Charlie, who she took to France when she left way back in Season 3, Episode 3 and who I apparently blacked out from memory. Now, Charlie is basically a toddler. It's been that long. But the good news is that it seems like Delilah is finally coming back.
While video chatting with Sophie, Delilah said, "When you wake up in the morning, I'll be home. And by home, I mean in a hotel by the airport quarantining for 10 days." Sophie replied, "Look, I'm just happy that you're going to be in the same timezone." Honestly, same. This show hasn't been the same without Delilah.
Delilah has been stuck in France since before COVID started on the show, and now it seems to be around July or later in the timeline. She's missed a lot. There's a valid reason for her absence: Stephanie Szostak, the actor who plays her, was unable to travel back and forth between the show's Canadian set and her New York home, where her family lives due to quarantining restrictions. Instead, she made do appearing via video chat in a few episodes.
So far, we don't know much about Delilah's return in next week's two-hour Season 3 finale. "Sophie seeks justice for her trauma, and Maggie forces Gary to take a hard look at himself and his relationships. Meanwhile, Eddie goes to extreme measures to fight for his family, and Rome and Regina make big changes for their future," the description reads. However, the press photos confirm that Delilah will complete her quarantine in time to return for the second hour of the finale. And it'll be a dramatic return, since in some of the photos, her son Danny is yelling at her.
In another one, Gary and Delilah are watching something out of the car window, and Delilah looks upset. In a previous episode, Gary drove past Sophie's music teacher's house after the teacher assaulted Sophie, so maybe that's what's happening again here.
Delilah's return will change a lot for the rest of the characters. Maggie is currently living in her house, so will she have to move out, and if so, where will she go? Will Delilah follow Katherine's lead and not allow Eddie's daughter Charlie to have unsupervised visits with her father? What will Delilah do when she realizes that Regina is losing the restaurant that Delilah co-owns with her? And what exactly is Danny so upset about that he started shouting at his mother? Is he mad she was gone for, like, five months... because I would be too. Perhaps Delilah's return will factor into the season cliffhanger. Creator DJ Nash has already promised that it's going to be a doozy.