Demi Lovato Is "Obsessed" With Their Dog's LGBTQ+ Pride Month Fur Makeover
Their dog Ella's "gorgeous new do" is perfect for Pride.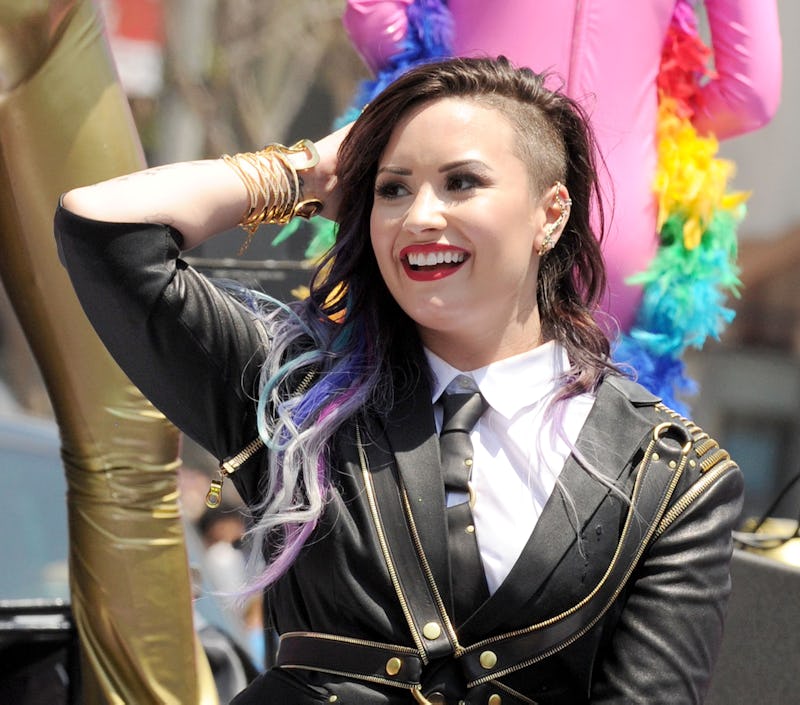 Gregg DeGuire/WireImage/Getty Images
Cinderella's ready for the ball: Demi Lovato's dog, aka Ella, recently got a rainbow fur makeover in honor of LGBTQ+ Pride Month, proving a little celebratory self-care isn't just for humans. "She's ready for Pride," Lovato said in a series of Friday, June 11 Instagram stories in which they thanked Dogue Spa founder Josh White for Ella's "gorgeous new do." The singer, who captioned one slide "OBSESSED!!!," also joked that their furry friend was "owning" the new look, despite pretending to be "bashful" and "modest." (Not to worry, Dogue Spa uses vegan, cruelty-free semi-permanent pet dye/shampoo that's safe for pups.)
Lovato first introduced fans to their "new baby" (and Yorkiepoo Batman's little sister) Ella in 2017, and since then, the pup's had several beauty transformations, some more colorful than others. To celebrate her second birthday in 2019, for example, Ella sported pink-tipped ears, and last year, she even donned an upside-down pair of Lovato's false eyelashes. The pooch has been on the receiving end of her Grammy-nominated owner's less-than-stellar "quarantine cuts" last year, too. Now, though, she's a bright showstopper.
After recently coming out as nonbinary and announcing they identify as pansexual, Lovato has also taken a more earnest approach to celebrating Pride Month this year. Aside from joining such artists as Lil Nas X, Ricky Martin, and Pink for the "Can't Cancel Pride" virtual LGBTQ+ benefit concert, the "Confident" singer has shared several resources on social media. "Clinical mental health concerns exist across all communities," Lovato captioned a series of Mental Health Coalition infographics that "spotlight the difficulties that tend to disproportionately impact individuals from the LGBTQ+ community" on June 11. "I hope that understanding these can help you to recognize when/where support may be helpful."
In Lovato's inaugural podcast episode on May 19, the musician explained that their decision to come out had been the result of more than a year of "healing and self-reflective work." Changing to they/them pronouns and subscribing to a nonbinary label "best represents" the fluidity they feel in their gender expression, Lovato added, explaining they are "still learning and coming into myself" and don't "claim to be an expert or a spokesperson" for the community.
Despite all the work left to be done, Ella's rainbow Pride 'do is proof the month of June is also a time for celebrating.