Demi Lovato Got Even More Candid About Their Gender Identity Journey
"If I had listened to the patriarchy, my life would've never changed."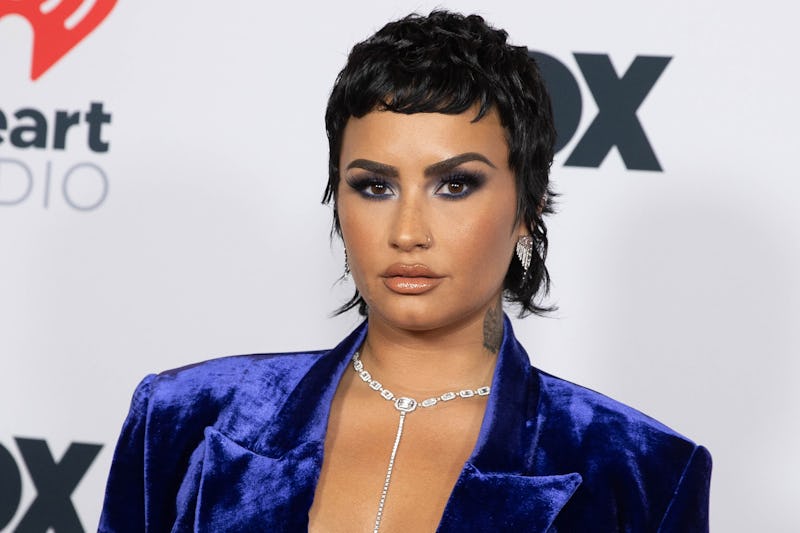 Emma McIntyre/Getty Images Entertainment/Getty Images
Demi Lovato's gender identity journey began almost two decades ago. After coming out as nonbinary on May 19, the former Disney star, who now uses they/them pronouns, opened up about defying norms on Jane Fonda's Fire Drill Fridays livestream.
"Growing up in Dallas, Texas, in the South, being Christian, there was a lot of norms that were already pushed onto me when it came to sexuality and gender," Lovato told Fonda. "If I looked back at my life, there's been times where I felt more masculine, and then there's been times where I felt more feminine."
They continued, explaining, "I've been attracted to everyone for as long as I can remember. So there's been moments in my life that have been very confusing for me, you know, being 10 years old attracted to women and not knowing what that meant as a Christian, and being raised in the South."
Lovato's coming out came during the May 19 episode of their podcast 4D with Demi Lovato, but they imagined a very different reality when Fonda asked how the patriarchy had affected their gender expression. "If I had listened to the patriarchy, my life would've never changed, my gender, my pronouns would have never changed," Lovato shared during the nearly 30-minute interview. "I would have probably been married to a man, with kids, doing the thing that I was raised to believe that I should do."
The "Dancing With the Devil" singer went on to detail years of "trying to make myself smaller for the patriarchy," which they said runs the entertainment industry and had been holding them back for years. "It was putting me in a box, telling me that, 'You are a female, this is what you're supposed to like, this is what you're supposed to do, don't dream bigger and don't speak louder,'" Lovato added. "That didn't vibe for me because I'm too outspoken for that."
Following their self-described "near-death experience in 2018 after a drug overdose," Lovato said they "had to wake up and start living my life for me, ultimately finding out they are "equal parts masculine and feminine." They described stripping themselves "of the norms that society has pushed" on them, and becoming "the most complete and authentic version of myself that I've ever been in my life." Added Lovato, "I've never been happier."
In their own May 19 inaugural podcast episode, the Grammy-nominated musician further explained that their coming out had been the result of more than a year of "healing and self-reflective work." Changing to they/them pronouns and subscribing to a nonbinary label "best represents" the fluidity they feel in their gender expression, Lovato added, explaining they are "still learning and coming into myself" and don't "claim to be an expert or a spokesperson" for the community.
The announcement followed the singer saying they identify as pansexual on a March episode of Joe Rogan's podcast. "I heard someone call the LGBTQIA+ community the 'alphabet mafia,' and I was like, 'That's it. That's what I'm going with,'" they told Rogan. "I'm part of the alphabet mafia and proud."