Demi Lovato Feels "Survivor's Guilt" After DMX's Overdose
"You do ask yourself, 'Why am I still here?'"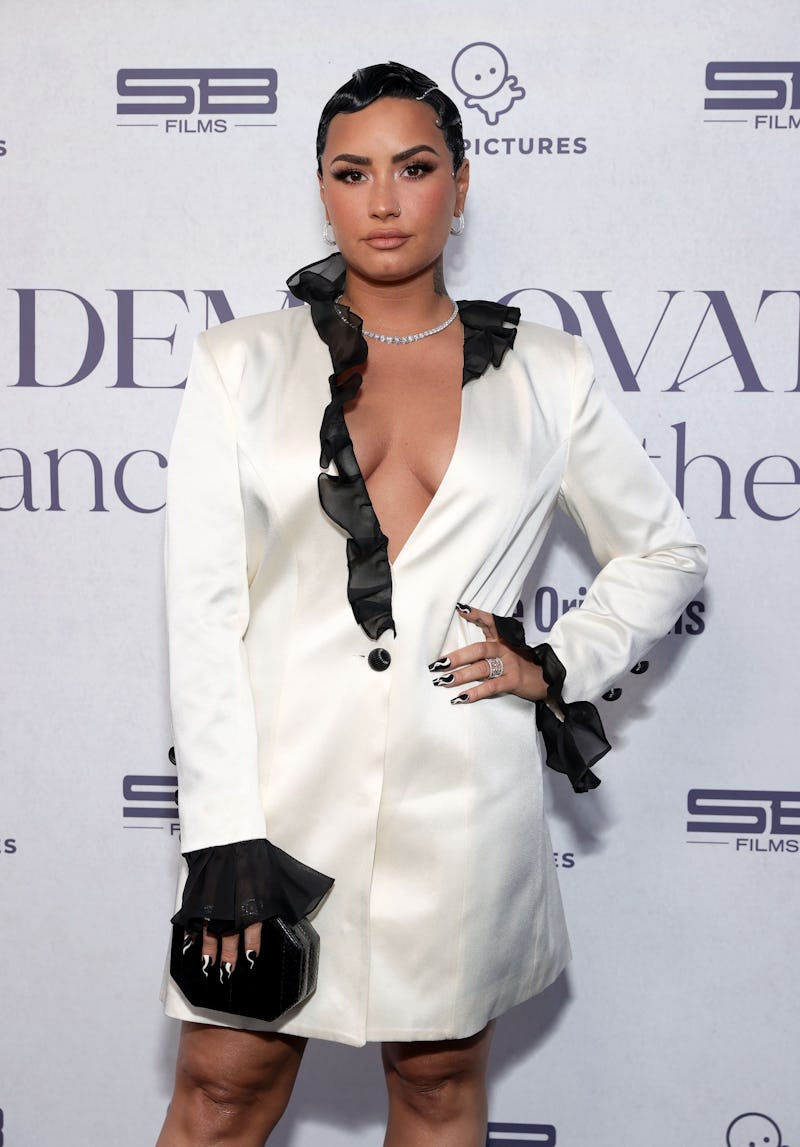 Rich Fury/Getty Images Entertainment/Getty Images
Take it from Demi Lovato: Survivor's guilt is real. In the wake of rapper DMX's recent drug overdose, Lovato spoke openly to TMZ on Wednesday, April 7, about the overwhelming emotions she feels when celebrities are hospitalized or pass away due to substance use. "Any time that I see someone OD or even pass away that's in the public eye, I immediately think, 'That could have been you had you not been putting all this work into the last couple of years of your life,'" she said.
DMX, whose real name is Earl Simmons, was reportedly taken to the hospital on Friday, April 2, after suffering a heart attack following an overdose. According to TMZ, the 50-year-old rapper was sent to the critical care unit of White Plains Hospital and is in "grave condition." On April 4, his family released a statement to the Associated Press saying that he is currently "facing serious health issues." On Monday, April 5, a vigil was held for the musician outside of the hospital. He is currently still in critical condition.
Lovato, whose near-fatal 2018 overdose is being chronicled in her current YouTube documentary, ultimately survived her overdose. However, she told TMZ that hearing about DMX and other celebrities' experiences can bring about feelings of guilt. "I feel like there's times where I've even talked about feeling survivor's guilt because you do ask yourself, 'Why am I still here? Why are others not?' and it's a challenging thing to get over," she continued.
While it's definitely been hard for her to set those feelings aside, Lovato told TMZ that she "had to realize that every day is a day that someone else doesn't get," and that she has to be thankful for getting another chance. "Every day that I'm here on this Earth is a day that I need to be counting my blessings for and just being appreciative and grateful for it," she said. "And also it just makes me want to live the best life that I can live knowing that others didn't get the same chance that I did."
Nowadays, Lovato refers to herself as "California sober." In other words, she still drinks and uses cannabis "in moderation." This, of course, isn't the "conventional" method of recovery, but Lovato wants people to know that recovery isn't the same for everyone. "The conventional way of recovery was invented in the 1930s, so we're talking about a program that's almost 100 years old and it has not worked for every single person that has tried it," the singer said, adding that she needed something for those moments when it feels "like the bottom is falling out from underneath me."
After explaining that she's had "open, honest conversations" with her treatment team, Lovato told the outlet that she wanted to find a "gray area" with substances in the same way she found one with food in her eating disorder recovery. In her documentary, she spoke openly about this gray area and the choice to not give up substances entirely. "I've learned that it doesn't work for me to say that I'm never going to do this again," she confessed. "Telling myself that I can never have a drink or smoke marijuana, I feel like that's setting myself up for failure."
If you or someone you know is seeking help for substance use, call the SAMHSA National Helpline at 1-800-662-HELP(4357).